Tasmania Branch
The 13th Annual Geoscience Forum "Geobash"
Join the Tasmania Branch for The 13th Annual Geoscience Forum "Geobash".
About this event
The AusIMM Tasmania Branch, GSA, AIG and Mineral Resources Tasmania are pleased to bring you the 13th Annual Geoscience Forum.
The purpose of this forum is to gather geoscientists in one place to share their progress in exploration, mining and research.
This event is for sharing geologically focused results and ideas and for learning more about geology, in particular the geology of Tasmania.
This year we will have improved AV facilities at this venue.
Program
9.00am - 5.00pm Forum
7.00pm - Forum Dinner
Field trips - Friday, 1 December 2023
Field trips are planned the day after the forum to visit historic and geological sites of interest.
Zeehan Mining Field - Historic Mine / Geology Traverse trip information here.
Melba Flats mining history tour information here.
Workshop
Tasmanian Critical Metals Workshop information here.
Sponsorship Opportunities
We welcome sponsors to assist in this event. Display tables will be available at the venue.
Contact John Stanton from the Tasmania Branch to become a sponsor.
Accommodation
Please note the Tullah Lakeside Lodge is now booked out.
Additional accomodation may be found through Airbnb, Rosebery Hotel, Heemskirk Motel and The Top Pub Rosebery.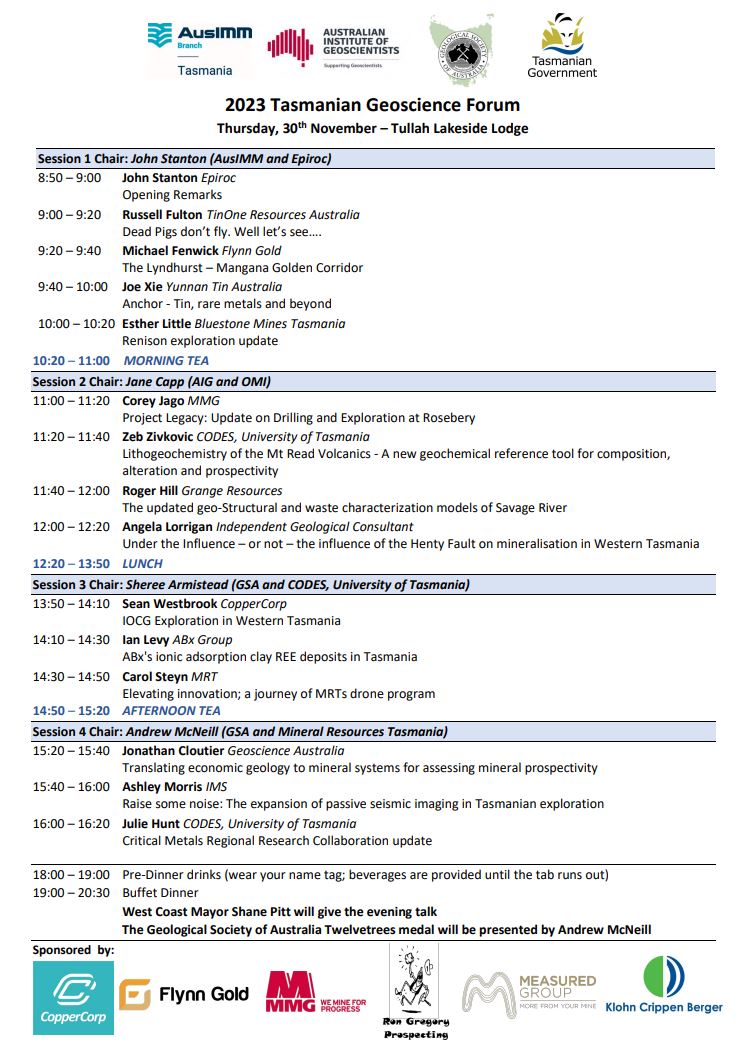 Speaker/s
Angela Lorrigan
Independent Geological Consultant
Joe Xie
Yunnan Tin Australia
Jonathon Cloutier
Geoscience Australia
Roger Hill
Grange Resources
Russell Fulton
TinOne Resources Australia
Location
Tullah Lakeside Lodge
Cnr Meredith Street &, Farrell Street
Tullah TAS 7321
Thursday, 30 November 2023
9.00am – 5.00pm (UTC+10:00)
Date and Time
Thursday, 30 November 2023
9.00am – 5.00pm (UTC+10:00)
Venue
Tullah Lakeside Lodge
Cnr Meredith Street &, Farrell Street
Tullah TAS 7321
View Google Map
Cost
Seminar & Dinner
AusIMM, GSA & AIG Members: $165
Student: $130
Non-Members: $185

Seminar Only
AusIMM, GSA & AIG Members: $80
Student: $65
Non-Member: $100

Dinner Only
$90
Register Now