2023 AusIMM EEF Scholarship Field Trip report: Part 1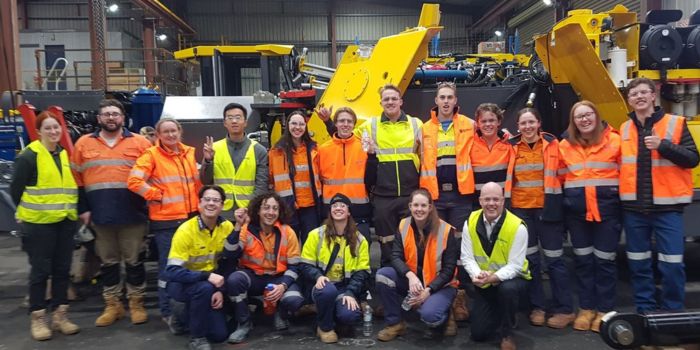 Since 1989, the AusIMM's Education Endowment Fund has provided scholarships for undergraduate and postgraduate students. The scholarship features financial support and an all expenses paid field trip to a mineral rich region in Australia.
This year's AusIMM Education Endowment Fund Field Trip visited the mineral-rich regions of Northern and Western Tasmania. Sites visited included Savage River, Renison Bell, Mt Lyell, Henty Gold Mine, Railton Cement Works and the Beaconsfield Mine and Heritage Centre.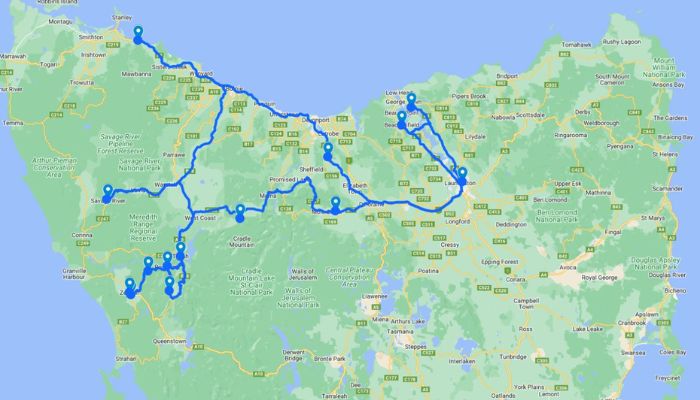 Locations visited on the field trip.
Discussions were focused on three main questions:
What does the site do well?
What are the sites challenges?
What are the sites doing to address these challenges?
The students represented a variety of different disciples and a range of different universities, with students travelling from all over Australia for the trip. See the full list of students here.
The tours were led by industry geologist Dale Sims FAusIMM(CP) and research metallurgist Kylie Ward MAusIMM. Their extensive knowledge and hilarious jokes were well appreciated by the students. The trip wouldn't have been the same without them!
Day 1: Burnie
Tasmanian Minerals, Manufacturing and Energy Council
The first stop on our tour was to the Tasmanian Minerals, Manufacturing and Energy Council (TMMEC) where we heard talks from Andrew McNeill (Chief Government Geologist) and Robert Willis (Manager, Industry Services). Andrew gave a brief chrono-geological overview of the formation of Tasmania and we then heard about the different types of mineral deposits around the state, many of which we were about to visit. We we're surprised to hear that part of the West coast was attached to America millions of years ago!
The second talk from Robert spoke about the current economic landscape of Tasmania. It was interesting to hear that Tasmania is (or was) one of the richest mineral areas in the world. Robert spoke about how the mineral sector generates 65% of Tasmania's exports but only using 1% of its land area and that it contributes $84 million in royalties with a total revenue of $2.9 billion. Tasmania currently has 500+ mining leases along with 170 active exploration leases. These talks were a great way get an overview of the sites geology before we visited them.
The TMMEC was a very impressive facility and is for member businesses involved in the state's exploration, mining and mineral processing, manufacturing, and energy sectors, along with companies and individuals in associated supply chains. It was great to see an investment made by the government for the improvement of teaching spaces and facilities in Tasmania for the resources sector.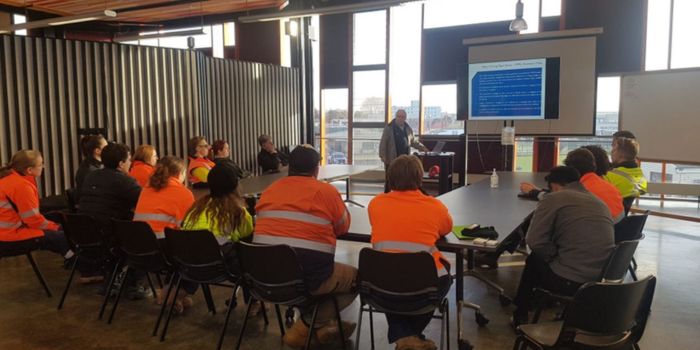 EEF students at TMMEC listening to Robert Willis.
Tasmanian Advanced Minerals (TAM)
The first site visit of the trip was to the Tasmanian Advanced Minerals (TAM) processing plant just outside Wynyard. This is a totally integrated business from resource to processing to user. TAM produces high purity silica flour used in specialised glass used in high-tech applications like LED TV and mobile device screens. Pre-Cambrian dolomite formations were replaced in-situ in the Devonian period by silica-rich fluids, leached by tannic acid-rich groundwater and weathered over the following millennia to form high purity silica deposits. This specialist resource allows TAM to provide a product that has superior meltability and purity compared to competitors. The company is 90 per cent Australian owned and 100 per cent of their product is exported. With major focus on quality control of the product from mine to end user, it is a fascinating operation.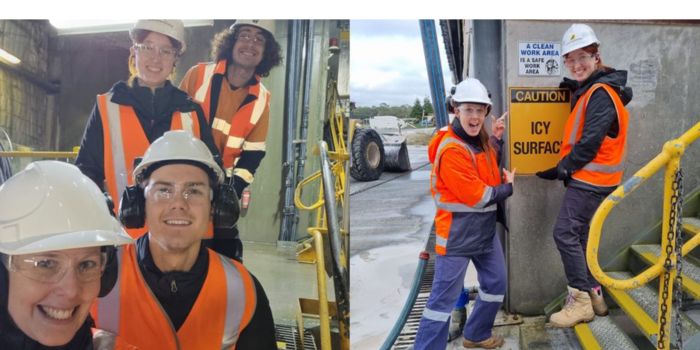 Loren Nicholls, Liam Kelly, Elora Baird, and Issi Port enjoying the plant tour (left), and Loren and Elora fascinated by the icy surface sign as Queenslanders (right).
Due to the specialist nature of their product, TAM innovated their own separation method using magnets to remove impurities. Their ball mill uses imported flint rocks from France and all quality control sampling is conducted on site. Due to the on-site processing, there is an incurred higher cost on TAM products compared to competitors but the high quality they are able to provide means they fill a specific market niche. Most of the employees had worked at TAM for a very long time (5+ years) and all lived locally, which we found very impressive for a site that had only been in operation since 2007. They are able to upskill their workers to fit the specific needs of the processing.
They are currently trying to change their fines to coarse grain size ratio to 1:1, which is a recent challenge. They want to pursue this as it will improve their product quality even further. The company is very future focused and looking towards becoming more sustainable with electric dryers and an already existing water recycling system. Their current resource has 20 years, and they are conducting further exploration; however, they have found that there is coarser product in the new exploration areas offering its own challenges. There are also some challenges with protesters as the operation is in the 'Tarkine', but the company is community focused and is looking out for the safety of the local community in Burnie. The market for this type of silica is very specialised and focused on quality, which TAM is doing an excellent job of not only maintaining but improving.
Epiroc
At Epiroc we were greeted by Brett Kenley and Daniel Hawkins. Over lunch the visit started with an overview of the company profile and their future targets. It was surprising that Epiroc, as a family-owned company, employs 17,000 people operating in 150 countries. Epiroc's focus is on innovation in the electrification, automation, and digitalisation of the mining industry. What interested us is Epiroc's collaborative approach to their customers. Brett spoke about how the equipment that Epiroc supplies can be easily scaled to accommodate changing working conditions in mining and therefore provides value to their customers.
We had a tour of the workshop where Brett explained that due to Covid they were not able to assemble in other countries as they normally would and instead sent 'flat-packed' equipment to be assembled at their Tasmanian site. It was a very exciting experience to see how the mining landscape is changing, and how companies like Epiroc are supporting this transition to net zero.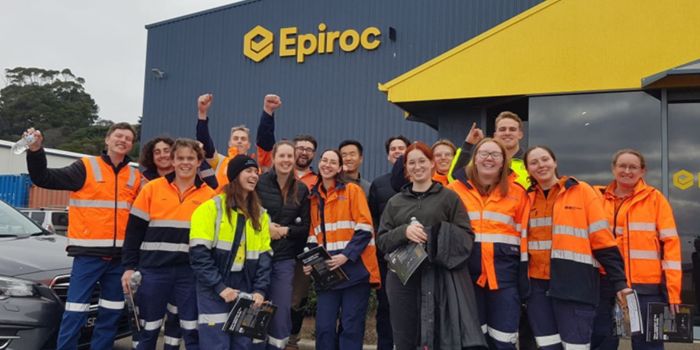 EEF students outside the Epiroc facility in Burnie.
Port of Burnie
The first day concluded with a fantastic tour of the Port of Burnie. This is Tasmania's largest general cargo port, transiting more than half of the state's containerised freight to and from mainland Australia and overseas. The tour began with an induction from TasPorts' North-West Operations manager, Daniel Eiszele, where we discussed some of the challenges facing the Port of Burnie as well as the greater mining and timber industries of Tasmania. A primary challenge for the port was the ageing infrastructure, with the ongoing costs of maintenance and upgrades to facilities acting as a major hurdle for the operation. Other significant industry wide challenges involved selling products such as woodchips at competitive prices in markets heavily manipulated by overseas competitors such as China.
The tour progressed past the 100kt woodchip stockpiles, and the TasRail mineral concentrate stockpile facility where we were guided by Scott Bloom and Paul Handcock. Key points of discussion revolved around the importance of efficiency when transiting material on and off ships as well as their current investment in mineral concentrate handling/loading. The Port of Burnie functions as a critical component of the value chain for both the mining and timber industries in Tasmania. As such, any major delay at the port will have significant impacts to industries and communities further upstream. What a great end to day 1!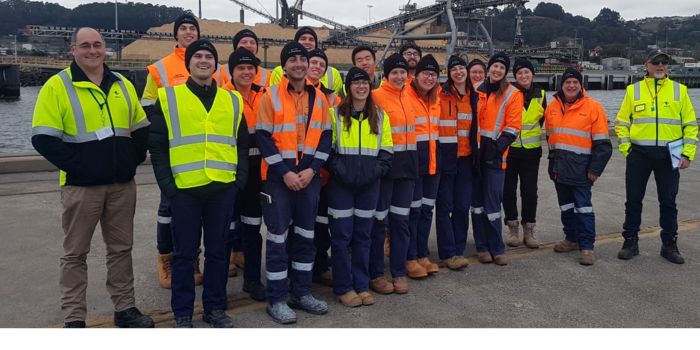 Day 2: Savage River
We began our second day of the field trip in Somerset and drove two hours through mountainous and dense forest to Savage River, operated by Grange Resources. This would be a first for many – for some students it was their visit to a mine site, for others it was their first time at an open cut mine and others, their first view at hard rock mining.
We were taken around by Nicholas van der Hout MAusIMM(CP), Savage's Long Term Planning Coordinator, in which he was able to share an array of valuable insights on Savage and his own experiences. To summarise Savage, it is one of the largest magnetite iron ore mines in Australia and the largest open cut in Tasmania, producing 6.5 million tonnes per year. The mine contains a number of high-grade magnetite iron ore deposits along strike, which are extracted currently through open-pit mining methods. The ore is then processed on-site to produce a high-quality iron concentrate that has some of the lowest phosphorus content in the world – making it suitable as a high-quality feedstock for steel production.
At the processing plant, the ore undergoes crushing, grinding, and magnetic separation to separate the iron-rich magnetic mineral from the waste material. The resulting concentrate is made into a slurry and pumped through Savage's 80 km pipeline to the coast for pelletising and export to international markets. The mine to final product turnaround time is roughly three days and pellets are shipped globally.
It is worth noting that the Savage River mine has implemented various environmental management practices to minimise its impact on the surrounding ecosystem. The company has undertaken rehabilitation efforts to restore the land affected by mining activities, and it has established environmental monitoring programs to ensure compliance with regulatory standards. These include the endangered species monitoring program, where Savage keeps a record of how many endangered species are in the area. These species include the quoll, Tasmanian devils, grayfish, the kingfisher bird and the wedgetail eagle. If any harm is to come to these species due to the Savage River operation, the company will be ordered to pay a fee to the state government. Additionally, Savage has worked with the government to rehabilitate the effect of prior mining activity and processes on the environment through the Savage River Rehabilitation Project. This has included correcting the acid generation of the site and facilitating fish migration through improving the water quality. Once the water has been treated on site it is directly released back into the Savage River and monitoring has shown negligible interference with water quality. On the other hand, due to its remote location, Savage River does benefit from having less stringent limits on operational noise or vibration from blasting. This is also beneficial as firing times are not limited to community requirements.
To increase productivity and safety, Savage has implemented new technology on site. New technologies include fatigue monitors in the dump trucks which monitors the operator's eyes. If the operator is to shut their eyes for 3 seconds, their seat will shake, and the footage will be viewed by a third party to see if the operator needs to take a break. The mine also recently underwent a multi-million-dollar upgrade on their control room, which has allowed for instantaneous updates for drivers and operators and has increased productivity on site by 10-15 per cent. Savage is also investing in research and development to progress safety on site following a fatality on site in 2017. Innovative techniques are being developed to utilise a remote-controlled excavator on wires to complete the scaling work of pit walls.
When looking to the future, Savage River is undertaking a definitive Feasibility Study to move mining at the North Pit to an underground block cave, and a 1.3 km exploration decline has been put in place as part of the study. Their underground fleet will also be entirely electric which is aligned with their carbon neutral plan for 2035 that they plan to achieve with no offsets.
Overall, the Savage River mine in Tasmania has played a crucial role in the state's mining industry, producing high-grade iron ore and contributing to the local economy. While mining activities have inherent environmental challenges, efforts have been made to mitigate these impacts and promote sustainable practices. Savage River was a very worthwhile trip!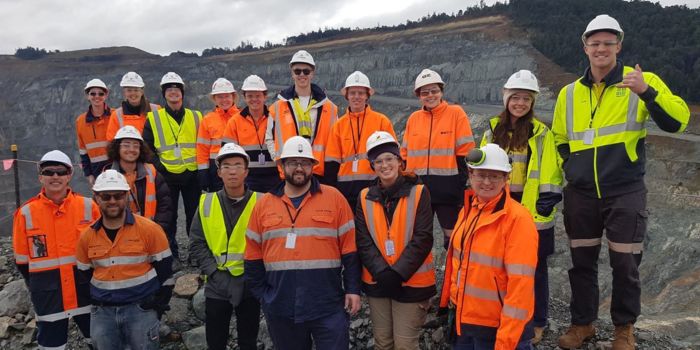 Stay tuned for Part 2 of the report coming soon, which features trips to Renison Bell, Mount Lyell, Henty Gold Mine, Trowunna Wildlife Sanctuary, Beaconsfield and more!
Did you know? Applications are now open for the 2024 EEF Scholarship Program. Find out more here
2023 Education Endowment Fund Field Trip participants. Click here to go back to the article.
Elora Baird – Hydrogeology, James Cook University
Liam Brunton – Mining and Petroleum Engineering, University of New South Wales
Joel Calabro – Geology, Federation University
Kathleen Cox – Chemical Engineering, University of Queensland
Sophie Gillogly – Civil Engineering and Business Management, University of Newcastle
Liam Kelly – Mining Engineering and International Business, University of New South Wales
Guster Laufmann – Mining Engineering and Commerce, Curtin University
Zack Oswald – Mining Engineering, University of Wollongong
Adam Peterson – Mining Engineering, University of Wollongong
Issi Port – Geology, University of Tasmania
Connor Russell – Civil Engineering and Commerce, University of Sydney
Lauren Symon – Civil Engineering and Earth Science, Queensland University of Technology
Adeleine Watson – Metallurgical Engineering, University of Queensland
Hanrong Huang – PhD, University of New South Wales
Loren Nicholls

– PhD, University of Queensland