Achievements of women in mining showcased at Tasmanian awards ceremony
The winners of the Tasmanian Women in Resources and Manufacturing Awards 2021 were announced at a special dinner in Hobart last week.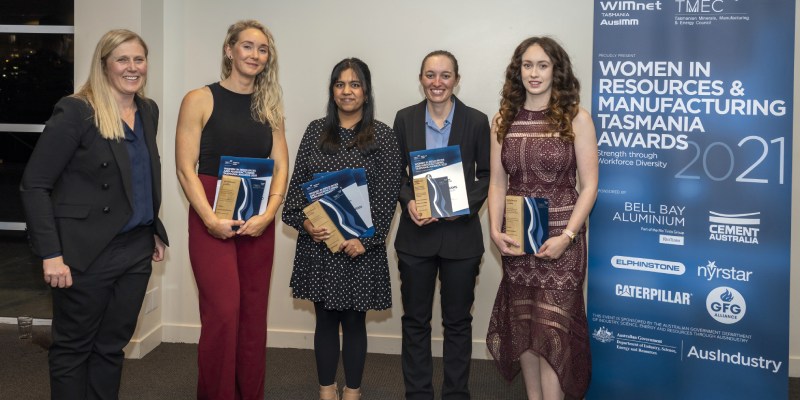 The Awards, organised by the Tasmanian Minerals, Manufacturing and Energy Council (TMEC) in conjunction with the AusIMM Women in Mining Network Tasmania (WIMnet), recognise the contributions and achievements of women in the state's resources, mining and manufacturing industries. They reinforce the benefits of gender diversity to business performance and raise the profile of the sector as an inclusive and rewarding career option for all young Tasmanians.
The awards ceremony was livestreamed to the TMEC Facebook page during the event. This allowed the finalists' family, friends and colleagues to watch the announcement of each of the award winners in real time.
The Tasmanian awards are now in their eighth year, with the winners proceeding to national awards in resources and manufacturing later in 2021. Historically, representatives from Tasmania have taken out national awards on a number of occasions, showcasing the high calibre of professionals in the Tasmanian sector.
Congratulations to all winners and those who were highly commended in the following categories:
Exceptional Woman in Tasmanian Resources
Winner: Aleesa Shepheard
Aleesa Shepheard re-entered the workforce in 2020 after a stint at home raising her four children under 10. While she loved the home life, something was missing and so with the support of her husband started at Bell Bay Aluminium. Aleesa is a lifelong learner, having completed qualifications in nutrition, first aid and mental health, and is the second female crew leader in reconstruction in the smelter's history and currently one of two females working in this area. Aleesa prides herself on setting an example to other women in the workplace to juggle work and family life.
Highly commended: Suzie Coughey
Exceptional Young Woman in Tasmanian Resources
Joint winners: Amby Ramasubramanian and Holly Roughley
Amby is a process engineer from Bell Bay Aluminium (BBA). Originally from Jamaica, her family moved to Australia for her father to work at a refinery in Gladstone. As a graduate, Amby was asked to step into an acting leader role at BBA and she backed herself. She is currently taking part in a mentorship program through Rio Tinto and has set clear direction for her career into the future.
Holly is a truck driver with MMG Limited. She's from a fourth-generation mining family who has battled against the odds to increase her skillset and excel in the workplace – all while providing care to her family.
Exceptional Woman in Tasmanian Manufacturing
Winner: Dr Sabrina Sequeira
Born in Canada to Indian parents and raised in the United States, Dr Sabrina Sequeira is a project engineer and quality assurance environmental officer at Lightning Protection International Pty Ltd. She also continues to lecture at the University of Tasmania to help influence the next generation of students.
Highly commended: Rebecca Harvey
Outstanding Tasmanian Tradeswoman, Operator or Technician
Winner: Kylie Sherriff
Kylie Sheriff is currently a process operator with Bell Bay Aluminium. In her free time, Kylie has been able to volunteer with the SES and fire brigade. Her learnings in leadership at work are now helping her lead in her own community and she says her dad always encouraged her to have a crack and to never be held back by gender stereotypes.
Highly commended: Hayley Williams and Ashleigh Shotton
Gender Diversity Champion
Winner: Michael Spencer
Michael is a production manager of materials movement. He started at TEMCO as a teenager and has worked there for over 30 years, and as a leader has turned around the diversity of the workforce and now boasts a team where 50 per cent of leaders are female.
Highly commended: John Crockett
Excellence in Diversity Programs and Performance
Winner: 'Step in 2020' – People Improvers on behalf of the NW Inclusion Group
The project started as an industry-based discussion about getting more women into the mining and manufacturing workforces. It has turned into a very targeted and solution-based project, which secured funding for 20 women to train and potentially join the industry.