Book Review – Mining in Zimbabwe: From the 6th to the 21st Centuries
Edited by Martin Prendergast and John Hollaway, published by The Chamber of Mines of Zimbabwe, 2019.
This book is a welcome source of information, as the only previous histories of mining in Zimbabwe were a Commonwealth Mining Congress paper (1961) and a PhD thesis (Phimister, 1975).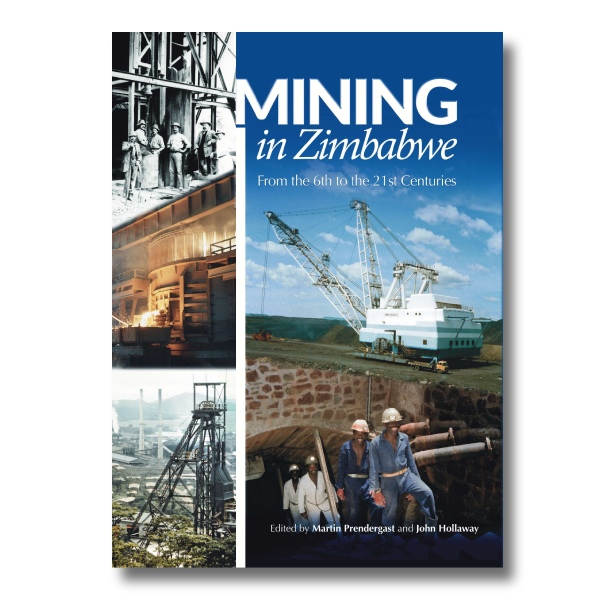 Zimbabwe once had a large and diverse mining industry, which unfortunately succumbed to political mismanagement. Mines for gold, base metals, asbestos, chrome and iron ore have now been largely replaced by a more restricted industry focused on a few, large, underground platinum mines. The robust geological base will one day support a resurgence of the mining industry, and this publication will be an invaluable resource for those considering exploration and investment.
Nineteen chapters by individual authors cover topics including geology, government, pre-colonial mining, commodity-specific histories, and the country's mining economy. A postscript covers the years 2017-2018 to bring the narrative up to date at the time of publication. Within each chapter, descriptions and histories of individual mines include details of processing and mining methods. Each chapter is supported by comprehensive references. The book is profusely illustrated in colour with photographs, maps and diagrams, is well written and easy to follow. A seven-page timeline provides a comprehensive summary of history from the sixth century AD onward.
The story of mining in Zimbabwe dates to the Iron Age. The ancestors of the present-day Shona inhabitants worked many gold, iron and copper ore deposits and established lucrative trading links with Arabs and the Portuguese. The first mechanised plant was a steam-driven 5-stamp mill erected in 1892 for King Lobengula at the Salamander mine near Chegutu, but this quickly failed. Cecil Rhodes' British South Africa Company gained mineral rights in 1888, marking the beginning of modern mining development in the country. Chapter 2 sets out a history of government activity and mineral rights legislation, with a summary of the applicable legislation at the time of publication.
Readers with an interest in gold mining history will enjoy Chapter 3, Pre-Colonial Gold. Anyone who has gazed in awe at the stone ruins of Great Zimbabwe (declared a World Heritage site by UNESCO in 1986) or wondered about its origins as a trading centre and connections with the port of Sofala will find these matters explained in detail. Mining and processing methods are set out to a standard that should satisfy any mining historian. Chapter 4 provides the same level of detail on Pre-Colonial Iron, a 1500-year-old technological tradition, while Chapter 5 covers Pre-Colonial Copper.
The subsequent commodity-specific chapters include a good historical grounding and an explanation of why developments occurred as they did, through colonial times up to the present. The only project of which this reviewer has personal knowledge was the Hartley Platinum start-up and failure in the late 1990s, and it is described fairly and adequately. The quality of technical descriptions is comparable to those in AusIMM's Monograph 28 Australasian Mining and Metallurgical Operating Practices (2013) but given the present state of the industry are mostly more historical than current.
This book is the result of a great effort by many authors and reviewers and is a credit to The Chamber of Mines of Zimbabwe. It will appeal to anyone with a general interest in mining history or in mining on the African continent.
Those wishing to purchase this book can contact the Chamber of Mines of Zimbabwe directly via info@chamines.co.zw.
References
The Mining Industry of Southern Rhodesia (Salisbury: Seventh Commonwealth Mining and Metallurgical Congress, 1961).
Phimister I R, 1975. History of Mining in Southern Rhodesia to 1953 (D. Phil. Thesis, University of Rhodesia)