Book review: Consolidated Gold Fields in Australia by Robert Porter
Consolidated Gold Fields (CGF) was one of the best recognised names in Australian mining from the 1960s to the 1980s, along with BHP, MIM and CRA.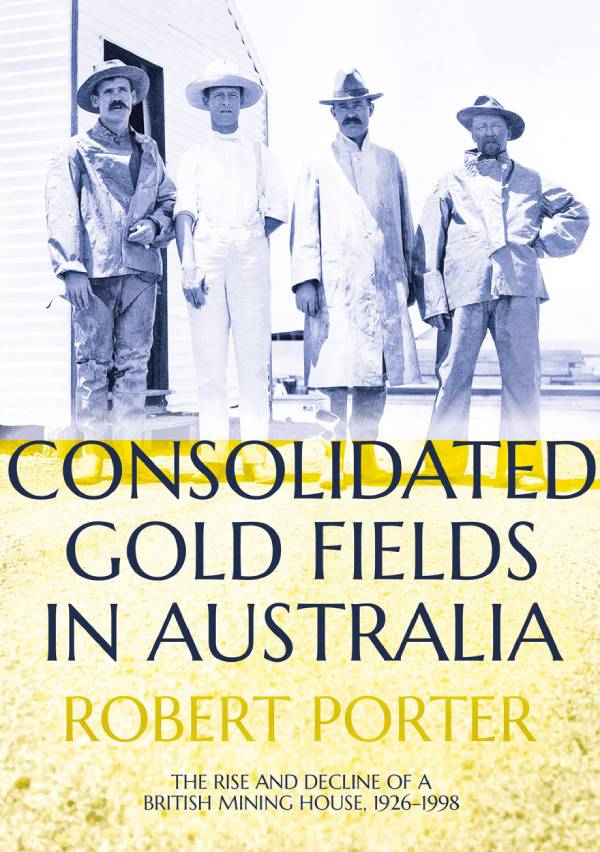 Robert Porter has had access to Consolidated Gold Fields Australia (CGFA) and other archives, and interviewed many of the major players within CGFA for the period 1970 to 1998. He brings life to machinations within CGFA and the various difficulties affecting this and other mining companies in Australia during this period. The book is divided into six parts of the history and conveniently provides a summary of the period at the start of each part.
It is not widely known that this was the second period in which the British based company invested in mining assets in this country. New Consolidated Gold Fields was established as a subsidiary of Consolidated Gold Fields of South Africa in 1919 to oversee investments outside of the company's established gold mines in South Africa. This included investments in the Americas, New Guinea and Australia, where the Lake View and Star in Kalgoorlie, various other Eastern Goldfields properties and the Lake George mine in NSW figured prominently.
In conjunction with the well-known mining entrepreneur Claude Albo de Bernales whose mining companies had a string of gold properties in the north eastern gold fields, some of which had closed early in the 20th century, CGF invested in a large gold resource at Wiluna, 480 km north of Kalgoorlie. This had previously been abandoned as the oxide deposit gave way to an extremely refractory sulphide ore at depth.
The Lake View and Star had adopted flotation of refractory ore, with roasting of sulphide concentrates to release the gold, followed by cyanidation. This treatment route was also selected for the two properties at Wiluna. However, by the end of the 1930s CGF had reduced new investments in Australia.
Twenty years later a subsidiary company Consolidated Gold Fields (Australia), from 1966 the public company Consolidated Gold Fields Australia (CGFA), commenced purchasing interests in mining companies producing a variety of minerals: gold, iron ore, copper, coal, tin and mineral sands, making it one of the more diversified mining companies operating in Australia and Papua New Guinea at the time. The diversification also included a property and rural services group.
The minority interest in most companies was accepted as a reality for a company lacking operational personnel as employees. But there were drawbacks in not having control – the inability to make significant changes if there was dissatisfaction with a particular management team and the inability to make use of cash flow in one company to assist another. This was eventually changed as CGFA took full control of its subsidiaries, in addition to a majority of Australian shareholders.
One weakness was the Mount Lyell copper mine in Tasmania. This and other operations were carried by the spectacular earnings coming from the Renison tin operation in the late-1970s to the mid-1980s, but which largely evaporated following quotas imposed by the International Tin Council and a significant drop in tin prices. The British company Hanson completed a takeover bid for CGF in 1990 and with it a 43.5% interest in CGFA. Hanson gradually lost interest in CGF and its continuing requirements for capital, and in 1998 CFGA was split with the major part, mineral sands, being merged with Westralian Sands and the resulting entity renamed Iluka.
One feature of the history is the three generations of the Agnew family, John, Dolph and Rudolph who guided or influenced Consolidated Gold Fields for the majority of the period of its operations in Australia. John Agnew was appointed to Bewick Moreing and Company by Herbert Hoover, later president of the United States, in 1898 and took charge of the underground operations at the Sons of Gwalia gold mine. He managed other gold mines in the north-eastern goldfields, joined Hoover in London, and later became a director of CGF in 1922.
This is a fascinating and well written history of a company and period in Australian mining. It is recommended reading for anyone who worked in the industry during this time, and anyone interested in mining finance.
---
Robert Porter, Consolidated Gold Fields in Australia, The rise and decline of a British mining house, 1926-1998, Australia National University, ANU Press, 2020, 485 pages.