Book review: The Art and Science of Dozer Mining – A Personal Review and Commentary
In his preface to The Art and Science of Dozer Mining, David Medland makes a percipient observation:
'I have never been to a mine where the work of draglines, excavators and trucks, shovels-and-trucks, and drill and blast is not regarded as essential to the viable operation of that mine. However I nearly always come away from mines thinking that the work of the dozer mining team is somehow held in considerably less esteem.'
Bulldozers, when employed effectively, can be the second cheapest way to move dirt at a mine. It is therefore logical and sensible to understand how best to use them for maximum effect, noting that their great utility also exposes countless possibilities for their inefficient use.
There is no substitute for experience and there is no person with more practical knowledge and involvement in the applications of large bulldozers for mining than David Medland. The idiom 'the devil is in the detail' is apt for dozer mining. What might seem simple at a first look is on closer inspection layered with intricacies whose proper address is only possible with deep understanding accumulated through practice.
This book sets down the foundations of dozer mining and provides a rare insight into the complexities of effective dozer mining practice. Inter alia, it provides clear and methodical descriptions of various alternatives for the basic operations (such as slot development, tip heading, and back-stacking) and provides guidance on when these alternatives are best applied. It also lays bare common design and analysis mistakes to enable clearer thinking about the use of bulldozers as mining machines. Topics covered include dozer set up and blade selection, safe operational practice, highwall bench management, slot dozing, as well as discussions on the use of bulldozers for rehabilitation, stockpile management, and the emerging automation technologies.
This book can be thought of as a compendium of best dozer mining practices and it can help operations rethink their execution for better performance. It is an easy read and numerous anecdotes from a career spent making dozer operations more efficient bring the subject matter to life and give emphasis to key learnings. It is by turns practical, educative, pragmatic, and erudite.
Whether you are an early career engineer trying to make sense of dozer mining, or an experienced practitioner looking to build new insights and understanding, this book is sure to please. It should occupy a slot in the bookshelf of any mine that employs dozer mining and is a compulsory read for all dozer mining teams interested in improvement.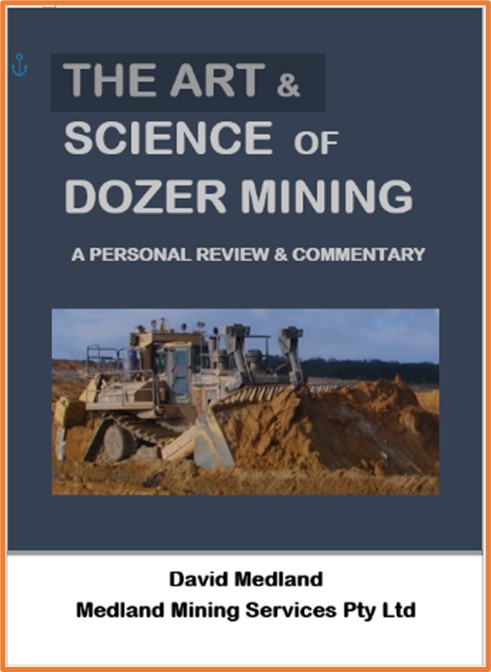 Copies of the Third Edition of this Book can be ordered by contacting David Medland at: dozerdave@medlandmining.com.au or by phone 0418 186 280.