Case study: diversity, inclusion and culture at the Fosterville gold mine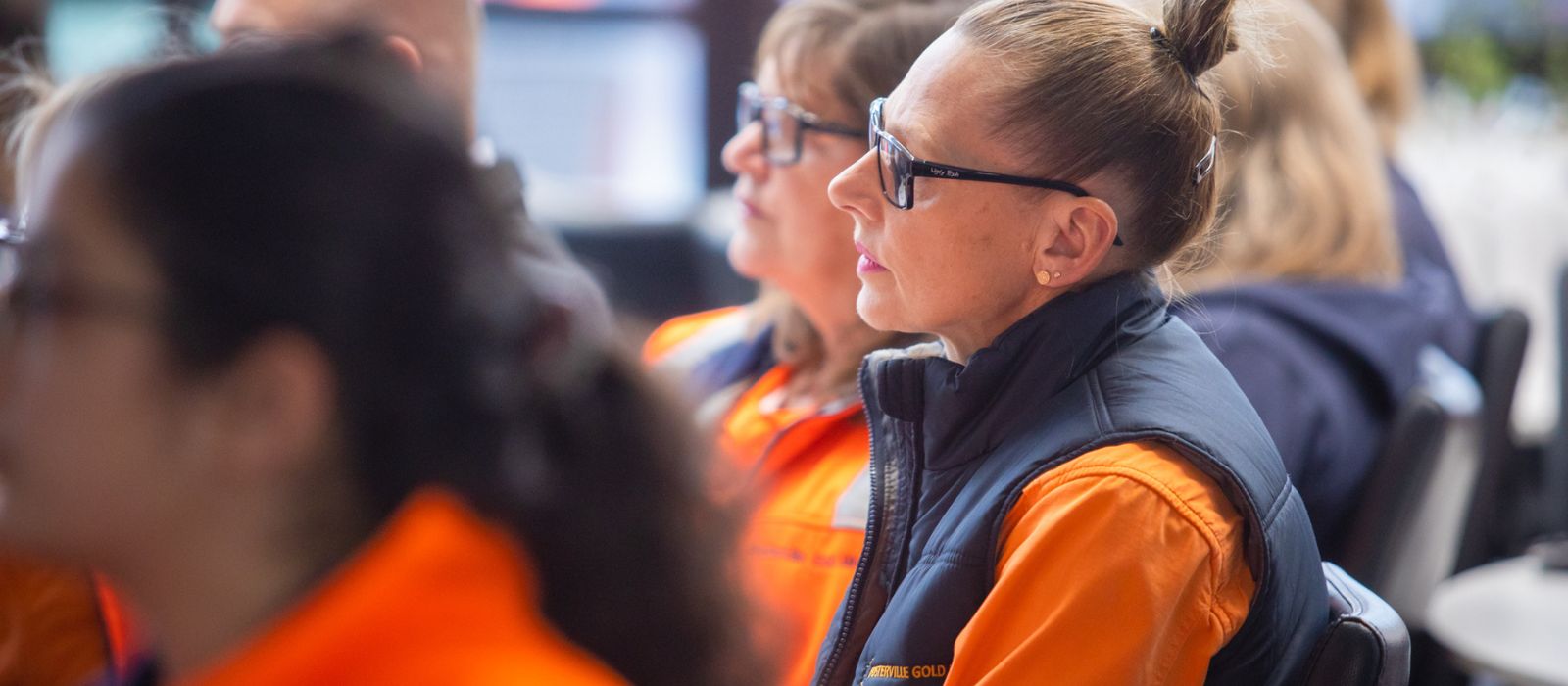 Located just 20 km from Bendigo in Victoria, Agnico Eagle's Fosterville mine is one of the largest gold producers in the state.
This article explores our approach to creating a positive and inclusive culture, not only for workers but extending to initiatives that support the surrounding community as well.
Gender Equity Strategy and Action Plan
Our 'Gecko' or Gender Equity Consultation Kick Off commenced in November 2019 in Australia. It was intended to be a catalyst for the company to increase the focus on issues affecting gender equity at our sites and ultimately create a more diverse and inclusive business.
With support from management, we established a working group that would be responsible for creating our Gender Equity Strategy and Action Plan.
To begin, all female staff were invited to a presentation where information around the process was shared and those interested were invited to become part of the working group. Our aim was to have representation from all departments across the workforce.
From here, the Gecko Group formed, and in December 2019 our Gecko survey was conducted. We asked our employees 'What could we change in the workplace that would have the greatest immediate impact to you?' The results identified five areas:
paid parental leave
the gender pay gap
flexible work arrangements
female underground amenities
career development planning.
We recognised a need for a formal strategy to guide and develop our processes and engaged an external consultant, Tam Marwood, to assist us. We also explored the physical additions to site that would support the issues brought to our attention from the survey results. Underground female amenities increased, and we upgraded the female surface change house facilities. We also made the buildings and amenities site-wide more accessible, as well as the introduction of a parents room.
Working with Tam, our working group (rebranded to the Fosterville Diversity and Inclusion Network) commenced planning the Gender Equity Strategy in June 2021. The Strategy and Action Plan was finalised and launched in June 2022, and was shared with all staff. The plan currently has 4 focus areas:
leadership accountability
talent pipeline
gender inclusive culture
flexibility in the workplace.
Our vision is to create an environment that respects everyone's dignity, ideas, and beliefs, thereby ensuring equity and diversity in employment.
Approaching flexible working practices in a post-Covid era
Post-COVID, we have been more actively promoting and discussing the options around flexible work arrangements, with particular emphasis on part-time and job-share, and also on hybrid models that allow people to carry out part of their work remotely. However, these models still include time on-site, as we believe it is important that face-to-face interactions help foster engagement, both with the team and from a broader site perspective. We continue to explore a variety of roster patterns that look to potentially condense a person's working hours into fewer days, therefore providing additional days off work for them to pursue their personal interests and/or spend with family.
In 2021 our Parental Leave Policy was finalised, which contains a period of paid leave for both primary and secondary carers and a lump-sum superannuation payment for primary carers.
Agnico Eagle has also recently released its organisation-wide 'Right to Disconnect' policy, which sets out the expectation that when a person leaves the workplace, they disconnect and have a free mind to enjoy their time away from work.
The role of the Diversity and Inclusion Network in the day-to-day culture of the workplace
The Fosterville Diversity and Inclusion Network is an advisory group charged with supporting and informing the site's diversity and inclusion agenda, and building a culture that welcomes and encourages opportunities for all employees. It reports to Agnico Eagle Fosterville's senior leadership team.
The network participates in the development and implementation of equity, diversity and inclusion initiatives and action plans, and ensures alignment with our broader organisational strategy. It also acts as a reference group and makes recommendations on relevant initiatives, policies and procedures. Our group takes pride in supporting the engagement of all employees in an inclusive culture by acting as a peer support network through holding information and networking sessions, developing internal mentoring practices and actively welcoming and promoting the attraction of a diverse workforce.
Improving our workspace by having our buildings upgraded to be fully accessible, the addition of a 'quiet space' that can be used as a parents room, prayer or meditation space, as well as improving underground amenities are some of the ways the network supports the day-to-day culture of Fosterville.
From mid-2021, all inductees to site hear an Acknowledgement of Country; this was a small but important step on our journey to recognise Australia's First Peoples. We have also celebrated the raising of the Aboriginal flag to fly with our Australian and Canadian flags at the entrance to our site. These gestures are examples of the initiatives our network puts forward.
Engaging with people in Bendigo and further afield
Agnico Eagle is committed to supporting the communities where it operates, with key themes including education and training, social health and wellbeing, diversity and inclusion, and economic development.
The impact of COVID 19 motivated our team to identify areas that had been most affected by the pandemic including homelessness, food shortages, mental health, education, and domestic violence. Because of the pandemic, services in these areas saw significant increase in demand while at the same time found fundraising curtailed.
In response to this, in 2021 our company launched its $15 million Australian Community Partnership Program (CPP) to support post‐COVID‐19 recovery and leave a positive community legacy.
The CPP is an Australia-wide program, with a large focus on the Central Victorian region, due to the location of Fosterville. Bendigo is also one of the few remaining Australian regions that supports a manufacturing sector.
With this in mind, we supported the introduction of battery electric technology development training in Bendigo by partnering with Bendigo Tech School to encourage young women in the STEAM (science, technology, engineering, arts and maths) streams. The 'Girls in STEAM' project provides funds for female students to build an electric car, introducing to these young women a narrative about automotive waste, upcycling, and future transport sustainability.
The students have been given a hands-on opportunity to convert and restore a classic four-wheel drive to electric operation. The vehicle will be available for rent in the local area, with revenues going into the school's future community enterprise projects.
Homelessness is a serious issue in any region and there was a significant spike in demand for homelessness services at the height of the pandemic. Through a partnership with Haven Home Safe, we are also helping to increase the awareness of homelessness services throughout regional Victoria.
The CPP funding also further invests in our existing 'Shared Futures' program, which is designed to help young people develop the necessary knowledge, skills, and confidence to seek, secure, and maintain long‐term housing and build their capacity to take a more positive and active role in the community. People who have completed the Shared Futures program since 2015 have gone on to secure housing, find employment, and engage with further education or vocational studies.
Another very important part of regional communities in Australia is the local country fire authorities (CFA). We have also initiated a program to build capacity in relation to bush fire readiness of nine local Victorian CFA brigades, promoting positive and long-term outcomes and local awareness of the CFA.
Through these programs, we are not only as a company providing support to the local community that supports us, but also encouraging our own employees to consider the ways they can give back, helping to foster a broader sense of community engagement amongst our workers.
Local initiatives having a broader influence
Earlier this year our leadership team in Victoria had the opportunity to engage with the Agnico Eagle executive management team out of Canada, including having our CEO and President, Ammar Al Joundi, visit. Not only was it timely in terms of introducing us to the Agnico Eagle team post the merger with Kirkland Lake Gold, but it was also the first time in two years that any of the Canadian-based executives could come into Australia.
Spending this time with our new colleagues helped give us a strong sense of the culture, values and history of Agnico Eagle – which is really important to help get our own 'local' culture aligned. Founded from simple beginnings in the town of Cobalt in Northern Ontario, the company has steadily grown to where it is today. Our company mission is simple. We work very hard to be a high quality, easy-to-understand business – one that is successful for our shareholders, but is also a great place to work for our employees and contributes positively to the communities and countries in which we operate.
We believe that for mining to work, it must work for all stakeholders. You will see from the broad spread of examples documented above that we are on a path to create a culture that embraces D&I and helps create a positive impact on the community in Australia. We have a very open and collaborative relationship across all the operations in Agnico Eagle, and are keen to share our learnings with one another, and indeed the broader industry.