Event recap: Technology as a driver for diversity and inclusion in the industry
AusIMM's Perth Branch recently hosted a thought provoking and insightful networking event and panel discussion on the topic 'Technology as a driver for diversity and inclusion in the industry'.
The discussion brought together a panel of industry leaders to talk through how we are continuing to drive change in the industry, but also acknowledge the challenges we face.
The panel was moderated by Perth Branch Committee member Kaushika Hazarika MAusIMM, Engineer Processing Reliability, BHP. Other panel members included:
Chris Eriksen, GM, Information Technology and Improvement, Atlas Iron
Asmita Mahanta, Manager Technical Services and Data Integration – BHP
Michelle Carey, Chief of Product Management and Marketing – IMDEX
Gabriella Martini, General Manager – First Mode, and,
Paul Maney, Manager of Fixed Plant and Infrastructure – Rio Tinto.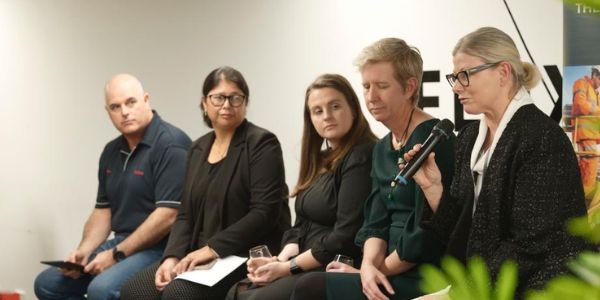 The panellists brought a diverse range of perspectives around how technology is helping us create a more inclusive industry, while acknowledging we still have a way to go.
The group highlighted how the transformation of our industry is broadening the range of roles available, and allowing for more flexibility, with many jobs no longer requiring people to be on site, or in the office. Additionally, with the development of a range of not just automated and remotely operated equipment, but enhanced data acquisition and software, the workplace is becoming a lot safer.
From the technology side, as product developers, it was noted that we need to make products that make people's jobs easier, otherwise they won't use them. The conversation should be about building good products, not around supporting people who aren't 'tech savvy' to use them.
The panel also highlighted how challenging the status quo on how we think about roles will encourage more diversity. Traditionally, we have a focus on a certain number of years of experience and training required for roles. Just because it took someone five or 10 years to master a skill, it will take the same time for someone else as well. We should give people the same opportunities if they can do a job, regardless of their time in the role. The panel also noted that more can be done to adapt our approaches to accommodate for a more neuro diverse workforce.
Finally, the panel acknowledged the tension between wanting to encourage more people into our industry, while struggling to recommend a career in a low diversity, and at times high risk, environment.
We thank our panellists and our guests for a robust and important discussion, and for creating the ongoing discussions that happened in the room during the post-event networking, and will continue to happen in our industry.