Improving geological modelling in the age of data overload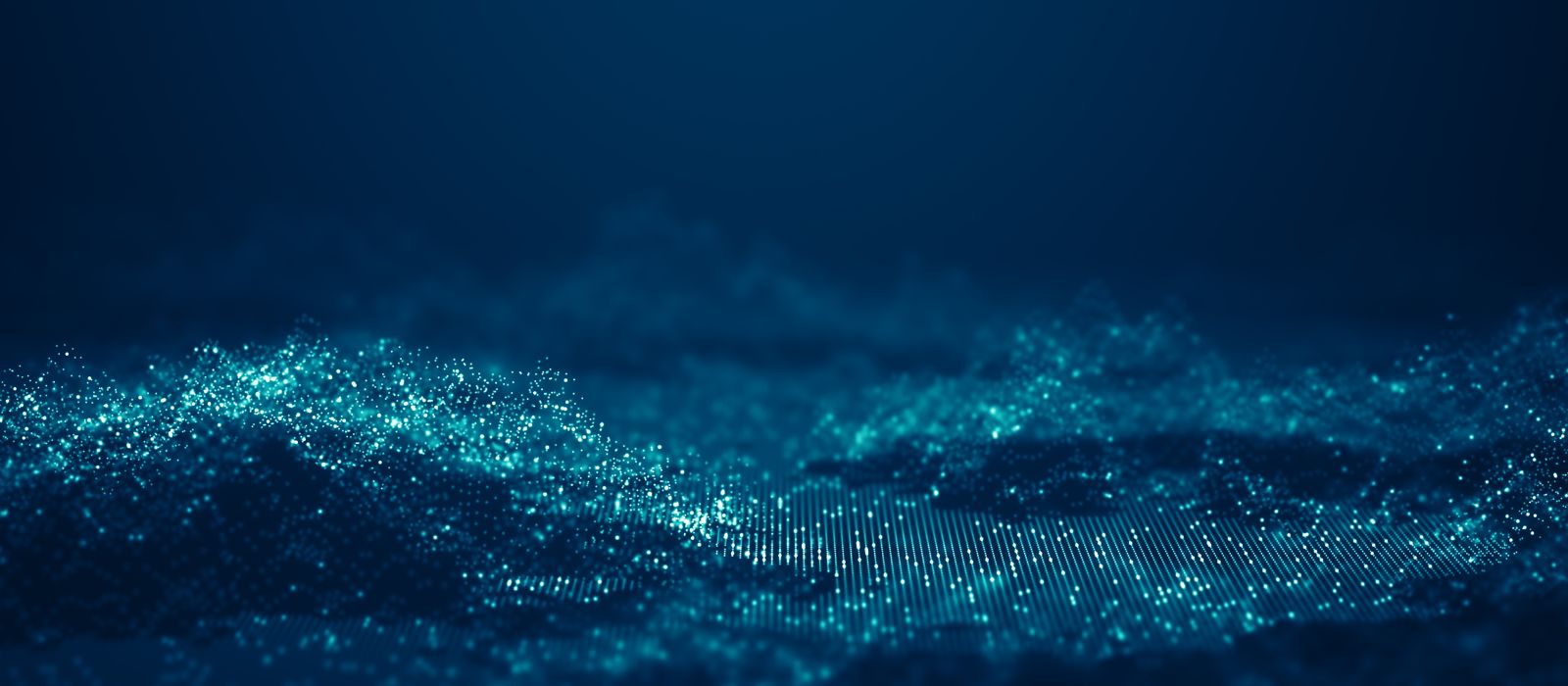 Geologists face many challenges in dealing with the unprecedented amount of geoscience data available today. In this article, Jacques Nel discusses software developed by Dassault Systèmes with the potential to help mines to rise above the chaos and use all of their data to generate more accurate geological models that give them a critical strategic edge.
A geological model is a specific representation of the location, characteristics, and extent of the lithology and ore types of a mineral deposit. It is based on the knowledge of the geologist and on data gathered through such sources as geological field observations, drillhole records, geophysical surveys, and assays. It is a vital input for both the resource model and mine planning, and affects virtually every decision made throughout the mining process.
To put it another way, the success or failure of a mine largely rests on the shoulders of the geologist responsible for the original geological model.
However, while today's big data and advanced technology can help geologists generate more accurate models than ever before, there are still challenges to overcome in using all that data and technology successfully. Fortunately, there are also solutions.
Challenge 1: Importing and managing the data required for an accurate geological model
Geoscience data is key to any technical or financial evaluation of a mineral deposit because it helps define the site, shape, and grade of the orebody.
Today, however, geologists are inundated with so much new geoscience data — structural, geochemical, lithological, remote sensing, etc. — that they often don't know what to do with it all. At the same time, valuable historical data may be stored on a number of different servers, on staff members' personal laptops, on outmoded disks or drives, or even in long-forgotten physical filing cabinets. There may also be so many different versions of some datasets that it's impossible to know which is the latest.
All of this can lead to a lack of confidence in the data used for modelling and downstream decision-making processes, and/or to mines using valuable time and money to re-explore or re-acquire lost data. It also makes it difficult for mines to comply with Environmental, Sustainability, and Governance (ESG) regulations that call for them to become more transparent in how they acquire, store, manipulate, and use geoscientific data.
Challenge 2: Visualising and analysing the data required for an accurate geological model
Data visualisation gives geologists insight into their geoscience information and helps them identify geological trends or patterns as well as erroneous data. Data visualisation, however, like data management, has been made much more complicated by the vast quantities of data available today from both exploration and operational projects — most of it in different data types from different sources in a variety of file formats.
Those different sources and formats make it difficult for geologists to visualise and analyse their data in one application, meaning they could miss important trends or patterns, while the workflows they have access to now to integrate separated data may be too time-consuming or unreliable to use. The result is that valuable geoscientific data may be inadvertently excluded from the geoscientific analysis, reducing the accuracy of the geological model.
Challenge 3: Interpreting and modelling the geology of a mineral deposit
Throughout much of the world, regulatory bodies require geologists to adhere to strict standard operating procedures and regulations when generating geological models. This is not easy considering:
the number of tasks that must be completed to generate a model
the amount of data linked to each task
the timeframe allocated for each task, and
the complexity of keeping track of tasks, data, and timeframes.
But failing to adhere to these operating procedures and regulations is not an option, because it could lead to non-compliance, which would have a negative impact on the mine and/or mine company.
Having data stored in multiple repositories in many different file types compounds this challenge by forcing geologists to interpret data in several separate applications, which once again (see Challenge 2 above) may lead to them missing critical trends or patterns, and then producing incorrect interpretations and inaccurate geological models.
Challenge 4: Validating and sharing a geological model
Once a geologist has interpreted geoscience data and created a base geological model, there are a number of different methods they can use to ensure it has been generated as accurately as possible. These include:
doing a geostatistical simulation to construct geological scenarios that can test or quantify the uncertainty of the model
conducting a visual analysis of the domains compared to the actual data
using query filters to test the model
making a direct comparison of the new geological model to the previous model, and/or
sharing the model across the organisation for collaborative peer review.
The challenge for many geologists right now, however, is that they may have only a single technique or application they can use to validate their model, which means they may miss certain issues that can render the model — and all the critical mine planning decisions made based on it — inaccurate. This in turn can lead to imprecise mining optimisations, possible safety issues, and less-than-expected production.
Sharing the model for peer review may also be difficult. Departments in the mining industry have traditionally acted in silos, which has made cross-departmental collaboration challenging. Many also still use email or flash drives to share important files, which makes it hard to be sure which version is the latest, and not all departments may have access to applications where they can view or statistically analyse the model, and acquiring new licences can be costly.
Addressing the challenges
Overcoming all four of these challenges — the need for secure, effective data management; comprehensive geological visualisation and analysis; correct data interpretation; and accurate model validation — begins with ensuring that all geoscience data is integrated, stored, analysed, interpreted, and managed in a single, platform-based centralised repository.
This centralised repository will ensure that the latest, most complete version of any data becomes the single source of truth for everyone to reference. And it has the added bonus of helping to minimise the financial cost of obtaining geoscience data by increasing the percentage of it actively used in creating models.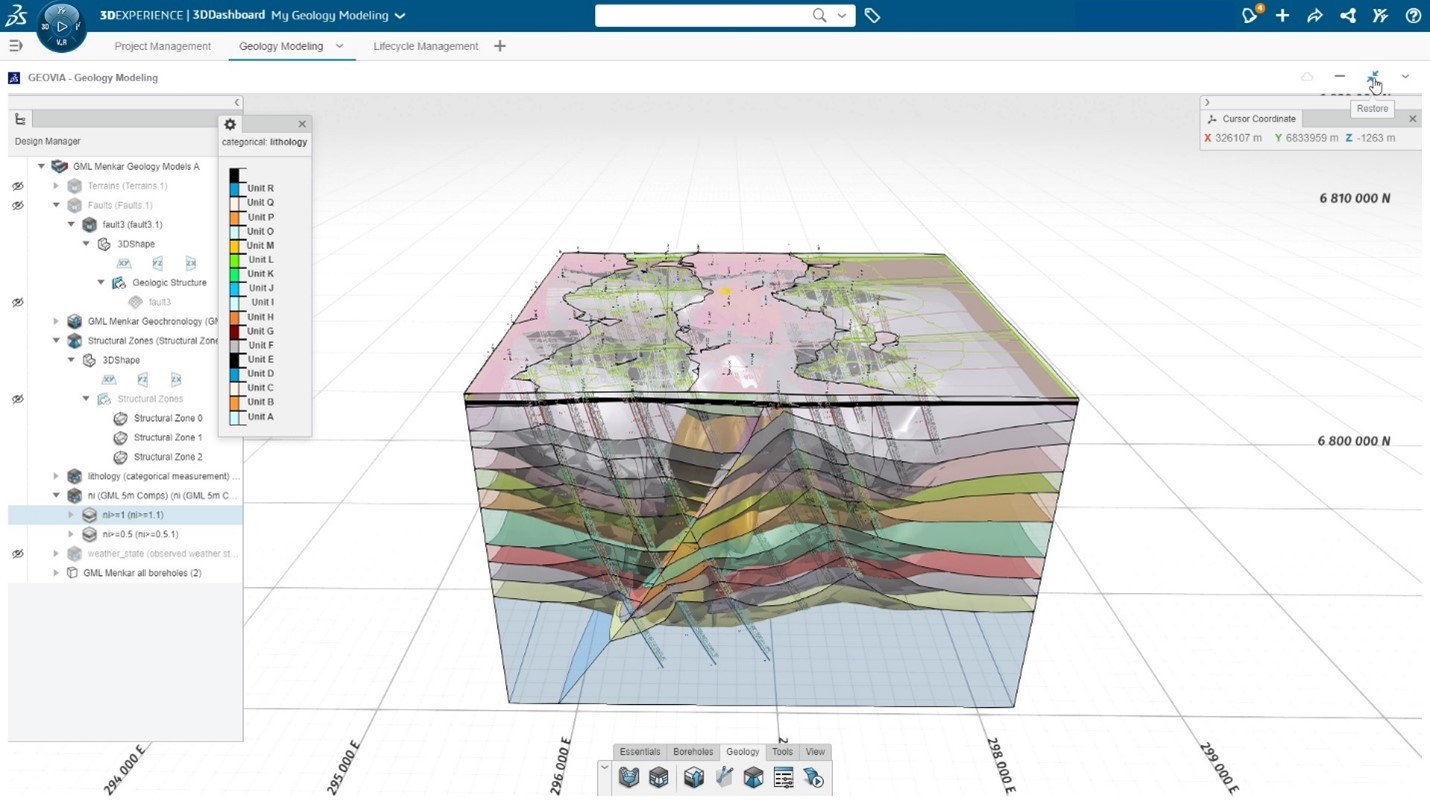 One example of a platform-based centralised repository is Dassault Systèmes 3DEXPERIENCE platform. To assist with geological modelling, we have also developed a customised Geology Modelling repository, where all of a mine's geoscience data is first securely stored on the platform, either on a mine company's own premises or on a public or private cloud. From this central hub, industry-proven applications, tools, and workflows make it far simpler for geologists to locate, interpret, display, and analyse their data, as well as to create, validate, and share geological models.
It works like this: The 3DEXPERIENCE platform connects to both GEOVIA Surpac geology and mine planning software and ENOVIA project and document management software. This enables geologists to drag and drop any data (drillhole, topographical point cloud, geophysical, assay, geotechnical, etc) held on the platform in any format into the GEOVIA Surpac graphics window to begin work immediately — no data conversion or lengthy import or export processes required. This kind of integration also has the benefit of automatic document versioning, data check-in/check-out, and user file and folder permissions to ensure traceability and accountability.
The software combination also gives geologists the ability to:
synchronise data for fast 3D visualisation
apply geological reasoning and logic to sculpt domain solids from all available data
create and compare various interpretations for "what if" scenario analysis to quantify the natural uncertainty
track the entire evolution of the geology model from data interpretation to model generation and validation
create a project plan, assign tasks, and monitor project progress (and any issues or bottlenecks) against the plan using a variety of visual methods, and
share the 3D geological model and any statistical reports and charts with stakeholders through customisable dashboards or communities.
The result is improved compliance with Standard Operating Procedures, ESG regulations, and the mine's own KPIs. It also allows greater confidence in the quality of the geoscience data and the accuracy of the geological model, and better decision-making throughout the life of the mine.
---
Find out more
If you're interested to learn more, we invite readers to join the GEOVIA User Community by Dassault Systèmes, to read about industry topics from experts. All industry professionals are welcome to learn, engage, discover, and share knowledge to shape a sustainable future of mining.