Increasing obligations in psychosocial health and safety in the resources sector
This article is based on a presentation delivered at the AusIMM Southern Queensland Branch technical talk in March 2022.
Problems with mental health significantly affect how a person feels, thinks, behaves, and interacts with other people. Mental health is a serious health concern, and it affects a large proportion of Australians and has a debilitating effect.
Mental health in our community
Almost half (44 per cent) of Australians have experienced a mental disorder in their lifetime (Australian Bureau of Statistics, 2022a).
More than one in five (21 per cent) experience a mental illness each year. Mental illness was most common in the 18-24 year age group, but every age is affected. More than 21 per cent of young people aged 15-19 met the criteria for probable serious mental illness (Australian Bureau of Statistics, 2022a).
During 2020 suicide was the leading cause of death for 15-44 year olds, and was the cause for over a third of deaths in 15-24 year olds (Mission Australia and the Black Dog Institute, 2017). Across overall age groups it's the 15th leading cause of death (Australian Bureau of Statistics, 2022b).
However, people with mental health conditions access treatment about half as often as those people with physical disorders (Black Dog Institute, 2020).
Mental health in mining
Psychosocial risks and mental health concerns have long been known to be a significant issue for the industry. There have been several studies revealing significantly higher incidences of mental health issues in mining employee populations. A 2018 research article on the psychological distress in remote mining and construction workers (Bowers et al) revealed 311 respondents (28 per cent) had K10 scores indicating high/very high psychological distress, compared with 10.8 per cent for Australia overall.
The Western Australian Government's Parliamentary Enquiry into the impact of FIFO work practices on mental health (WA Government, 2015) reviewed a number of studies into mental health in FIFO workers in the state. The enquiry encouraged more research into the field; mental health issues have consistently been reported as having a higher occurrence in FIFO workers.
The changing nature of work
The nature of workplaces has changed with increased connectivity and massive computing support. This allows many with the ability to work more globally, not only with remote working, but being able to access information and interact with resources – including people – more simply and flexibly.
With more options, people have the opportunity to use more creativity and design and incorporate strategic thinking in ways that they may not have been able to previously. Complex tasks can be supported, and with communication and supply available 24/7 and anywhere in the world, the pace of progress can increase. The ability to interact with people or resources online or remotely any time or anywhere has decreased bottlenecks and process delays. Additionally, structures of workplaces and communication continue to change all the time.
However, with that excitement comes different sorts of stress which can affect the mental health of workers. Increases in sedentary work when people are sitting at computers is linked with reduced physical activity, which has physical and mental health risks associated. Improved technology allows automation and the increasing use of artificial intelligence systems means that some roles may not exist, or change dramatically. Remote work and connectivity blurs the boundaries of work and home, meaning people are often accessible by mobile phones or devices, and not allowing them to separate their work and home lives. Even the nature of employment, especially the 'gig' or 'entrepreneurial' economy, shifts the face of employment and what contracts look like. There can be significant instability even while there may be economic opportunities for some.
Many in the workforce are aging, and must cope with the instability of roles, changing technology and requirements, as well as the effect of the loss of institutional knowledge and mentors as they leave the workforce.
In the post pandemic workplace:
94 per cent of workers are stressed
78 per cent believe the pandemic has severely affected their mental and physical health
40 per cent are making more flawed decisions and negatively affected goal progress
90 per cent report that new work-related stress affects home life (family engagement).
Effects of ongoing workplace stress
The effects of psychosocial stress on workers can be significant and can include:
Anxiety / depression
Sleep disorders
Unhealthy eating
Cardiovascular disease
Musculoskeletal disorders
Diabetes
Substance misuse.
For the workplace, the effects of workers affected by psychosocial stress can include:
Reduced productivity / service quality
Reduced job satisfaction
Turnover (recruitment and training)
Increased workers compensation cost
Income disability insurance
Disengagement / burnout
Reputational risk
Workplace investigations and litigation.
Psychological hazards
Psychosocial hazards (Figure 1) are increasingly recognised as major challenges to health, safety and well-being at work. OH&S management systems should prevent work-related injury and ill-health by providing safe and healthy workplaces. Safework Australia has released a model code of practice that has been adopted by a number of jurisdictions.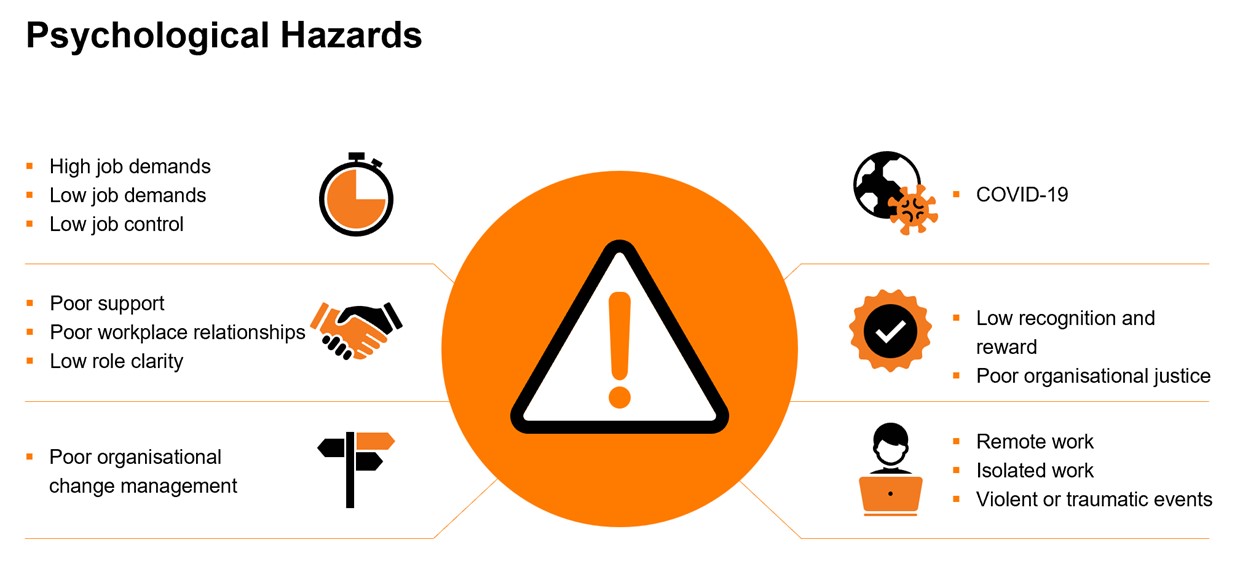 The process of developing a Mental Wellness Strategic Plan
Identify psychosocial hazards and assess the risk
Measure and assess the culture of psychological safety and growth mindset in your teams and business
Leadership coaching and development
Psychological health monitoring program
Develop illness / case management program with urgent access to care
Implementation, monitoring and review of Strategic Plan
Monitor and review
Domestic violence strategy.
Developing a Mental Wellness Strategic Plan
As with any Strategic Plan, the objective is to establish desired outcomes and set goals and to do so by developing a realistic, achievable action plan with recommendations for implementation.
In order to have a realistic achievable action plan, there must be an understanding of the current situation and useful measures to use to quantify progress.
Before the plan can be created, the first step is to review and analyse existing data. This allows the establishment of a baseline for improvement. This baseline data can then be used as a comparison against other industry data and current research, and to create a useful action plan.
The most accurate and useful method to identify needs is always to consult with employees to identify psychological risks in order to create a relevant risk assessment.
This can be combined with a situational/GAP analysis which determines which policies, supports and practices already exist for employees.
There are a number of ways to assess psychosocial health within a workplace. This could include:
Absenteeism rates and reports
Bullying and sexual harassment reports and claims
Workers' compensation claims
Incident and injury rates
Employee assistance provider statistics
Turnover rates
Drug/alcohol related incidents
Staff survey results- regarding work culture, their experience of mental health and psychosocial hazards
There are several different hazards to psychological health that may not be easy to identify, and they vary depending on the workplace and organisation.
To learn more, visit www.resile.com.au.
About the author
Dr Robert McCartney is a physician who has specialised in the field of Occupational Medicine for over 20 years. His career goal is to maximise the health, wellbeing and productivity of working people.
He is a Fellow of the Australasian Faculty of Occupational and Environmental Medicine with the Royal Australian College of Physicians and a past president of the Australian and New Zealand Society of Occupational Medicine.
References
Australian Bureau of Statistics, 2022a. National Study of Mental Health and Wellbeing, 2020-21 [online]. Available from: https://www.abs.gov.au/statistics/health/mental-health/national-study-mental-health-and-wellbeing/latest-release
Australian Bureau of Statistics, 2022b. Causes of Death, Australia [online]. Available from: https://www.abs.gov.au/statistics/health/causes-death/causes-death-australia/latest-release#intentional-self-harm-deaths-suicide-in-australia
Black Dog Institute, 2020. 'Facts and figures about mental health' [online]. Available from: https://www.blackdoginstitute.org.au/wp-content/uploads/2020/04/1-facts_figures.pdf
Mission Australia and The Black Dog Institute, 2017. Youth Mental Health Report 2012-2016 [online]. Available from: http://www.blackdoginstitute.org.au/wp-content/uploads/2020/04/2017-youth-mental-health-report_mission-australia-and-black-dog-institute.pdf?sfvrsn=6
Jennifer Bowers, Johnny Lo, Peta Miller, Daveena Mawren and Brooklyn Jones, 2018. Psychological distress in remote mining and construction workers in Australia. Med J Aust 2018; 208 (9): 391-397.
Western Australia Government, 2015. Western Australia Legislative Assembly Education and Health Standing Committee The impact of FIFO work practices on mental health [on;ine]. Available from: https://www.parliament.wa.gov.au/parliament/commit.nsf/(Report+Lookup+by+Com+ID)/2E970A7A4934026448257E67002BF9D1/$file/20150617+-+Final+Report+w+signature+for+website.pdf