Insights from AusIMM's Thought Leadership Series: Indigenous participation
Better recognising First Nations peoples' skills and strengths, understanding and investing in a range of business models, and building early and lasting relationships are some of the key takeaways from AusIMM's first 2022 Thought Leadership Series webinar on Indigenous participation.
The webinar was moderated by Dr Michelle Evans, Associate Professor in Leadership at the Faculty of Business and Economics at the University of Melbourne. Dr Evans specialises in Indigenous leadership and entrepreneurship, and led a wide-ranging discussion featuring panellists Sorell Ashby (Guumali), Kia Dowell (Gelganyem Limited), Leslie Delaforce (Minderoo Foundation), and Russell Reid (WSP). Read some of the takeaways below.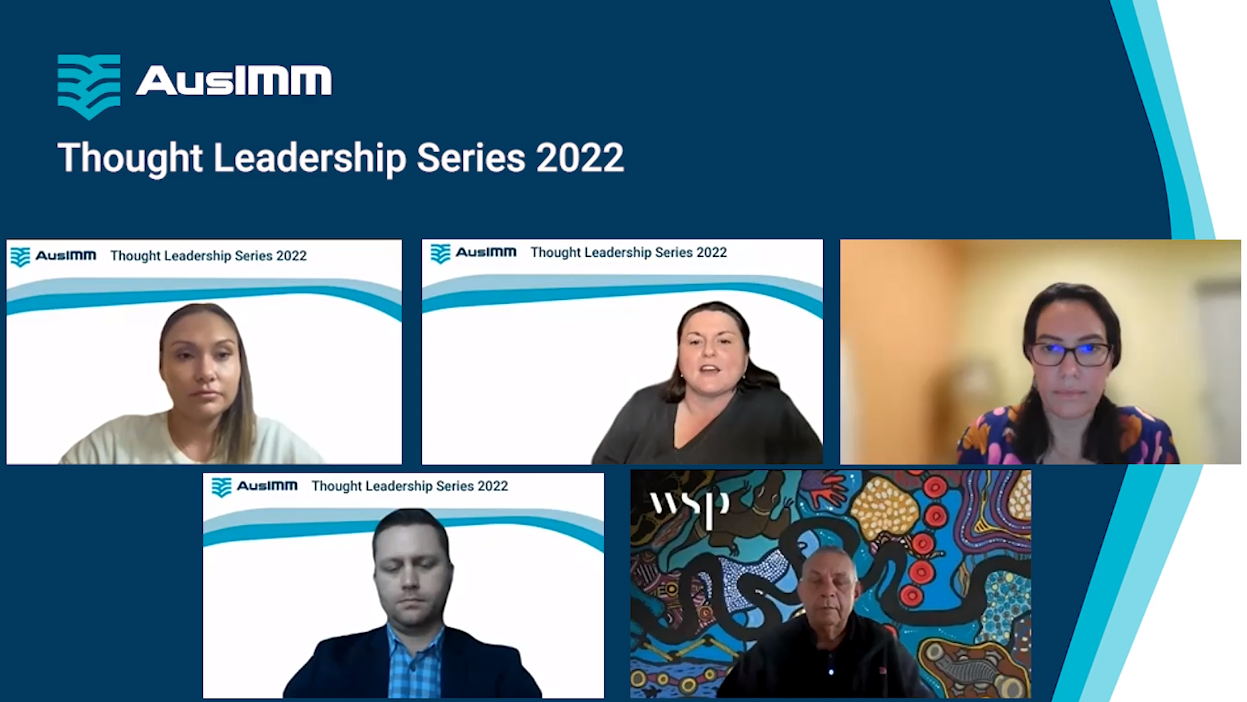 Sorrell Ashby, Dr Michelle Evans, Kia Dowell, Leslie Delaforce and Russell Reid.
More can be done to recognise the existing strengths First Nations peoples bring to the workforce
Sorrell Ashby, Founder and Managing Director of Guumali, spoke of her experience in the not-for-profit sector and where the requirement for formal qualifications can inhibit participation. 'We need to recognise that relationships and knowledge of the community are just as important as a Cert IV in Community Service,' Ashby said. Overbearing bureaucracy can stop First Nations peoples' strengths from being recognised, and prevent people with real, meaningful skills from being part of the workforce.
There's also an opportunity in an era of digital connectedness to rethink the skills that young people can bring, even if living in remote or regional communities. 'We're not asking young people what they want to do,' Ashby said. 'The world is changing and our young people have so many more strengths that they can offer…there's work that young people could be doing over the computer, whether it's graphic design or video editing.'
Indigenous business opportunities are diverse and growing – and bringing benefits for First Nations peoples
Dr Evans noted that Australia's First Nations business sector is growing at a rate of around four per cent per year (although acknowledging that the growth is coming from a historically low base). Business can be a vehicle for self-determination and Indigenous corporations can provide social, cultural, environmental and economic contributions to society.
Leslie Delaforce, Indigenous Entrepreneurship Director at the Minderoo Foundation, spoke of how Indigenous businesses are far more likely to employ more First Nations peoples, helping to create intergenerational opportunities and wealth. And while Indigenous procurement policies have helped create awareness of 'business-to-business' procurement and supply options, there are more opportunities to support of all types of First Nations businesses. This includes high-growth and emerging tech start-ups, being driven particularly by a younger generation of entrepreneurs.
Gelganyem Limited Chairperson Kia Dowell emphasised that there is a diverse Indigenous business sector, and that in a small amount of time Aboriginal and Torres Strait Islander peoples have become 'market makers' – entrepreneurs creating opportunities informed by their values. 'It's about "how can I develop country in a way that fulfils me in my wholeness as an individual?"' Dowell said. This leads to more ideas and opportunities that are led by, and for, First Nations peoples.
An organisation's relationship with the local community can have far reaching consequences and benefits
Russell Reid, National RAP Lead and Senior Aboriginal Affairs and Participation Consultant at WSP, was unequivocal in the need to engage meaningfully with First Nations stakeholders early in project life, noting that 'every one of our projects is undertaken on Aboriginal land.'
Reid spoke about how it was critically important to take the time out to meet First Nations stakeholders on their country and ask their points of view on how they see themselves fitting into the program, what can be offered, and to help manage expectations.
Engaging in this dialogue provides the opportunity for First Nations businesses to be part of and ultimately benefit from the project, with Russell giving the example of an entrepreneur involved in a road building project turning his sole-trader business into a larger enterprise.
Engaging early in a meaningful, respectful dialogue will lead to positives over the life of a project – not just for business outcomes, but for communities as well through a sense of pride in being involved and the associated social benefits this brings.
AusIMM's Thought Leadership Series
AusIMM's webinars on Indigenous Participation, Global Mining Trends; Technology and Decarbonisation; Future Workforce and Critical Minerals can be viewed on demand here.