Introducing our 2023 Education Endowment Fund Scholarship recipients
Every year the Education Endowment Fund (EEF) Board of Trustees award the annual EEF Scholarships, including the prestigious Sir Frank Espie/Rio Tinto Leadership Award and EEF Premium Scholarships.
The application process starts the previous year and students from all over Australia who are studying a minerals-related degree are encouraged to apply. The core theme of the EEF program is to identify future industry leaders among AusIMM's student members and ensure they are offered meaningful opportunities to develop professionally over the course of their scholarship.
Meet our 2023 recipients below.
Sir Frank Espie/Rio Tinto Leadership Award and Premium Scholarship
Guster Laufmann – Curtin University
Bachelor of Engineering (Mining Engineering)/Bachelor of Commerce (Finance)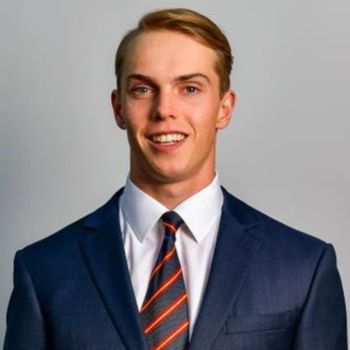 Guster commenced studies in Engineering and Commerce at Curtin University in 2019 and is currently in his final year of studies at the Western Australian School of Mines (WASM) in Kalgoorlie, where in 2022 he was awarded the AusIMM 3rd Year Mining Student award.
Concurrently, Guster was awarded a scholarship from the Western Australian Institute of Sport (WAIS) as part of their elite rowing program, and at the age of 20 became Australian Champion in the Under 23 Coxless Four. He was subsequently invited to be a member of the Australian Rowing Squad, and was chosen to represent Australia in the U23s.
Guster is currently working with Newcrest Mining at their Telfer operations, gaining underground and open pit engineering experience. He is the president of the Kalgoorlie AusIMM student chapter, Vice President of the WASM Guild, Coach of the WASM football team, member of the WASM Social Club Committee, and was a competitor for the International Mining Games, held in Kalgoorlie in March 2023.
Premium Scholarships
Elora Baird –James Cook University
Bachelor of Science (Honours)(Earth Science)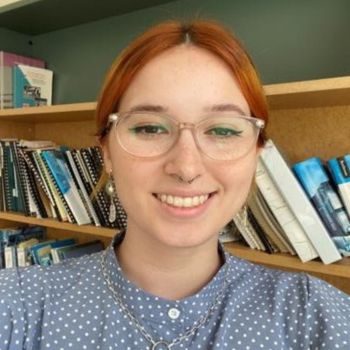 'I have been involved with AusIMM since the beginning of 2021 when the North Queensland Student Chapter made its debut. I am now president of the Chapter and a member of the North Queensland Branch. I am also a Science student mentor and ambassador for JCU, and in this capacity I am able to fulfil my passion for involving new and prospective students in geology and the resources industry.
'I currently work as a Graduate Consultant at Alluvium, with a focus on producing sustainable surface water management solutions for both resources and environmental management industries. It has been such a wonderful opportunity to learn and expand my knowledge. I am incredibly proud to be working in the resources industry and look forward to my future in hydrogeology.
'I am also passionate about the development of critical minerals in North Queensland and have undertaken research into cassiterite mineralisation during my degree and will continue this in my Honours. My Honours project will focus on developing best practice groundwater sampling methods and techniques for North Queensland and I can't wait to jump into this topic in depth.'

Liam Brunton – University of New South Wales
Bachelor of Engineering (Honours)(Petroleum Engineering)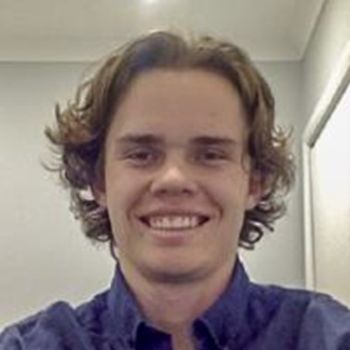 'From a very young age, I developed a strong passion for the resources sector. With a deep fascination of earth sciences and heavy machinery, as well as a desire to live and work in remote parts of the world, I naturally became attracted to both the mining and oil and gas industries.
'In my first year of studies, I became heavily involved with the AusIMM Sydney Student Chapter, the Society of Petroleum Engineers (SPE) UNSW Student Chapter and the UNSW Minerals and Energy Resources Engineering Society (MERESoc).
'As of 2023 I will be the third year mining representative for the AusIMM Sydney Student Chapter, the President of the SPE UNSW Student Chapter, and the Secretary and Sponsorship Coordinator of UNSW MERESoc. This level of engagement is not only highly beneficial, it has provided me with many opportunities to establish valuable connections with industry professionals.
'In addition to attendance at many mining and oil and gas conferences, and events across Australia, I have enjoyed vacation work experience in open cut coal mining and coal seam gas operations. Through these I have obtained some of my most valuable learnings and experiences in the industry.
'My long-term goals involve utilising my knowledge and future experience in the Australian resources sector in order to improve the safety and efficiency of commodity extraction operations around the world.'
Bridget Burghardt – Flinders University
Bachelor of Science (Honours) (Biotechnology/Microbiology)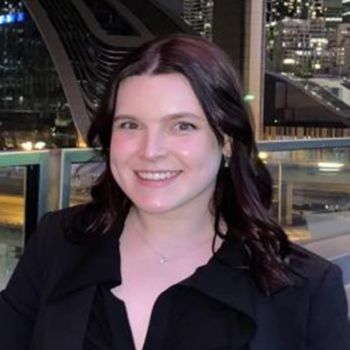 'I am a dedicated student studying an Honours for a Bachelor of Science (Biotechnology) who understands that the resources industry must evolve for a sustainable future to support the era of green energy.
'This subject area may seem atypical for an interest in the mining industry; however, I believe that industrial biotechnology has the potential to revolutionise the mining industry by focusing on deliverables including biorecovery, bioremediation, biohydrometallurgy, bioleaching and innovations involving microbes as biosensors/bioindicators for minerals discovery. My honours project will focus on producing a database of microbial species genomes from mine sites to find correlations between acid mine drainage and to identify species that may be used for new innovations.
'While studying, I work in the OZ Minerals exploration team, executing communications within the data and innovation team and working alongside forward-thinking colleagues. This experience has left me determined to pursue a career within the industry and consider unconventional methods to make a difference.
'Outside of work, I have a passion for video games, travel and helping other young professionals gain interest in the mining sector. In 2022, I attended the International Mining and Resources Conference as a Next Generation Leader, and in future, I hope to participate in many more events, representing the industry's young professionals.'
Joel Calabro – Federation University
Bachelor of Geoscience (Geology)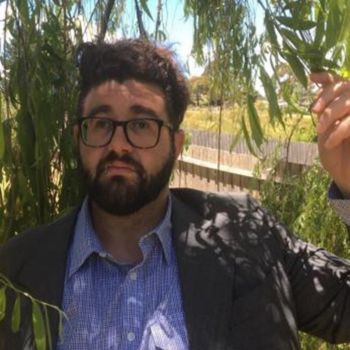 I'm currently studying my third year of the Bachelor of Geoscience at Federation University. While studying I have worked as a field assistant at Outback Goldfields Australia. Through this came an opportunity to reinvigorate the Central Victorian student chapter and the position of President.
'With mentoring and great support, I have been the AusIMM Ballarat Student chapter president for two consecutive years and I have had the opportunity to share my experiences to help students with their transition from university into work. My AusIMM exposure has taken me all over the country to events including The National Mining Games, the New Leaders Conference and Congress 2022, all of which have provided incredible learning and development opportunities.
I have been offered a vacation position in the Geology department with Agnico Eagle at their Fosterville operations. I look forward to completing my studies this year and will be applying for a graduate role.'
Kathleen Cox – University of Queensland
Bachelor of Engineering (Honours)/Master of Engineering (Chemical Engineering)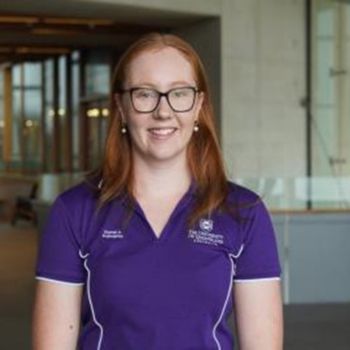 Kathleen is a fifth year Chemical Engineering student completing an integrated Bachelor of Engineering (Honours)/Master of Engineering degree at the University of Queensland. She has recently been elected as the 2023 UQ Chemical Engineering Student Society President, and is looking forward to her fourth year as a UQ Women in Engineering Student Leader.
Passionate about regional outreach, she is excited to continue inspiring young people to be curious about mining and all the fascinating discoveries it brings.
Drawn to the industry by how influential and innovative it is and the leadership opportunities it presents, Kathleen enjoys being part of the larger mining community. While at university, Kathleen has enjoyed three different vacation placements with Rio Tinto across two commodities. She has gained experience on-site, having worked in Weipa with the Aluminium Division and also office experience with the Copper Technical team, delivering a project for the Oyu Tolgoi mine in Mongolia.
Kathleen looks forward to furthering her development by combining her Chemical Engineering knowledge with an environmental lens to lead the industry in achieving its ESG commitments.
'I would like to lead with a global and strategic mindset while positively influencing the direction of the industry and contributing to the societal progress that mining supports.'
Sophie Gillogly – University of Newcastle
Bachelor of Civil Engineering (Honours)/Bachelor of Business
'I have recently completed my second year of my Civil Engineering/Business degree at UON. I was initially drawn to engineering due to the technical and complex nature of the industry, full of opportunities. I then became interested in mining after the first year of my degree, as I aimed to put my learnings into practice and completed a vacation program with Glencore at Bulga Open Cut. At Bulga I was exposed to many areas within open cut mining, and I came to enjoy the strong teamwork necessary in mining, underpinned by high standards of safety and positive leadership.
'This summer I am a vacation student at Oaky Creek North Underground, allowing me to be exposed to both sides of the industry. This year I have become involved in various university clubs, including being recently elected Treasurer of AusIMM Hunter Region Student Chapter and being an active member of the Newcastle University Women in Engineering Society. I hope to positively influence culture and inspire other women into a career in mining.'
Zack Oswald – University of Wollongong
Bachelor of Engineering (Honours)(Mining Engineering)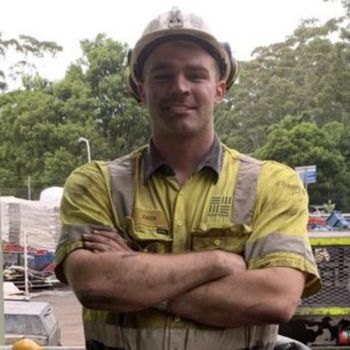 Zack is a third-year student at the University of Wollongong, studying a Bachelor of Mining Engineering. Growing up in a coastal town south of Wollongong, Zack was introduced to the industry and opportunities by a passionate lecturer in his first-year of engineering.
Early in his second-year, Zack attained a full-time role with South32 at a local metallurgical coal mine, as Cadet Mining Engineer. In his time with South32, Zack has fulfilled an operational role with diverse crews, and plans to do so in coming years to broaden his understanding of underground coal operations and gain his underground experience. This role has allowed Zack to optimise his strengths and develop the skills essential to be a successful leader. Zack plans to spend the 2023-24 summer at South32's Cannington mine, to gain an insight in underground metal operations, and expand his skillset as a mining engineer.
Recently, Zack was elected President of the AusIMM Illawarra Student Chapter for 2023. This role enables Zack to introduce mining to the younger generation who are unaware of the industry and the opportunities available. He aims to inspire people from all fields of study to pursue a career in resources. These ambitions stem from Zack's passion for the culture and camaraderie that is exclusive to mining. Zack is grateful for the opportunity to be awarded the EEF, as it will allow him to pursue his study and early career with professional mentorship and seek further professional development and networking opportunities with like-minded individuals.
Adam Peterson – University of Wollongong
Bachelor of Engineering (Honours)(Mining Engineering)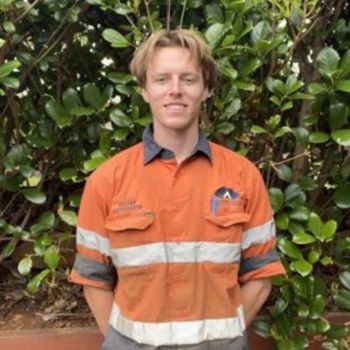 'I am a second year student enrolled at the University of Wollongong studying a Bachelor of Engineering (Mining). I have always had a knack for science and understanding the truth of the physical world. I was drawn to study engineering as I matured, realising that innovation and groundbreaking science is only useful once it has been effectively implemented, tested, and maintained into something useful. Engineering touches on the depth of a situation and takes into account all the known variables effecting it; I was attracted to this.
'Selecting a major at university was tough, though the mining major immediately stood out to me. I have always been interested in and learning about mining, even outside of higher education with many family members working in the industry across Australia including my father who studied engineering after 30+ years of drilling experience.
'Given my early exposure to mining, I quickly understood its essential nature to modern living and appreciate that as technology advances, so will the need for the next generation of miners to innovate in a climate of increased ethical awareness and social responsibility. This challenge helped inform my decision to study mining.
'I am an active member in my local university mining club and the AusIMM Illawarra Student Chapter and am currently working in my first mining job as a mining engineering vacation student with Alkane, Tomingley Gold operations. The experience of being on crew has been incredible and increased my understanding of mining operations.'
Issi Port – University of Tasmania
Bachelor of Science (Honours) (Earth Sciences)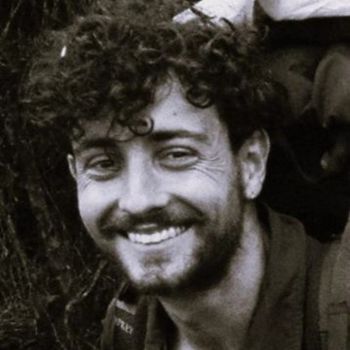 Issi has recently completed his Bachelor of Science (Earth Sciences) degree at the University of Tasmania and will be continuing with an Honours year in 2023 examining the stratigraphy, structure, and metamorphic history of Proterozoic rocks within the Hermit Basin, Tasmania.
Issi developed a passion for geology and earth science in the first year of his degree, learning about the largeness of Earth's systems and its capacity to heavily support and develop society. His love for geology in the lecture halls coincided with his discovery of rock climbing and enjoyment being in the outdoors.
During his undergraduate studies, Issi embraced industry experience opportunities, working in greenfields exploration with Venture Minerals in Western Tasmania and in the field of geotechnical engineering with Pitt & Sherry in Hobart. Issi also participated in a CSIRO voyage aboard the RV Investigator researching volcanism and submarine volcanogenic sedimentary deposits in the Rangitāhua/Kermadec Arc, NZ.
Issi is keen to expand and develop his knowledge, both through academic and industrial avenues. He believes that earth science and its industries are powerful tools to face current global challenges and is eager to apply his experience and leadership qualities towards tackling some of the world's issues today.
Connor Russell – University of Sydney
Bachelor of Engineering (Honours)(Civil Engineering)(Bachelor of Commerce)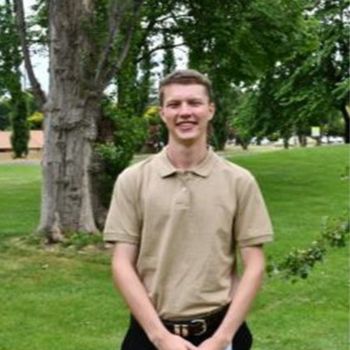 'I am a fourth year Civil Engineering and Commerce (Business Information Systems) student studying at the University of Sydney. Throughout my degree, the courses I have enjoyed most were engineering geology and environmental engineering. So last summer, I completed an internship with Thiess, working as a mining engineering vacation student within the technical services team. Working within a multidisciplinary team in a dynamic and fast-paced environment provided exposure to mine planning, drill and blast, surveying and geology. I developed my engineering skill set and further developed my appreciation for the mining industry.
'More recently, I was fortunate to take part in the Next Gen Program at the International Mining and Resources Conference in Sydney. Exposure to the many exciting technological and sustainability innovations occurring within the industry, together with the challenges, was an extremely valuable opportunity and I hope to be able to contribute to the environmental, social and technical solutions needed to create a sustainable mining and resources industry.
'As I enter my final year of study, I'm eager to gain more practical experience, further involve myself within the industry and AusIMM, and make the most of professional development opportunities. Outside of university and my career, I enjoy travelling, camping, tennis and photography. I love getting outdoors and exploring new places, so I'm excited to see where my mining journey takes me.'
Lauren Symon – Queensland University of Technology
Bachelor of Engineering (Honours)(Civil)/Bachelor of Science (Earth Sciences)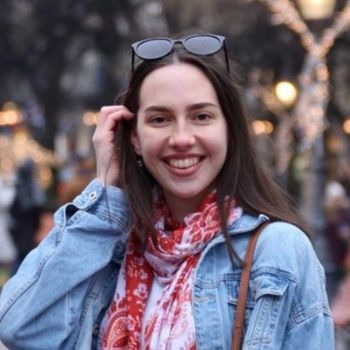 'I am a fourth-year double degree student enrolled in a Bachelor of Engineering (Civil) (Honours)/Bachelor of Science (Earth Science) at QUT. I am passionate about using my engineering skills to solve complex geological problems in the geotechnical engineering sector.
'I was first drawn to a career in the mining industry as it allowed me to incorporate my love for both geology and engineering in a site-based, hands-on industry. I have spent the last year working as an undergraduate engineer at Thiess, where I have exercised my geotechnical modelling skills in the Brisbane head office and have also gained on-site experience at the Lake Vermont open cut coal mine operation during study breaks.
'I am eager to actively pursue leadership opportunities and have undertaken a leadership role with the QUT Natural Resource Student Society for 2023. Attending the AusIMM student chapter networking events has allowed me to discover the opportunities within the mining industry, including exciting technological developments. As a student I am eager to gain exposure to different mining techniques and commodities.'
Adeleine Watson – University of Queensland
Bachelor of Engineering (Honours)(Chemical & Metallurgical Engineering)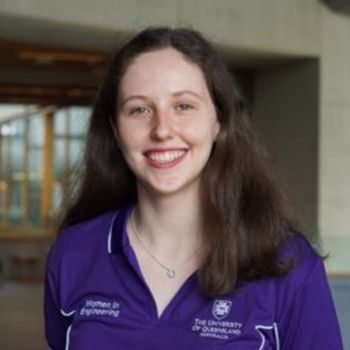 Adeleine Watson is in her third year of studying Chemical and Metallurgical Engineering at the University of Queensland. Her interest in the resources industry was sparked after participating in BHP's inaugural First Year Intern Program, where she was exposed to the diversity of careers and opportunities in mining.
She loves that studying a mining-related degree is technically challenging and allows for global travel and leadership development. Adeleine has since completed vacation work in the metallurgy team at Oz Minerals Prominent Hill site in South Australia, where she was able to gain practical experience in the plant operations, metallurgical laboratory, projects and plant metallurgy teams across the copper mine.
Adeleine enjoys her role as an active member of the UQ engineering community, holding positions as social officer within the Chemical Engineering Student Society and a student leader within the Women in Engineering program. She has previously held positions as secretary and year level representative in the first-year engineering 'Connect' subcommittee, where she was able to assist new students to connect with industry and peers.
As someone passionate about improving inclusion and diversity in mining, Adeleine hopes to use her leadership positions to demonstrate to young females the rewarding opportunities available in the industry. Following graduation, Adeleine hopes to work as a plant metallurgist and contribute to improving the social and environmental performance of the industry through a leadership and governance role in the future.
Postgraduate Research Scholarships
Hanrong Huang – University of New South Wales
PhD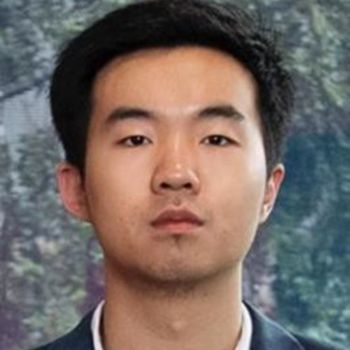 'I am currently enrolled as a second-year PhD candidate at the University of New South Wales. My research topic is decarbonising mining via renewable energy microgrids which lies in the intersection of renewable energy, off-grid mining, system design, regional decarbonisation, and economics.
'The motivations for my research come from the background of continuously decreasing prices of renewable energy (in particular, PV and wind), and the urgent need for decarbonisation to reach the goal of net-zero emissions by 2050. With a particular focus on Australia's mining industry, a significant number of mining sites are adapting renewable energy into a power supply to reduce carbon emissions. The hybrid microgrid seems to be the most feasible and appealing solution and it has been proven that it is feasible in terms of technology readiness and economic results.
'Previous research work I have undertaken involved the construction of a fully renewable microgrid that could be applied to copper ore processing to attain zero carbon emissions. Extended from ore processing, the ultimate goal of my PhD is to construct a fully renewable microgrid model that could cover loads of an entire mining site with a focus on demand-side flexibility and predictive dispatch strategies. I believe that the research outcomes will accelerate the transition to decarbonised and sustainable mining and will be beneficial to the mitigation of climate change.'
Loren Nicholls – University of Queensland
PhD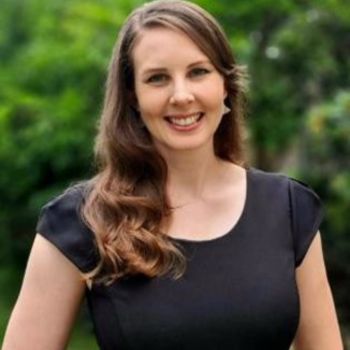 Loren Nicholls is a PhD Candidate at the University of Queensland's Sustainable Minerals Institute. Her research integrates geometallurgy, environmental geochemistry and ore deposit knowledge into exploring the secondary prospectivity of critical minerals in mine waste and the potential for reprocessing. The project applies circular economy principles to mine waste management through recovery of valuable components (particular focus on cobalt) and reducing the environmental impacts of the residual waste.
Loren has 10 years' industry experience as an exploration geologist in gold and copper, working across Australia, Fiji and Indonesia. Using her skillset in geochemistry and orebody modelling, Loren is following her passion to research alternative and ethical sources of critical minerals for the green energy transition and future resources demand. The traditionally linear 'take-make-waste' approach to mining can evolve into a more sustainable circular model with development of a clear pathway to resource identification and recovery.
---
To find out more about the EEF scholarship and application guidelines visit https://www.ausimm.com/career-development/scholarships-and-prizes/education-endowment-fund/