Leveraging Australia's critical minerals resource base: good policy is not enough
Governments are developing policies that will help reduce the risk of demand shortfall in critical minerals. But these policies will only be effective with buy-in from resources companies.
Increasing reliance on renewable energy sources is causing an enhanced demand for critical minerals that are essential to the development of battery systems. There is also broader demand growth for these commodities being driven by technological innovation.
In response, governments are looking to develop policies to mitigate future demand shortfall. But to be effective, these policies will require significant support and participation from large private sector natural resource corporations.
Background – defining critical minerals
Critical minerals can be defined as those that are considered essential for manufacturing purposes but for which there are impediments to supply. They are often considered to be synonymous with strategic minerals. However, the latter are typically defined by governments and the list varies according to time and need. The relationship that defines levels of 'criticality' is typically that of importance, or demand versus supply risk. Currently, a significant proportion of critical minerals are mined and produced in China, a matter of growing concern under current geopolitical trajectories.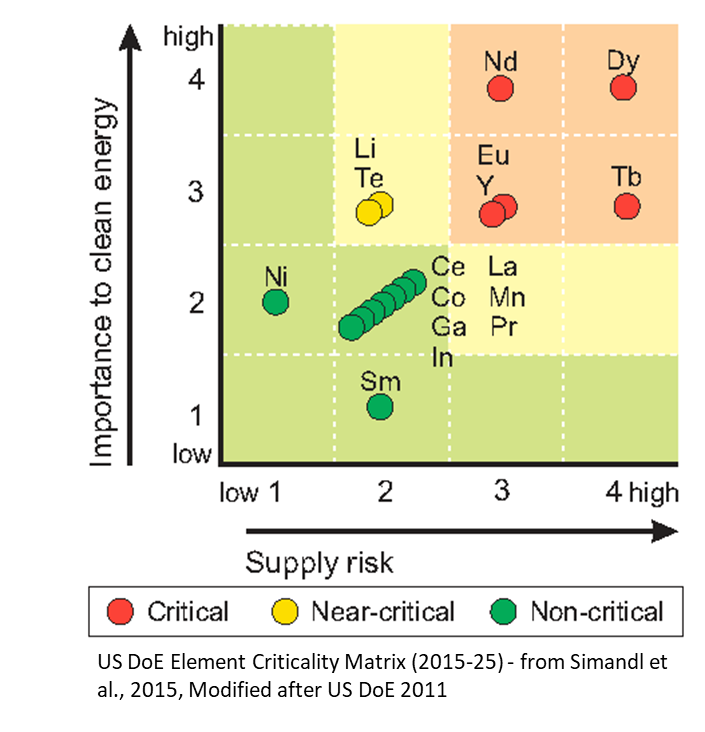 Why does this merit consideration in a strategic context? There are several pressing reasons, with the foremost being:
declining international relationships and associated risks to open and free trade at a time of growing demand – driven in part by the demands of the energy transition
a rise of activism distorting the business strategies of major public companies, which have traditionally been the engine-house of Western economies
an associated risk of a damaging erosion of intrinsic skills and capabilities that are needed to support long term natural strategic resource exploration and production.
The Governments of the US, UK, Europe, Japan and Australia have recognised the risks around access to critical minerals and have developed mitigation strategies and policies of varying effectiveness.
In Australia, the Department of Industry, Science, Energy and Resources has published a national roadmap for critical minerals development that considers both the needs of key international partners and how to leverage Australia's natural resource base.
Geoscience Australia, as the principal agency for natural resources, has published comprehensive assessments of national critical minerals resource potential (for example: Critical Commodities for a high-tech world).
A further risk to be considered is uncertainty around US energy policy following the recent election, and how much subsequent external and internal pressures might impact energy resources exploitation around the world.
Despite the excellent work undertaken by government to promote and leverage Australia's critical minerals resource potential, vulnerabilities to effective implementation of those policies remain. For example, a strategy that fails to encourage the preferential development of targeted inward investment from strategically aligned nations risks capital from elsewhere being deployed to acquire and warehouse resource opportunities for commercial or strategic purposes. This is exacerbated by the relatively low demand levels generated by Australia's limited manufacturing base, which acts to dampen local investor involvement.
To deliver the full benefits of critical minerals policy and meet strategic demand, Western governments will need to engage major resources corporations with the fiscal capacity and technical capability to support major projects on a whole life-cycle basis.
Another area of consideration surrounds some major companies increasingly being steered by boards and executives responding reactively to the promptings of activist investors to transform and encompass business strategies that may result in a degradation of their typical competitive advantage. An example of this type of activity is the planned transformation by some international oil and gas companies to increasingly substitute investment in energy resource exploitation (where they have strong competitive advantage) with mid and downstream wind and solar generation (where any such comparable competitive advantage is lacking). This could ultimately lead to loss of critical expertise as engineering and geoscience professionals depart the industry and not replaced by falling graduate participation rates.
In the longer term, therefore, there are risks to national energy policy associated with large corporations potentially discarding the critical minerals field to less resilient smaller companies that may lack the fiscal and technical depth and capability to manage major projects, or to state-supported or funded third party national energy corporations with conflicted agendas. Under these scenarios, national expertise is diluted or lost and the capacity to deliver sustainable major capital projects is diminished.
To mitigate these risks, aligned governments can continue to marshal investment into research, development and training but should also directly advocate for more targeted and supportive investment into the private sector – not with the intent of picking winners, but in encouraging better participation by large public corporations and enabling an appropriate field of competitors.
Industry, for its part, should consider better engaging its investor base to address the renewable energy transition whilst maintaining its competitive advantage and commitment to social licence by expanding activities to be accountable for sustainable resource development across the entire energy value chain, rather than trying to build portfolio strength in areas where it has limited competitive advantage (Ross and Beckett, 2019).
Australia is uniquely positioned to benefit from the energy transition because of the technical and project expertise within its corporate private sector, its resources base and sustainable and responsible regulatory regime, but this cannot be achieved by good policy alone. To fully achieve this benefit will require government to support and encourage ongoing active participation by public corporations playing to their strengths and engaging their investor base to see value in continued and sustainable resource exploitation activities. A thriving energy resources and critical minerals sector, reinforced by effective public policy and increased inward investment from aligned nations, will provide significant geostrategic advantage to Australia.
---
About the authors
David Beckett is an independent Energy Resources Consultant and Director at Rockleigh Energy, with a background of technical and leadership roles in the oil and gas, and defence sectors.
Lindsay Ross is an independent Energy Resources Consultant and Director at Cherryvale Partners with a background of senior technical roles in the oil and gas and minerals industry.
Reference