Meet the leader: Steven Coughlan, Executive Chairman at Byrnecut Group
The AusIMM Bulletin sat down with Steven Coughlan FAusIMM to discuss his career in mining and the founding and growth of the Byrnecut Group, an AusIMM Major Partner.
Steve talks about his historic family connections to the sector, the beginnings of Byrnecut, and shares his thoughts on the current and future state of contract mining and the resources sector.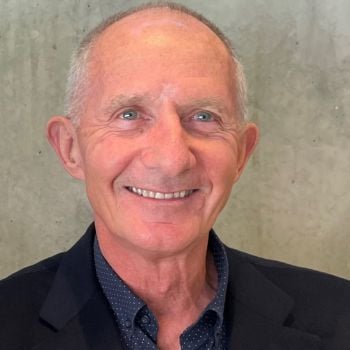 Can you please tell us a little bit about your professional background – what drew you to a career in the resources sector?
There was no grand master plan of what I would study when I completed high school in 1971, and mining was not on the radar. The only connection I can claim is that my father was born in 1911 at Queen Margaret. His parents lived at Beria, a long ago abandoned mining community 730 km ENE of Perth, 7 km from Laverton, close to Lancefield. The family left for Victoria when my father was very young. His grandfather was a loco driver on the wood lines, delivering timber to Kalgoorlie for boiler fuel and for the mines. None of that meant a lot to me at the time, but now I wish I had asked my grandfather what it was like back then.
I received invitations to study physical sciences at Latrobe University, geology at ANU and mining engineering at RMIT. The closest and cheapest option for my parents was RMIT, so that is where I went. Early in 1972, I stepped onto the old red rattler at Seaford station on the Frankston line, got off at Flinders Street Station and walked up Swanston Street to RMIT to commence an Associate Diploma in Mining Engineering, as there was no degree on offer. The path was set.
Byrnecut was established in Kalgoorlie in 1987 and has now grown to be one of the world's leading underground contract mining groups. What was your motivation for founding the company?
I commenced employment with WMC as an underground labourer at Silver Lake Shaft in 1974. I spent 13 odd years with WMC (apart from a short stint with Aberfoyle at the Mt Cleveland tin mine on the west coast of Tasmania), ending up in 1986 as Mine Superintendent at the Vatukoula gold mine in Fiji.
On a trip back to Perth, I was coincidently introduced to Frank Lubbock, a Kalgoorlie born and bred mining engineer. He was an entrepreneurial character and the principal of mining consultancy FLA. Frank was looking for senior personnel and I accepted a position as Operations Manager for mining FLA in May 1987.
I put it to Frank that we should start a mining contracting business, mining operations being my comfort zone. With Frank's backing, Byrnecut was formed with four shareholders in mid-1987.
Following the October 1987 stock market crash, Frank went under. Struggling for cashflow, Thyssen Schachtbau GMBH took a 50 per cent shareholding in the early 1990s and provided the cash backing for Byrnecut's survival and growth. From that point the business grew steadily, without reliance on third party working capital, to now be a large global integrated mining service provider.
As head of an international mining company with decades of experience, what are the future opportunities you see for our sector?
Gold mining has been base load to mining services for over 100 years in WA and elsewhere. This continues. The most significant opportunities now relate to key and critical minerals required for the renewables transition. It's no secret that the global increase in demand for copper will require the development of significant copper projects to satisfy that demand. Similarly, for nickel, cobalt, lithium and rare earths.
The challenge for Australia is how do we get there, and will governments modify processes and procedures to speed up new project approvals? We are competing against the rest of the world and it may well be argued we are falling behind. There is a lot of talk about upstreaming and value adding, but many of the requirements to reach approval mean it is quicker, cheaper and better for cashflow to ship concentrates overseas.
The best positive example I can think of is the formation of the nickel industry in WA. In 1966, WMC drilled an exploration hole near Lake Lefroy (salt lake) in Kambalda. It intersected 2.75m @ 8.3% nickel, in what would become Lunnon Shoot. Thereafter the Silver Lake Shaft was sunk, the town of East Kambalda was built, a nickel concentrator was constructed in Kambalda, a nickel smelter was built just out of Kalgoorlie and a nickel refinery was commissioned in Kwinana. By 1972. In just 6 years. Try doing that now in less than 20 years. Where are we going wrong?
This integrated nickel complex, much expanded under the control of BHP, continues strongly today nearly 60 years on. Governments must review the approval process, reduce the bureaucracy and get on with it.
Your staff work on projects all over the world. With Australia seen as a world-class leader in mining, what do you think Australian resources professionals offer to overseas projects? And are there lessons learned overseas that are useful 'back home'?
In respect of contract mining services in Australia, if we go back to 1970s, underground hard rock mining was limited to specialist shaft sinking. Following the deregulation of the gold price in 1971 and the subsequent rapid growth in gold production, and the expansion of the nickel industry in the 1970s and 1980s, competition for labour increased.
In WA (and elsewhere) rapid mining growth led to opportunities for mining contracting businesses. Furthermore, significant vexatious union industrial action at WMC operations in Kambalda in the late 1980and 1990s led to the dramatic termination of all WMC underground mining employees, almost overnight, resulting in the immediate appointment of several mining contractors, along with the introduction of 12-hour continuous rosters. Effectively a revolution.
The competition between the various mining contractors and with the mine owner operations drove costs and productivity. This included OEMs developing larger and more productive equipment and technologies, driven by demand from industry. This continues today, along with increasing sophistication in safety systems, automation, digitalisation and electrification. As a result of world-leading underground mining practices, Australian mining contractors offered competitive options in the international space.
In respect of learnings overseas, generally the local workforce employees are incredibly enthusiastic and keen to learn. Given the shortage and high costs of Australian expat labour, we have for many years invested in training and upskilling of local overseas labour. As a result, many of these long-term international employees are working as FIFO expat labour in our overseas operations around the world, across all facets of the business through to technical staff and site managers. What I would like to see is the opportunity to use these highly skilled mining personnel as FIFO expats into Australia. This will require rationalisation of the complex, longwinded and expensive government visa processes.
What's your role when it comes to professional training and development (PD)? Have you seen a change in the way that PD is offered that makes it more accessible or effective for people to get the skills they need?
Within our business, training across all levels is a big part of the group. We are also a Registered Training Organisation. This includes development of a Leadership Program aligned with Cert 4 units to provide a National Certificate of Competence (Underground Metalliferous/Leadership) and training for compliance with WA WH&S (Mines) Regulations for Statutory Positions – Schedule 26. Under our Apprenticeship Master, we have some 225 trades personnel in training; our Indigenous training and engagement group, BOAB, currently has recruited 196 Indigenous personnel into our workforce.
Under our in-house RTO, we currently have 760 employees undertaking Certificate 2 and Certificate 3 Underground Metalliferous mining courses. We provide weekly 'Mental First Aid' courses through Sano, an industrial health and wellbeing business. Sano also provide onsite fitness for work, physical and mental wellbeing and health programs, and offsite leadership retreats. Our Perth training facility includes, amongst other things, sophisticated truck and LHD simulators for operator training.
The above are some the many and varied training activities in house, which, along with support for external training of professionals, emphasises the critical importance of training across the group.
With a workforce in the thousands, and dedicated staff who have worked with you for many years, as a leader what do you focus on to ensure a great workplace culture?
It is difficult to quantify why so many personnel have chosen to stay with the group for so long. We do believe there is some advantage in being private, where the senior management group has been stable for many years. We are arguably less rigid in our approach, not having some of the compliance issues required of listed groups forced upon us. I am referring here to those which add no intrinsic value but are required as good practise to protect the interests of many tens of thousands of shareholders. We have only 3 shareholders. This structure allows quick decision making, not subject to the sometimes emotional and irrational vagaries, or some algorithm, of the share market. We still consider ourselves a family, despite the scale of the group.
The effort we put into the RTO Cert 2 and Cert 3 training provides those many employees who have completed or are completing those courses a sense of accomplishment and ownership, which we believe assists in retention. Similarly, the effort by the Sano team in employee wellbeing.
We apply consistent systems and standards across the group in all key areas – occupational health and safety training procedures and documentation, maintenance systems and documentation, rigid procurement and compliance procedures, group policies and procedures and confidential online access for any employee relating to workplace concerns. This provides a sense of comfort for any employee moving from one site to another, anywhere in the world.
You are an AusIMM Fellow – what role has the organisation played throughout your career?
I joined the AusIMM in the early 1970s as a mining student. I was reminded of this when I received a letter in December 2021 advising I had been a member for 50 years. It did prompt me to ask myself 'Why am I still here!?'.
I think AusIMM is the most relevant organisation for professional personnel involved in the mining and mineral processing sector in Australia. Specifically, for the underground mining space, it is a very important forum to share ideas, new technology and for the presentation of practical technical papers which provide reference for the industry. What worked, what didn't work, how could we apply this to our situation, what learnings are relevant for our operation?
For example, the recent AusIMM Underground Operator's Conference is the most important event on the calendar from our point view, and I personally have rarely missed one. It is also a great time to network and catch up with colleagues and associates you would otherwise not meet due to work, personal commitments and distance.