Obituary: Hamish L Paterson
Hamish Lindsay Paterson was born in 1949 to parents Jim and Elspeth Paterson, joining older sister Jill in their Brisbane home.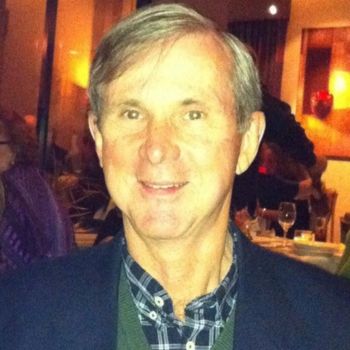 He attended high school at Brisbane Boys Grammar, then studied geology at the University of Queensland, writing his honours thesis in 1970 on "The geology and petrology of the Korrumbyn Creek area of the Mount Warning igneous complex: North-Eastern New South Wales". Interestingly, Jill had also wanted to study geology at university, but at that time it was not considered suitable for women.
After graduation, Hamish took a job with Western Mining Corporation (WMC) in Leonora, Western Australia. He worked under Don Reid (himself recently deceased), who became a lifelong friend.
While still employed by WMC, Hamish attended McGill University in Canada from 1973 to 1975, alongside friend and UQ classmate Lindsay Bottomer FAusIMM. There, he completed an M.Sc. (Applied), Mineral Exploration — a course-based program that did not involve a thesis, one of the very few of its type at that time. While at McGill, both Lindsay and Hamish met their future wives, who were both studying speech pathology and staying in the same graduate students' residence. Hamish married Heather Louise Murray in 1976 and they had three daughters, Maura, Ailsa and Fiona. Heather passed away in 2000.
Following his Masters, Hamish set off for the cold Canadian equivalent of the hot Australian desert, where he worked in the Arctic for a year with a Canadian group exploring for base metals. He then returned to WMC as part of a low-profile North American reconnaissance program for uranium, based out of its US marketing office in Pittsburgh.
In 1979, Hamish and Heather moved back to Western Australia where he worked on nickel exploration in WMC's Kambalda operations. In the early 1980s, Hamish was seconded to the Melbourne head office as a technical advisor, often working with the late Sir Avi Parbo, who he greatly respected.
In early 1984, Hamish and Heather moved to Adelaide and stayed there for the remainder of his career. This move coincided with his return to active exploration — including Olympic Dam and Stuart Shelf exploration, initially at WMC's Greenhill Road office, followed by a move to the Pasadena office, where he headed up the Central Region (NT and SA) exploration team. WMC geophysicist Phil Muir remembers Hamish as knowledgeable, thoughtful and always considerate of other people's opinions — "he was very good to work with."
As WMC's Professional and Research Manager in the 1990s, Hamish liaised with company sponsored AusIMM Education Endowment Fund recipients. In this role, he was generous with his advice and had lasting, positive impacts on the careers of students he worked with.
Outside of work, Hamish regularly joined in the enjoyable and memorable WMC family weekend tennis days at Belair National Park. In Adelaide, Hamish and Heather took up Scottish country dancing, which became a lifelong interest. Hamish started playing the fiddle with the Adelaide Strathspey and Reel Society and later with the Adelaide Scottish Fiddle Club. As well as constructing violins, he compiled sets of tunes for dancing. Along with fellow dancers, he formed the Burnside Ceilidh Band, which played regularly at balls, ceilidhs and other events. He combined this passion with his love of travel when he attended the Southern Hemisphere International School of Scottish Fiddle in New Zealand and the Royal Scottish Country Dance Society Winter School in Pitlochry, Scotland.
Following his career at WMC, Hamish became a consultant, working primarily for Gunson Resources (now Strandline Resources) and Dave Harley (also ex-WMC and Canadian-trained). Drawing upon his experience at Olympic Dam, he was involved in mineral exploration near Mount Gunson in the region of the Stuart Shelf geological formation.
Geophysicist Jim Hanneson recalls meeting Hamish at WMC's Pasadena office in 1989, and spending family time together the next weekend. "It was Hamish and Heather, with daughters Maura, Ailsa and Fiona, and myself, my wife Donna with our daughter Elaine. Hamish's new van was ideal for seeing a few sights around the city, one of which was the look-out at Mount Lofty. My jaw dropped when a superb blue wren landed on a branch in front our noses. Hamish's comment was, 'Yeah, he's part of the welcoming committee.' Welcome is how Hamish always made us feel. Hamish was aware of small bits of beauty that most in a busy world might miss, and I always try hard to remember another of his favourite sayings, 'You have to stop and smell the roses once in a while.'"
Jim only discovered much later that Hamish was the boss at Pasadena during that time. "Many people might want to flaunt their authority, but that wasn't Hamish's style. When I learned who the boss was, I learned even more about Hamish." This humility was something Jim also remembers from their work together on Dave Harley's Mount Gunson project. "Hamish understood the limitations we geophysicists face when we attempt to help our geological colleagues understand the rocks in their area. Hamish's meticulous visual records of core from Emmie Bluff were found to accord with my physical property measurements, which led to one of my better publications, but when I invited Hamish to co-author it, he declined. Tennyson wrote, 'I am a part of all that I have met.' I remember Hamish well, and feel that I am a better person for having known him."
WMC geophysicist Peter Fullagar also met Hamish at Pasadena, and the pair became close friends. Like Hamish, Peter was born in Queensland, studied in Canada and married a Canadian. "In addition, we were both fiddle players of equally dubious proficiency. Hamish introduced me to the Adelaide Strathspey and Reel Society, and we attended practices and played at Scottish dances together." Based on an invitation from Hamish, Peter and his eldest daughter joined the Adventurers father-daughter group, spending time with Hamish and his daughter Fiona at meetings and camps. "Hamish was a warm and thoughtful person, with a sharp mind and a delightfully dry, often self-deprecatory sense of humour. He was well liked and highly respected by WMC managers, geoscientists and support staff alike."
Hamish remained active in Adelaide's Scottish music and dancing communities despite increasing challenges brought on by Parkinson's disease in his later years.
Hamish is survived by his three daughters and older sister.
References
Thesis: https://search.library.uq.edu.au/permalink/f/18av8c1/61UQ_ALMA2176797970003131