Obituary: John Noel Whitfoord Elliston AM 1924-2021
John Elliston was born in Huonville, Tasmania, attended Huon State School, was awarded a scholarship to Hutchins School, Hobart, then completed his secondary education at the Technical School in Hobart.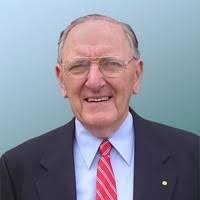 He graduated from the University of Tasmania in 1951 with a BSc (Hons) in geology and chemistry. He married Joan Bashfield in the same year.
From graduation until 1954 he worked for the Tasmanian Department of Mines as Regional Geologist engaged in mapping the state's geology, before accepting a position in Melbourne with mining consultant TNT Mining and Prospecting Services. He worked as a consultant to various small companies who could not afford a full-time geologist. One of those was Peko Mines NL, which had a small copper and gold mine in the Tennant Creek field in the Northern Territory.
In 1956 he moved with his family to Tennant Creek as Chief Geologist, Peko Mines NL, graduating to Chief Geologist of Geopeko Limited when it was formed, then to Chairman of Geopeko. From here, in association with geophysicist Lew Richardson and solidly backed by Chairman Sir John Proud, in 20 years he recruited, trained, and led a team of geologists whose discoveries built Peko Mines NL into Peko-Wallsend Ltd, one of Australia's leading mining companies, with mines in four states. Geopeko grew to be one of the most successful explorers in Australia. That success was driven by John's creation of the exploration arm of Geopeko and his insistence that the geological makeup of ore bodies be fully understood.
That success was recognised by the mining industry in Australia when Peko-Wallsend was taken over by Rio Tinto following an appraisal of the Australian mining scene by American business consultants McKinsey & Company. This study concluded that the company was outstanding and its operations the most cost-effective in Australia. During this period John graduated from Chief Geologist of Geopeko Ltd, a company created by the Peko-Wallsend board at Peko to carry out the group's exploration, to Managing Geologist in 1962, Executive Geologist in 1969, and Chairman of Geopeko Ltd in 1973. In 1971 John was appointed executive director of Peko-Wallsend Ltd.
In the same period, driven by Geopeko's successes, Peko-Wallsend's capital value grew from $10 m to $339 m.
During this period John continued to drive research into the geology of mineral deposits, driven by his conviction that the need to understand how orebodies form is knowledge essential for successful mineral exploration. He was backed by Professor S Warren Carey at the University of Tasmania, who convened a supporting symposium in 1963 at the university on Syntaphral Tectonics and Diagenesis. John developed new theories of how the Tennant Creek orebodies form, work endorsed in turn by scientists around the world as his publications spread.
This work led to increasing interest from the geological community around the world and, in due course the presentation of his work to the world of geology at several symposia, and the publication of a series of works. His presentation to the International Congress in Prague in 1968 was rudely interrupted by the Russian army as Russia invaded the country, triggering the inevitable comments around the Peko group that 'we hadn't realised how important the boss's work was.'
In 1984 John left Peko to set up his own consultancy, Elliston Research Associates PL. He continued his research, contributing to a number of consortia, and was recruited to serve on a variety of mining projects for the Australian Government, the Peko group, Rio Tinto, and other agencies. He delivered four keynote speeches to meetings of the AusIMM and the Australia and New Zealand Association for the Advancement of Science and, as a member, addressed the Mineral Industry Consultants Association, The Geological Society of Australia, the Earth Resources Society, the Chemistry Society, University of Sydney, and the Royal Society of Tasmania.
John's contribution to science and the minerals industry has been recognised with a number of awards including: The Industrial Research and Development award for research into syntaphral tectonics and diagenesis; Centre for Ore Deposits and Earth Sciences for 'The Frontiers of Science as applied to ore genesis'; he achieved 50 and then 60 year membership milestones with AusIMM; and was inducted into the Australian Mining Hall of Fame, Science and Technology Division.
John was also recruited to assist in the management of a number of overseas projects including a tender to manage the development of the Az Zabirah bauxite deposit in Saudi Arabia; and the establishment of a team, the Australian Mining and Technical Services Trade Mission, to search for uranium in Iran.
From early 1970s to the 1980s John contributions were recognised with appointments to the Board of the Baas Becking Laboratory; the National Energy Resources Development Committee; and the Joint Ore Reserves Committee of the Australian Stock Exchange.
John was created a Member of the Order of Australia in 1981 'For Services to the Mining Industry of Australia.'
Wherever John went, Joan was to be found with their daughters, always making a contribution to the community where they were living. In 1981 Joan was awarded the Order of Australia 'Service to Girl Guides in New South Wales.'
Those who worked for the companies that John managed will always remember him fondly as teacher, mentor, and friend.