Obituary: John Stephen Hancock 1938 – 2022
The whole earth is the tomb of famous men. Neither is their name written in stone which covers their clay – but abideth everywhere, wrought in the stuff of other men's lives.– Adapted from the funeral oration for Pericles by Thucydides
The minerals community at large was saddened to learn of the passing of Stephen Hancock in his home town of Melbourne early this year, following his battle with cancer which he stoically withheld from all of us til so near the end in January this year.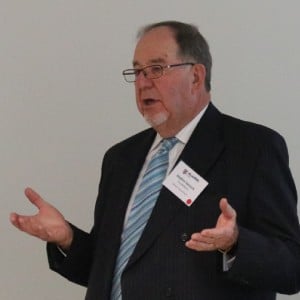 Born in Melbourne and christened John Stephen Hancock, Stephen was the son of Sadie Cave Hancock (née. Scarlett, of Irish descent) and Stuart Oswald Hancock (of British descent) and younger brother to Michael Frederick Stuart Hancock, who was four years older. Stephen's great grandparents were free settlers. FS Scarlett started Melbourne's first "Yellow Pages" directory and became a prosperous merchant banker. He befriended Frederick McCubbin and financed much of the later famous painter's career. Hancock senior started a legal practice in Colac, which still exists today. Stephen's father was well known as the driving force behind Hancock Tyres.
As young boy, Steve (he preferred this to Stephen) attended Melbourne Grammar though he enjoyed his time on the family station "Bulliwallah" in north Queensland more than study at this point in his life. It was the start of a much travelled and always observant mind. Boy scouts, rather than school sports or cadets, instilled a love of the outdoors which never diminished with time. He matriculated with a Commonwealth Scholarship to attend Melbourne University, though he failed to be admitted to Medicine due to a less than acceptable physics result. Undeterred, he enrolled in a Science degree and got a part time job as a lab assistant in the Physics department. His end of first year vacation job was with the Geological Survey of Victoria, where he became exposed to field mapping, sampling and drilling. Towards the end of final year, he applied for and was employed by BHP Ltd. This saw him working mainly in iron ore for about two years before leaving to take up a role with the Hydrogeology Division of the Victorian Geological Survey in 1962. Marriage to Jill followed in 1965 and attendance at the first AWRC Groundwater School which was held in Sydney. A Masters by course work at UNSW in Engineering Hydrology followed.
Steve first joined AusIMM as a Graduate in 1961. He transferred to Member grade in 1969, before becoming a Fellow in 1977 and a CP (Env) in 2000.
In 1967, after work on the Anglesea coal project and input the state's Groundwater Act, Steve resigned and became a 'seldom seen by family' consultant as his young family emerged (combined with early groundwater work at Tom Price, Paraburdoo, Goldsworthy, Pannawonica or at Mt Newman in the Pilbara, Gove in the NT for Nabalco or at Goonyella in Queensland - the first Bowen Basin Coal miner). In 1969 the consultancy he started merged to found Australian Groundwater Consultants with Steve leading as Managing Director and the Coordination Manager for all work. The consultancy thrived right through to 1987 when it merged with Woodward -Clyde Inc out of the US. Woodward - Clyde was a staff owned consultancy much like AGC. They operated with about 2500 staff out of multiple offices in the US plus offices in Switzerland, France and Spain. About this time, AGC expanded its capability to include solid waste and pollution. Within two years, AGC were essentially the designers and advisors on solid waste management facilities in every State, especially around the state capitals.
This meant that AGC designs catered for the waste management of over 8 million people. A Churchill Scholarship helped Stephen to expand further into grouting technology but more important perhaps was Steve's introduction into Australia of closely managed up-flow wetland systems using reed beds to filter and achieve nutrient and suspended sediment reduction sufficient to permit the water to be released to the local streams. An invitation to join the Executive Council of the International Mine Water Association (IMWA) was also taken up.
As consultants became more subject to overly conservative audit, Steve argued against excessive conservatism and uninformed regulatory interference. But the early nineties required him to lead the merger of Woodward Clyde with URS – a larger multinational with 8,000 plus employees. By the late nineties this figure had grown to 20,000, with Steve right hand man to the CEO, Martin Koffel. URS continued to expand but this expansion tended to diminish the older Woodward Clyde specialisation. These developments concerned Steve, as well as his close URS colleague, Eric Garner.
Following a professional career of 48 years he retired from full time work in 2008, but with a contract to continue to be available to URS as a Special Consultant. This contract ran until terminated in 2013 when AECOM took over URS.
In retirement, Steve became a Tribunal member for Planning Panels Victoria, which continued up til 2018, by which time growing bureaucracy was a source of frustration. Steve became concerned that invariably, long term impacts of projects in relation to ongoing productive land use were seldom addressed, whilst these were the things which materially affected landholders and land custodians. He was, in effect, an environmental, social and governance (ESG) trail blazer.
His first move was to stand for and be elected to the Committee of the Consulting Society of AusIMM. This occurred in 2016 and he became then an active member in 2017. This led to a representative Forum initiated and funded by the Consulting Society with an emphasis on Social Licence to Operate. It was a great success and in February, 2020, The Board responded by agreeing to all but one of the Forum recommendations and requested the ESG - SR committee should develop the recommended policies for AusIMM within two years, subject only that they should be consistent with the Royal Charter. An AusIMM ESG Framework followed, as did a new Chartered professional (CP) category aligned with it. It is therefore true to say that Steve was pivotal in the AusIMM achieving 'first mover status' in ESG amongst the world's professional minerals related associations.
Much of the detail here came from Steve himself. I, along with a few 'respected friends' received a 'life bio' of 74 pages some five days before he died. What struck me more than anything, in reading it, was our extraordinary parallel lives, even though our paths crossed late in life as part of AusIMM committee work. It was a pleasure for all of us to know – and to work with Steve. His endless inquiring and passionate, true professionalism drove us all, done with never any reference to his well-being until so close to the end.
Steve ended his AusIMM ESG and Consultant's Society work at the end of 2021. Variously an eclectic world traveller, internationally acclaimed groundwater authority and devoted husband and father, he left us the following month. The AusIMM Board, Management Team and members at large pay tribute to his outstanding and sustained service to the industry over almost sixty years and extends its most sincere and comforting wishes to Jill and the extended Hancock family.