Obituary: Robert James Kininmonth 1929-2022
Robert James Kininmonth, most commonly known as 'Bob', was a very highly regarded and respected professional within the mining industry.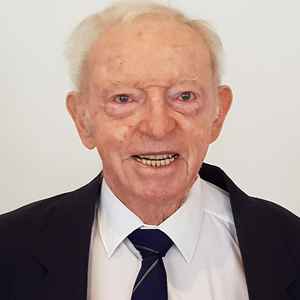 He graduated from Otago University in 1945 with a Bachelor's Degree in Mining Engineering. He worked in the mining industry for the next 44 years, undertaking a diverse range of roles and duties such as: miner at Broken Hill; shiftman at Burwood Colliery; Methods-Study Engineer for the National Coal Board (UK); Explosives Field Engineer for ICI; Inspector of Special Duties (Sydney) (NSW Department of Mineral Resources); Inspector of Coal Mines (Wollongong) and Senior Inspector of Coal Mines (Wollongong).
After graduating in 1955, Bob was awarded a New Zealand Government post-graduate scholarship and undertook directed practical training in the UK coal mining industry. He subsequently gained three First-Class Certificates of Competency (as Mine Manager) from Great Britain in 1957, New Zealand in 1958 and New South Wales in 1961.
Bob was involved in organising mines rescue personnel associated with rescue attempts following the 1979 Appin mine explosion, which caused the death of 14 mine workers. He subsequently assisted Justice Goran in the subsequent Inquiry into the explosion. In 1996, after having retired as Senior Inspector of Coal Mines, Bob was appointed to assist Justice James Staunton with investigations into the Gretley mine disaster, where four mine workers were drowned by an inrush of water, when mining operations at the Gretley coal mine holed into old flooded workings.
He was a founding member of the Southern Coalfields Outburst Committee, which was established in 1994 by Bob and a few industry professionals to promote learning and understanding of the most suitable mechanisms to manage coal outbursts and high levels of gas within operating coal mines. This committee organises regular free half-day seminars to promote the interchange of ideas, and to maintain a focus on the need to manage high gas levels to reduce the risk of outbursts, and thereby promote safer mining operations.
Bob was an active and supportive member of the Australasian Institute of Mining and Metallurgy (AusIMM), with fifty-six years of distinguished service and a strong affiliation with the Illawarra Branch and the Mining Heritage Subcommittee. In 2020 Bob received the Beryl Jacka Award from the Australasian Institute of Mining and Metallurgy 'in recognition of his excellent and sustained service'.
Of particular note was his personal contribution to promote learning and build upon acquired knowledge within the mining industry. This is exemplified by his involvement with various publications such as the 1986 Monograph 12 Australasian Coal Mining Practice, with Bob providing valuable support to Con Martin the editor of the first edition. Bob later took on the role of editor and as the primary motivator in organising contributions from industry professionals, with expertise in the various aspects that are associated with coal mining operations. In 1993, due largely to Bob, the second edition was published. In 2009 Bob was co-editor and instrumental in the third edition being published, representing a comprehensive coverage of all factors associated with modern coal mining operations. This publication is regarded as the most complete text on Australian coal mining operations.
In 1993 Bob was instrumental in the publishing of Monograph 21 History of coal mining in Australia, the first reference book to explain how this important industry started and developed. This work evolved into a long association with the Mining Heritage Subcommittee and numerous booklets published by this committee, covering such important events as the Bulli Mine Disaster of 1887 (killing 81 workers), and the Mount Kembla Mine Disaster of 1902 (killing 96 workers), the worst two mining disasters in Australian history.
Bob has also been a long-term contributor to the Annual Australian Coal Operators conferences, as an author of papers, peer reviewer, editor and regular session chair. This conference has been widely regarded as the peak event for the Australian coal industry and is jointly organised by the University of Wollongong, the AusIMM Illawarra Branch and the Mine Managers Association. Bob has been mainly responsible for gaining the ongoing Mine Managers Association involvement. In 2012, Bob received the Annual Australian Coal Operators Conference Award 'In recognition of his outstanding contribution to Australasian mining'.
In recent times Bob and the Mining Heritage Subcommittee were instrumental in the development of the video documentary Beneath Black Skies, which depicts historical mining events of the late 19th and early 20th centuries. Bob's work as Chairman and Treasurer of the Mining Heritage Subcommittee has seen considerable work undertaken to document all known mining operations from Sydney to Nowra, along with other related historical aspects of the coal mining industry in the Illawarra, via the publications: A History of the Prospecting and Development of Coal Mining in the Illawarra and Shoalhaven (Part 1 - South From Mount Keira) published in 2010 and A History of the Prospecting and Development of Coal Mining in the Illawarra, Southern Highlands and Burragorang Valley (Part 2 - North from Mount Keira) published in 2017.
In all instances Bob Kininmonth has been the primary instigator in promoting learning within the coal mining industry for both the Illawarra and Australia. He showed a strong desire to encourage current and future generations of mining professionals to learn from past incidents so that accumulated knowledge and understanding is transferred to the industry's professionals and the mines are thereby made as safe as possible 'to prevent future generations from having to experience the tragedies of the past.'
Bob's long standing work and dedication to his profession will be sadly missed within the New South Wales coal mining industry and especially in the Illawarra.