Professional profile: Dr Farid Kendoul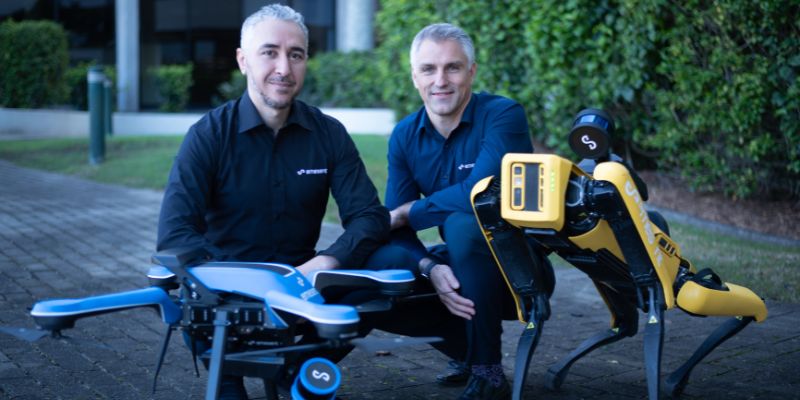 Dr Farid Kendoul (pictured left) is a technologist and innovator with over 20 years of experience in research and development, primarily in drone technology.
He is also the co-founder (with Stefan Hrabar, right) and Chief Technology Officer of Emesent, a company specialising in drone autonomy, LiDAR mapping, and data analytics.
Dr Kendoul is very passionate about developing advanced technologies for autonomous systems and translating them into impactful commercial solutions, particularly for the mining sector. We sat down with Dr Kendoul to learn more about his career, insights from his time with NASA, and his perspective on an autonomous mining industry.
Can you tell us a bit about your own career background?
Since I was young, I always wanted to be a researcher and achieve an impact through technology and innovation. I was born in Algeria and I completed my high school studies there. My pursuit to learn more about robotics and aerospace led me to travel to France, where I completed my university studies including a PhD in Autonomous Aerial Systems (drones).
After that, I travelled to Japan where I worked for two years researching and developing autonomous field robots for industrial and defence applications. In 2009, I had the opportunity to join the CSIRO Robotics and Autonomous Systems Group, where we developed several new and advanced autonomy technologies for unmanned aerial and ground systems to push the boundaries of field robotics and help companies and governments benefit from these systems.
Working on autonomous robots for space exploration has always been my dream and I finally had the opportunity to join the NASA Jet Propulsion Laboratory (JPL) in the US in 2015. While it was a unique experience, I realised that it takes a very long time to see the results and impacts from projects in this area. Some positive changes at CSIRO and Australia motivated me to come back to CSIRO and work on co-founding Emesent with my partner Stefan Hrabar. This opportunity allowed us to push the state-of-the-art in autonomous systems and translate these technologies into products and solutions for the mining industry and others.
What learnings from your JPL experience have you been able to apply to mining industry technology?
At the JPL, I contributed to early research on the Mars Helicopter Project. I was mainly helping with the development and evaluation of vision-based precise navigation algorithms for a small drone. I was fortunate to work with highly skilled researchers and engineers and under the supervision of Dr Larry Matthies, one of the most renowned researchers in space robotics and computer vision.
Planetary and underground mining robots share many common challenges. They operate in harsh, GPS-denied environments, and require remote and autonomous operations with high levels of reliability and redundancy. The navigation algorithms and architecture of the autonomy stack I worked on at JPL is similar to the one we used on our product Hovermap for autonomous navigation and mapping of underground mining tunnels.
Focusing on the reliability of the system and implementing fail-safes is also another area that I was exposed to, and that turned out to be very helpful when developing autonomous drones for mining applications. I also learned about frameworks for rigorous and frequent testing of complex systems and advanced technologies that NASA was using during the development of their robotic systems. Extensive testing of Emesent technologies and products in operational environments and under different conditions is definitely something we are striving for.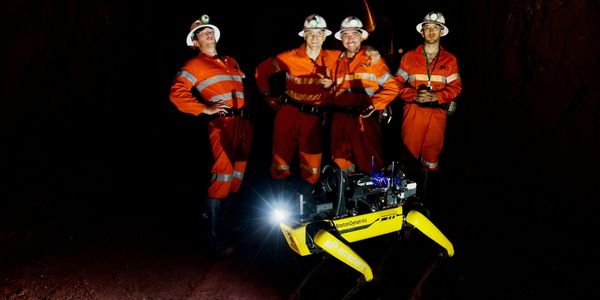 What are some of the challenges from bringing technology from the research side into operational, commercially viable products?
Developing commercially viable products is different from just developing algorithms and technologies in a research environment, especially when these products are destined for mining. Translating technologies into products presents a number of technical and operational challenges.
Technical problems
Technology Readiness Level (TRL) (see a description here from NASA): generally, technologies are developed up to TRL5 in academia and research institutions, and increasing that to TRL9 (commercialisation) requires not only huge efforts but different skills and a more structured way of developing and testing the system.
Manufacturability: manufacturability and deployability of technologies and products were other things that we had to learn and consider when we started building and shipping Hovermap.
User interface and experience: one of the things that differentiates a product from a technology is the user interface and experience. We built a new team and spent a lot of time catching up on that front as we wanted our users (incl. miners) to use our autonomous systems safely and efficiently.
Reliability and edge cases: It is very hard to develop an autonomous system that will perform reliably all the time, especially in the underground mining environments. Again, the core technologies have been augmented by several algorithms and fail-safes for the robot to monitor its health and mission, and take the appropriate action when something is abnormal.
Operational problems
In terms of non-technical challenges, I can probably list three:
prioritisation of features that solve customer problems
integration with customers' existing workflows and procedures
customer training and support.
What was behind your decision to found Emesent? Was there a particular thought or idea that sparked your inspiration?
It's the combination of couple of things that inspired and helped us to found Emesent.
The first factor was CSIRO launching their ON program, with the objective of motivating and coaching CSIRO researchers to commercialise the technologies they developed. Stefan and I were selected to participate in the program and we spent three months learning about business models, start-ups and talking to customers and investors.
Secondly, there was interest from the mining industry. After doing some demonstrations to map underground mining stopes, and seeing the reaction of mining surveyors and managers, we realised that the technology we developed (non-GPS mapping and autonomy) could solve a big problem that the mining industry was facing.
Another factor was a sense of frustration from not seeing the technologies we developed previously being commercialised and achieving an impact in the real world.
Finally, we were influenced by the drone and robotics start-up boom in the US and Europe. Between 2015 and 2018, many start-ups were launched after raising millions from investors. This has also encouraged us to step out of our comfort zone, learn new skills and prove that Australia has also the talent and technology to compete on a global stage in this area.
What do you think is the number one challenge facing the current sector from an automation, drone mapping and/or big data perspective? How might this challenge be addressed?
That's a good and hard question as there are several challenges of different natures facing the sector. However, we are seeing progress made every day by both the technology providers and mining companies. Indeed, more and more mining companies are turning to automation and robotics to improve safety and productivity. Their long-term vision is to have fully autonomous mines without crew onsite.
If I have to choose one challenge facing the current sector from automation and big data perspective, I would say that it is linking all the systems together to form one system that autonomously and efficiently extracts operational insights from the huge amount of data that will be generated by all the robots and machines. We believe that mines of the future will be self-learning and self-optimising for fully autonomous operations.
Achieving the above is challenging and will require different industry players to work together to define a roadmap for autonomous mines of the future, and start working on standards and interfaces for the interoperability of the different systems. A shift in focus from industrial automation to industrial autonomy also needs to take place.
How can we encourage more young people into careers in the resources sector? Do you have any words of advice for those looking to pursue their own mining sector career?
Before founding Emesent and working with mining companies, I had the perception that mining is an old industry without technology and digitalisation. I discovered that it is completely the opposite. The mining industry is way ahead of many other industries in terms of using new and advanced technologies including autonomous vehicles, AI, machine learning, digital twins, robotics, and many others.
Mining is also an industry that will keep thriving, as it is critical for our modern world. New technologies such as autonomous systems and AI can help to make this industry sustainable and environmentally friendly.
A number of technologies we are developing for mining will be also needed and important for the exploration and colonisation of the moon, Mars and other plenary systems. In fact, Emesent is in discussions with NASA and the Australian Space Agency (ASA) for participation in the Artemis program through the development of autonomous robots for Lunar and Mars missions.