Region snapshot: Orana and Central West NSW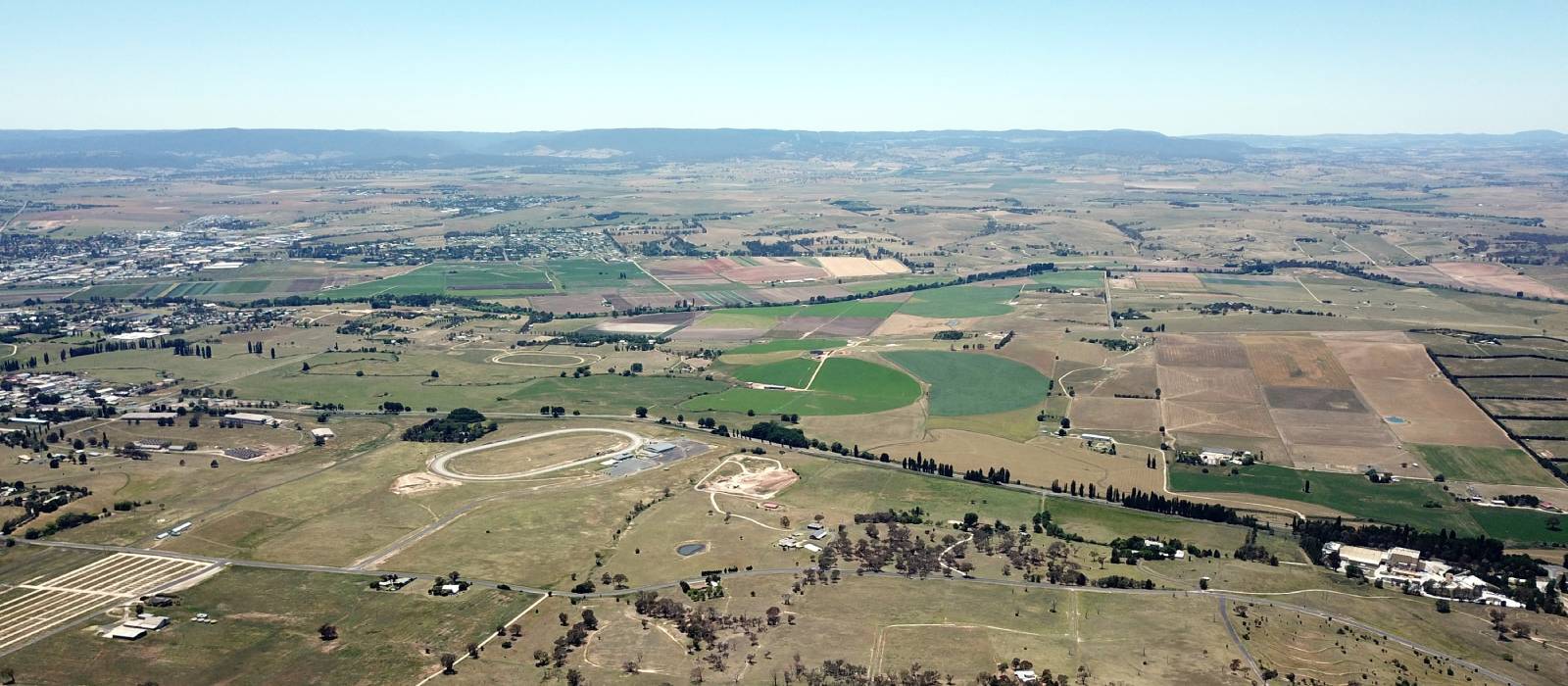 Orana and Central West NSW cover a significant portion of NSW's total size, encompassing 23 local government areas and including regional centres such as Dubbo, Mudgee, Parkes, Bathurst and Orange.
The area has a rich mining history and is set to play an important part in the future mining industry in NSW, particularly in terms of strategic mineral development: in November 2021, the NSW Government announced its plans to develop a critical minerals hub in the region.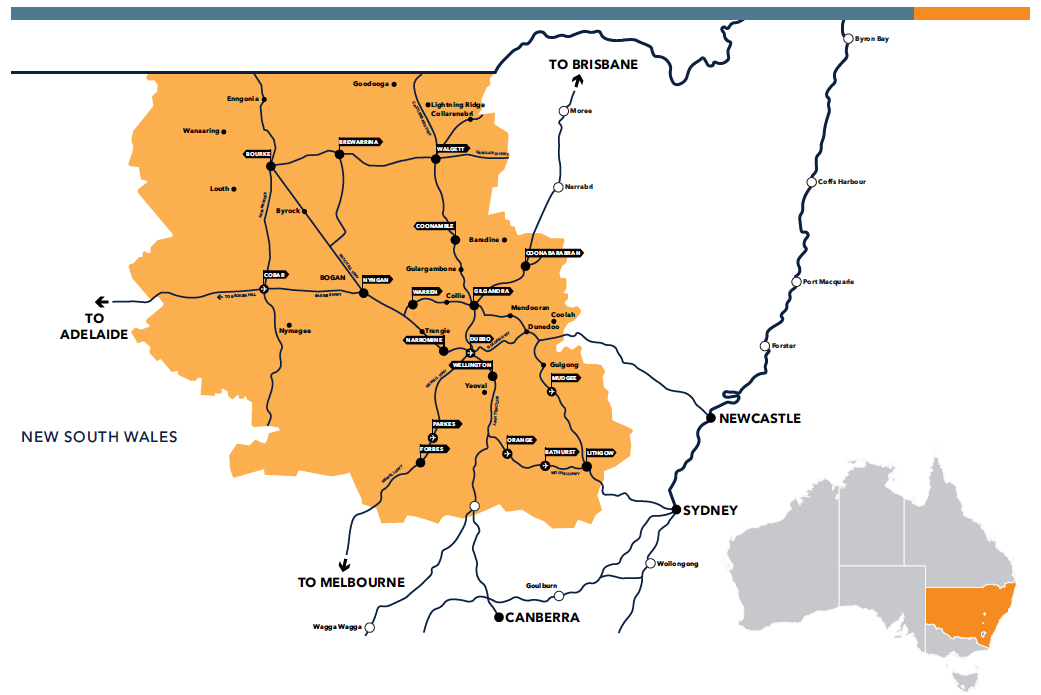 Economy and workforce
Collectively, Orana and Central West NSW account for $44.7 billion of NSW's Gross State Product. Major economic activities and employers include the well-established agriculture and mining industries, and there is growing investment in renewable energy projects. For example, Orana is home to one of the Southern Hemisphere's largest solar farms in Nyngan, NSW.
The region is well-positioned to make the most of its significant natural endowments. For example, Dubbo is located at the intersection of major air and land transport routes, giving access to air and sea ports in NSW as well as Victoria and Queensland.
Orana and Central West NSW is benefiting from investment in projects and infrastructure, with RDA Orana estimating nearly $8 billion dollars' worth of project investment being poured into the region over the next five years.
With a combined population of around 300,000 people, the region boasts a low unemployment rate and has a strong mix of professionals, tradespeople and semi-skilled labourers in the workforce. In recent years, Orana and Central West NSW have seen growth in the number of people moving to the area for job opportunities – both from within Australia and overseas.
The mining industry
Mining has been present in Orana and Central West NSW for more than a century, with some workers' families having been in the sector for generations. The region has a well-established culture of mining, and many workers live and work locally. Families are often supported by amenities available in the major centres such as health, education and retail.
The resources sector is the leading contributor to the region's economy, accounting for $4.3 billion (or nearly 25%) of the area's total economic value.
Orana and Central West NSW host a number of commodities including coal, copper, silver, lead, zinc, gold and critical minerals. There are 16 established mines in the region, with another handful being developed or going through feasibility studies. Notable mines include: CSA Mine (Glencore) and Peak Gold and Hera (Aurelia), both in Cobar; Tritton Copper Operations (Aeris Resources); Northparkes (CMOC-Northparkes Mines); Tomingley Gold Operations (Alkane Resources Ltd); Cadia (Newcrest); Wilpinjong Mine (Peabody Energy); Moolarben Coal (Yancoal); Ulan Coal (Glencore Australia); and Springvale and Clarence Colliery (Centennial Coal).
Alongside the well-established sector, the area is seeing strong interest in exploration – particularly for copper, gold and critical minerals. In particular, there is interest around zirconia deposits around Dubbo and a scandium project in the planning and assessment phase in Nyngan NSW. Other projects in the region under development include: Sunrise Energy Metals Sunrise Battery Materials Complex, Australian Strategic Mineral's Dubbo Project, McPhillamys Gold Project and KEPCO's Bylong Project.
There are a mix of companies located in Orana and the Central West, with well-established miners being joined by juniors looking to capitalise on the local potential.
Thanks to the established resources sector, the region has proved a valuable testing ground for new technologies and processes, and there is an appetite for innovation that looks set to grow as the local area continues to see investment in its projects and resources, especially around critical minerals. The region is a leader in automation, with the CMOC Northparkes Mine running a number of automation programs including driver-less loaders.
Regional Future Mining – an event showcasing the local resources sector
From 16-17 February 2022 the O2N Energy, Resources & Industry Innovation Forum will be held in Dubbo. The purpose of the forum is to shine a spotlight on the region as a strong mining and METS destination, bringing together industry, government and academia to discuss and explore opportunities, as well as provide a forum for networking and relationship building. AusIMM is a conference supporter of the event and will play a role in helping raise the profile of the region and its resources professionals.
The event kicks off on 16 February with a workshop on the future of mining facilitated by UNSW Professor Serkan Saydam FAusIMM. The workshop will explore the drivers for technology adoption in mining and the disruptions that could face the industry in the future. The workshop will include the imperative for research, development and deployment and conclude with a multi-panel discussion on working with the university sector to commercialise innovation.
The event will continue on 17 February with the O2N Energy, Resources & Industry Innovation Forum. The program for the forum is future-focused, showcasing where the resources industry is heading, and include discussion of global megatrends and commodity supply and demand modelling, with reference to the role Orana and Central West NSW can play in meeting demand. Keynote speakers include CRU providing a perspective on the minerals supplying the modern world and the opportunity for the region, and NSW Government providing significant policy, projects and strategy updates.
The future of net zero mining will also be covered, including presentations from producers and METS on what a net zero mining operation could looks like and how best practice can be achieved. Other sessions will focus on technology and collaboration, including digital transformation in the resources sector, and how to harness new technologies such as electric vehicles and hydrogen applications.
There will also be dedicated session from O2N Foundation Partner the University of Newcastle on demonstrating how universities and academics work closely with industry to commercialise new research. Finally, the forum will conclude with a session on skills and education, discussing the future talent pipeline and leveraging this opportunity for the region.
The third day will include local tours to sites and projects, giving participants an 'on the ground' look at the sector and current initiatives. There will be two half day tours with a focus on energy and mining respectively.
Those interested in attending the Forum can register for all days, or a single day if preferred.
Visit the website to find out more about the event and register