Solving major industry challenges with multi-site, multi-period optimisation
Mining organisations need to manage an ever-increasing range of challenges to maximise value and make the most of potential opportunities.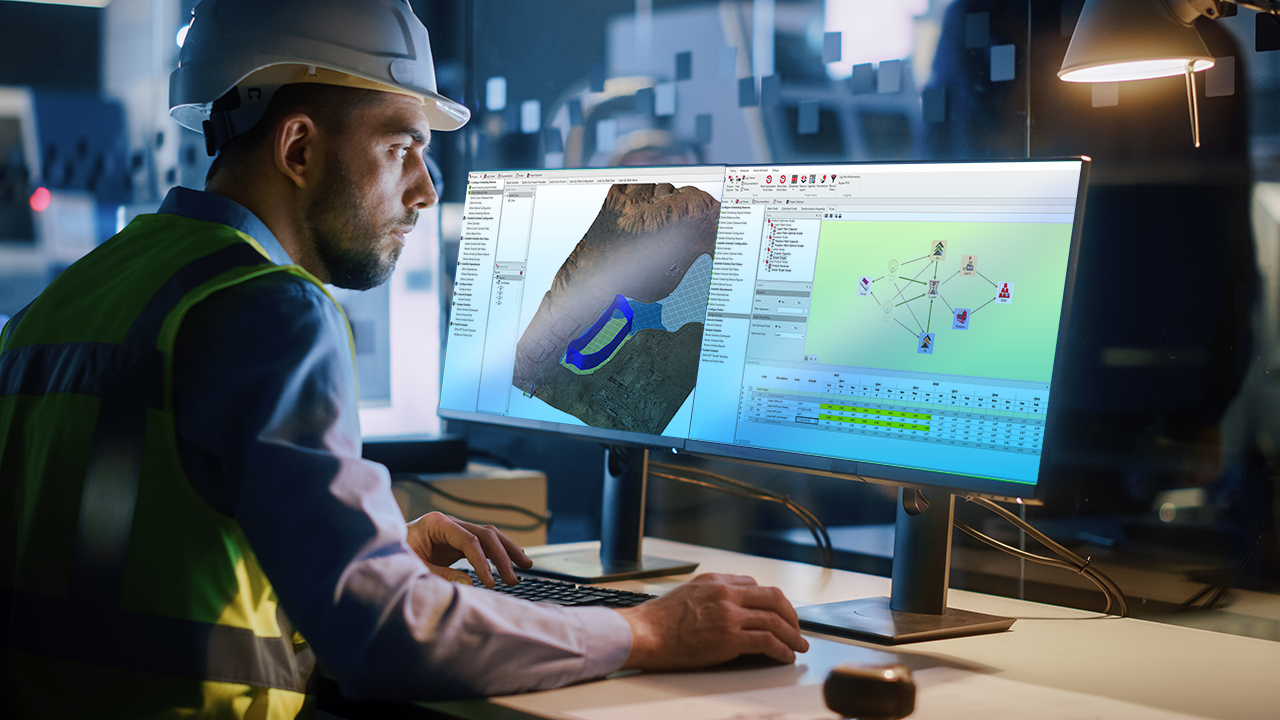 Whether it be accessibility to traditional global markets, volatility in forex and commodity prices, or the increasing impact of ESG requirements, the operating landscape is unpredictable and changing rapidly. Understanding the best way to respond to these challenges can have a significant impact on an organisation's overall profitability.
Responding to these challenges demands a decision-making strategy that considers multiple options, and for enterprise mining companies, it requires factoring in multiple sites and periods. Mine planners don't just have to consider all these factors, they must also optimise the outcome to satisfy all areas in the long-term plan, maximising the net present value (NPV) of their operation. This analysis often includes asking questions like:
Should the existing production strategies at different mines be changed?
Should production capacity be expanded, or logistical bottlenecks eliminated?
Would improvements to processing technology better align production with markets?
To respond to the current challenges that many mining sites and companies are facing, flexible decision making is required. Luckily, the mining industry's growth and evolution has resulted in the development of innovative technology to assist in the decision making process, providing context and integration of data. Globally, mining operations are now utilising this technology to optimise their operations, across multiple sites and periods.
Optimising operations holistically
When a mining organisation is looking to optimise operations, they typically start with their individual mining operations. But these are often connected through complex supply chains, which can be overlooked. Optimising connected mining operations holistically is essential to ensure that shared infrastructure and competing contractual requirements are taken into consideration. It is a balancing act between competing priorities at a granular level – and the best option for one operation may not deliver the best outcome for the entire organisation.
Multi-site, multi-period planning technology is now available, such as RPMGlobal's Enterprise Optimiser, that provide a rapid and reliable way to analyse this constantly changing landscape so that organisations can understand how to maximise the value of their operations whilst mitigating risk and maximising value.
These new tools address multiple issues including supply chain, logistics, capital expenditure, mine planning and much more. They focus on key objectives of the organisation, which are then optimised across individual mine sites. For example, they can optimise the processing of various ore feeds, taking account of the downstream factors and marketing requirements of the entire organisation.
Non-holistic scheduling packages evaluate mine sites on a period-by-period basis or on a short-term horizon. However, multi-site, multi-period packages optimise the whole organisation over the entire life of its assets. Having this sort of strategic analysis helps you understand how individual mining operations are related, and where the organisation gets the greatest return for shareholders from their invested capital. And the information gathered can provide reports easily and quickly so you can analyse the schedule outcome to help make informed capital investment decisions.
Because these tools consider all the assets in the organisation's portfolio, they don't focus on maximising results from individual assets to the detriment of the organisation's overall performance. By looking at the full picture, logistical constraints and bottlenecks can also be considered. For example, if a group of mines share a common rail network, it's pointless maximising the production for each of the mines if the rail capacity is inadequate. Problems of this nature are inherently complex and cannot be addressed with solutions that focus on individual assets. The entire system must be considered if the organisation is to have any confidence in the overall outcome. Multi-site packages tools users to model these limits on production and identify the best way to distribute capacity between assets.
Considering the current state of environment and economy within the mining industry, organisations should be shifting focus towards solutions that consider operations as a whole, maximising the potential opportunities. Technology has been developed to support mines through the continued challenges, holding the balance of having compliance to plan, whilst still being adaptable. These tools allow multi-site operations to optimise NPV across periods, managing the inherent risks by having visibility throughout the holistic life-of-mine.
---
If you'd like to learn more about the technology discussed in this article, you can get more information on RPMGlobal's Enterprise Optimiser software here.