Study processes for resource projects to improve project delivery performance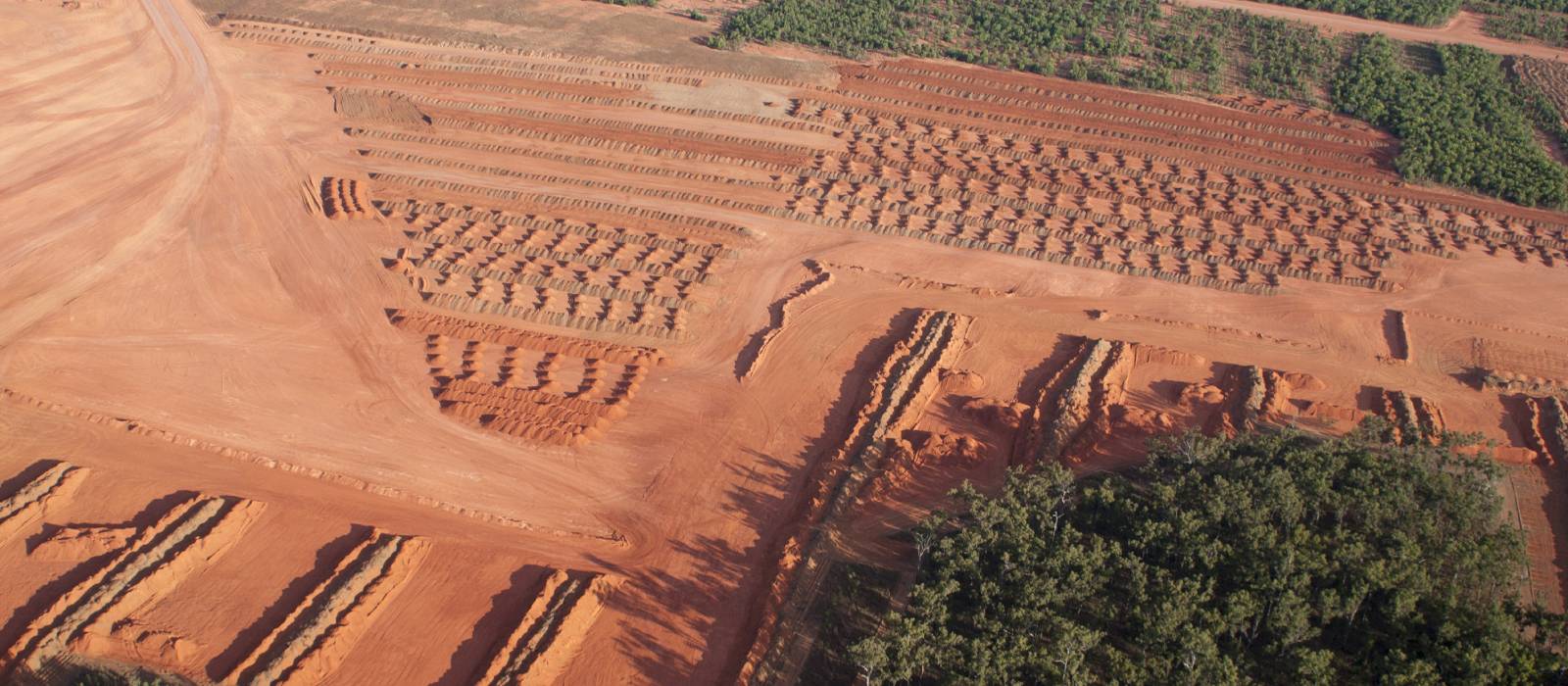 A new AusIMM course on study processes with key input from subject matter experts is set to help make a difference to achieve better performance in project delivery.
Despite innovation and progress in the resources industry, as well as others like the energy and infrastructure sectors, we continue to see that too many projects are not being executed very effectively – often far exceeding capital costs, experiencing construction schedule overruns and failing to meet environmental and social obligations.
The larger the project, the higher the potential that the project failures are so significant that they reach front-page headlines. These outcomes are not good for the stakeholders involved nor the reputation of the industry as a whole.
So why are many mining projects failing to deliver successfully? The answer is not always straightforward and there are a multitude of reasons for this. In this article, I'll look at two key factors that impact project delivery performance – not defining an optimal strategy in the first place, followed by poor implementation of a sub-optimal strategy – and what is needed to address these issues – clearly defined study processes.
Key principles of a study process
Projects are more likely to achieve success if they are considered and developed using a phased approach, with control points to determine the level of exposure and cost of investigations. Each phase has different objectives, methodologies and progression pathways. Good practice is for project developers to ensure that Independent Peer Reviews are performed at key points in the study phases and before approval to commit any shareholder funds; these reviews are an essential element of the management decision-making structure.
The overall structure for the study process is shown in Figure 1.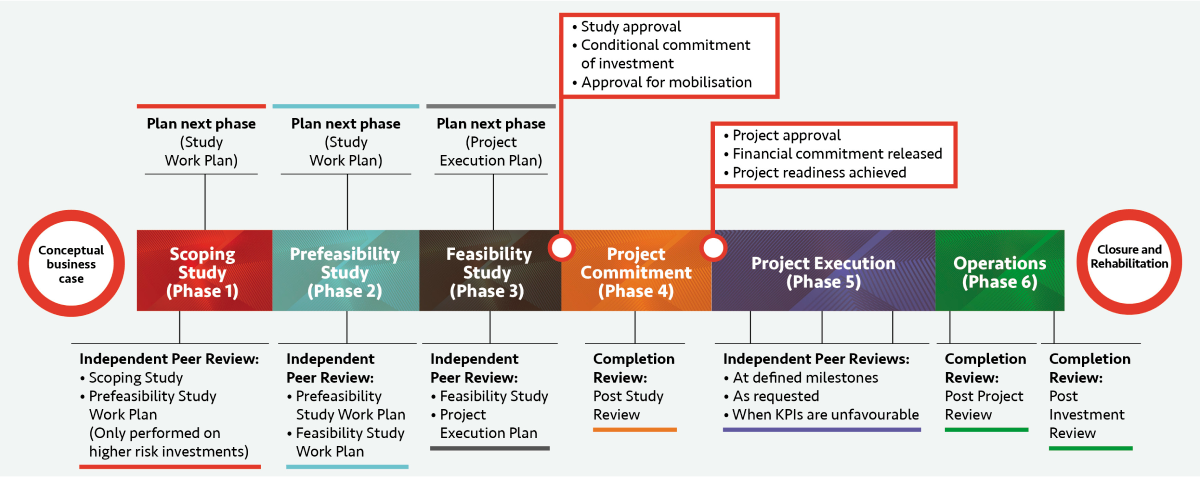 Benefits of clearly defined study processes – an economic justification
The economic justification for clearly defined study processes can be presented on two levels:
Value adding – savings in development costs, and improvement in the risk-reward ratio.
Value protection – reducing the potential for projects not achieving forecasts due to poor definition at the study stage.
The costs of developing, establishing and maintaining clearly defined study processes need to be offset against these economic justification values.
As part of a team of advisors who have worked with many clients over the years, managing and advising on their study processes, the following value adding and protection examples are provided:
One operator in the resources sector reported that just using two Minimum Standard guidelines had saved up to 300 hours of effort in the Feasibility Study set-up phase alone. The client was running five studies a year and at an internal cost of $100 per hour, the saving was in the order of $150,000 per annum.
In the early to mid-2000s, we were able to improve the risk-reward profile at a global tier 1 miner from a record of over 80 per cent of projects overrunning by turning 60 per cent of the projects to fall within budget and schedule, after introducing a full study process and standards.
Even if one portfolio of $200 million of minor projects can be improved by five per cent on capital costs and one month in schedule, savings would be in the order of $10 to $20 million.
If projects in the whole portfolio of minor projects could have inaccurate cost estimate of say 10 per cent of $200 million, then $20 million in value could be at risk.
Developing clearly defined study processes
The JORC Code and NI 43-101 have certainly made a significant difference in setting standards in reporting of resources and reserves and making sure there is a good start to the process. However, because the industry is still seeing project blow-outs, we consider there's opportunity to a make a difference by improving study processes.
As Fellows of the AusIMM, we see establishing the 'AusIMM Study Processes for Resource Projects' course as a step towards improving project delivery outcomes – with the first step being to make sure project owners choose the right project to build at the outset. The AusIMM's intention is to develop a course outlining best practice for study processes that practitioners and other stakeholders can refer to as processes, guidelines or a framework.
We have established a working group as part of the AusIMM Consultants Society (ConSoc) to develop this course. The working group consists of myself, as well as industry colleagues Lisa Park FAusIMM, Peter Fairfield FAusIMM(CP) and Karl van Olden FAusIMM, with the AusIMM's Kristy Burt, Phoebe Tan and Alison Bickford providing support.
The first task for this working group was to develop a brief, which has been endorsed by the ConSoc, the Policy and Advocacy Committee, the AusIMM Management team and AusIMM's Board of Directors.
The key objectives of this brief are to:
Establish study guidelines for the development of mining projects, from discovery to operation, with the objective to enhance the professional capability of our members and to underpin investor and community confidence, corporate governance, and the reputation in the mineral resources sector.
Develop appropriate training courses with the purpose of providing best practice study guidelines for preparing, assessing and enabling project investment decisions through the project development lifecycle.
The first online training course is scheduled to start on 14 February 2022. The course comprises four modules to be delivered over five weeks (12–16 PD hours in total) and will include four live webinars.
The development of the training material is being guided by feedback from an awareness webinar held on 17 November 2021.
Our next goal is to establish the AusIMM Study Processes for Resource Projects Handbook (like the Cost Estimation Handbook, Mine Managers' Handbook and other publications). The framework established for the short course will be adapted following feedback from course participants.
The working group recognises the need to bring subject matter experts (SMEs) on board to assist with this work. SMEs will cover the whole spectrum for studies from geology, geotech, hydrology, mining, geomet, metallurgy, engineering, environmental, social and governance, safety, human resources, project execution planning, financial model, legal and marketing and more.
The study process will follow the standard industry framework from scoping to feasibility studies, coupled with an Independent Peer Review process for gating purposes.
The 'Study Processes for Resource Projects' initiative is about making a difference to how we deliver studies and projects in the resources industry to ultimately achieve better performance in project delivery.