Sydney to host IMARC 2022 and showcase AusIMM member expertise
Australia's largest resources sector event, the International Mining and Resources Conference & Expo (IMARC), will be held in Sydney for the first time ever, at the International Convention Centre (ICC Sydney) from 2-4 November 2022.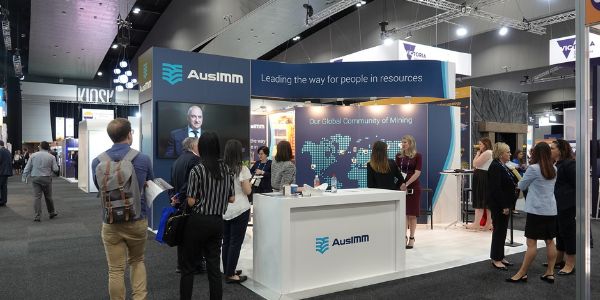 IMARC 2022 will provide the premier opportunity for Australia to host a global discussion about the important role of the mining and resources sector in a strong and sustainable future.
Innovation and productivity improvements will be central themes of this year's conference, as well as the transition to a lower emissions future.
Established in 2014, IMARC is Australia's mining and resources marquee event where global leaders from nearly 100 countries in mining, resources, technology, finance, and ESG connect with decision and policy makers.
This year's event will be held at the ICC Sydney, which is right in the heart of Sydney's Darling Harbour, with all activities to take place under the one roof across a huge 15,000m2 of space.
IMARC Managing Director, Anita Richards, said the move to Sydney was an exciting opportunity and comes on the back of record registrations and sponsorship enquiries.
"After two years of disruption, including the impact on international travel and major events, the response to this year's event has been overwhelming and we are excited by the opportunity. A new location is an opportunity to present a global event that connects with new audiences, new delegates and new topics that reflect the complex issues facing the sector, including ESG, climate change and the decarbonisation of the global economy.
"We are excited to be reconnecting with our global community in a new setting, and welcoming new voices to the conversations about the challenges and opportunities ahead," Ms Richards said.
The move came after extensive consultation with stakeholders and has been widely welcomed by delegates, sponsors and IMARC Founding Partners, the Victorian Government, Austmine, the Australasian Institute of Mining and Metallurgy (AusIMM) and Mines and Money.
CEO of Austmine, Christine Gibbs Stewart: "IMARC 2022 in Sydney will be an opportunity for the Australian METS sector to once again showcase its world leading technology and innovation. We look forward to welcoming back an international audience as well as delegates from around Australia to what will be the largest IMARC to date."
Head of Events AusIMM, Julie Allen said : "As the peak body for people in resources, AusIMM looks forward to our professional community coming together at IMARC to connect, learn and share the latest industry developments and welcome the opportunity to meet in Sydney in 2022.
Head of Mining of Mines and Money, Michael Hill said: "This year's event in Sydney provides a great opportunity for mining companies to meet a wealth of brand new investors."
AusIMM members to take centre stage
This year's IMARC program features AusIMM members showcasing their expertise on a variety of key topics.
Giulia Savio AAusIMM will moderate a 'Talk it Forward Dialogue Table' to be broadcast across the IMARC Collaboration Arena, featuring Phillip Griffiths MAusIMM, Lucy McClean FAusIMM and AusIMM Director Amy Lamb MAusIMM(CP). These members will be joined by other industry leaders to explore whether the resources industry is keeping pace with community expectations when it comes to diversity and inclusion.
Ngaire Tranter MAusIMM(CP), General Manager – RPM ESG at RPM Global will deliver a thought provoking presentation on 'Redefining Mine Closure.' Ngaire is a fourth-generation miner and has over a decade of technical experience in the mining and resources industry.
Michael McLeary MAusIMM, Principal Consultant – Asset Closure/Transition Planning with WSP Golder, will be speaking to delegates about transitioning tailings storage facilities to post-mining landforms. An experienced industry consultant, Michael has spent over 30 years in environmental management, remediation, restoration, rehabilitation and closure studies and projects.
There are also a number of AusIMM members presenting Mining Spotlights as part of the Mines and Money @IMARC conference, delivering updates on specific operations around Australia.
For more information on the program, please visit the IMARC website.