The Bicentennial Gold 88 Endowment – a retrospective
It all began sometime in late 1983 over lunch in a simple coffee shop on Lygon Street, Carlton, Melbourne, when Ross Ramsay floated with Reid Keays the idea of an industry-oriented conference on gold to be held in Victoria. The rest, as they say, is history.
But with a lot of hard work and action in between.
Market interest in the proposal was gauged by Reid Keays at gold conferences in Canada in 1984 and, particularly, at Gold '86 in Toronto. Responses were strong, positive and encouraging, and a May 1988 time slot was agreed on. 'Bicentennial Gold 88' was chosen as the conference title and registered as a bicentennial activity.
A carefully selected, stable and committed organising committee was progressively put in place to deal with the numerous challenging facets and administrative requirements, ably assisted by ACTS, a professional conference organiser based in Canberra.
A conference format was developed and built upon in an effort to match or exceed the standards set by Gold 86. Several new approaches were successfully introduced, including a 'core shed' display of material from gold localities around Australia and beyond; some days, or parts thereof, allocated only to poster presentations; and a one day school program as well as field excursions throughout Australasia.
Initial peppercorn seed funding was provided by Qantas, Ansett and the Geological Society of Australia and a grant by the then Department of Industry, Technology and Resources (DITR) Victoria. Later, it was decided to form a corporate entity, Bicentennial Gold 88 Ltd, limited by guarantee, as the most suitable, effective, all-round vehicle to move the project forward. With a not-for-profit status secured, the Company was able to retain all its surpluses without the obligation to pay corporate tax.
Further funding was provided by a loan, fully repaid, from the DITR Victoria. Subsequent funds came from generous corporate sponsorships from a large number of businesses, mining and exploration companies, as well as in-kind input from a range of entities including universities and professional associations, of which the AusIMM was one. One of the important effects of this support was to bring registration fees down to attractive, affordably low levels. Promotion and advertising was global, in part assisted by the Australian Tourist Board.
Most of the organising committee members became directors of the Company, headed by Reid Keays as President and Ross Ramsay as Vice-president and CEO. The roles of Company Secretary and Treasurer were filled by Peter Forwood and myself respectively. Alan Goode headed the Technical Programme Committee, with Bill Birch in charge of the Poster Program and David Jones ably organising the Excursion Program. Lindy Cochrane took charge of the Social Program while the core shed was jointly organised by Peter Parrington and Mark Bloom. In addition, many people assisted the Board members with their various tasks. Correspondents were appointed around Australia and overseas, some with important roles in organising the various field excursions.
Proceedings were opened on 16 May 1988 by John Cain, then Premier of Victoria, followed by an address by Brian Loton, MD and CEO of BHP.
In all, some 1600 participants, almost 50 per cent from overseas, were exposed to some 59 technical oral and 238 poster presentations, core displays from approximately 60 localities around the world, a technical course as well as a major trade exhibition and an accompanying persons' program. A well attended, very successful, one-day promotional education symposium, organised by Peter Atkinson through the GSA Victoria Division, aimed largely at senior secondary school students and science teachers interested in geology. Technical excursions were organised to the major gold regions and mines throughout Australia, New Zealand and the South-West Pacific. The Conference Dinner at the Victorian Arts Centre, organised by Lindy Cochrane and Gerhard Krummei, was a selI-out.
These numbers and efforts added up to a landmark conference resulting in a surplus that allowed sponsorship support for about 21 keynote speakers as well as for some 33 students presenting or exhibiting papers. In addition to a series of Conference volumes, the surplus also contributed substantially to the publication, by the Society of Economic Geologists, of its voluminous, much referenced Monograph 6, jointly edited by Reid Keays, Ross Ramsay and David Groves, which provided a 1988 perspective on the Geology of Gold Deposits.
It was estimated at the time that the conference contributed between $6m to $9m to the Victorian economy, in addition to providing public exposure of the geological and mining professions via media coverage.
The Bicentennial Gold 88 Endowment
Of the residual surplus, the Board of Bicentennial Gold 88 Ltd resolved to donate $125,000 to set up a fund for the advancement of education and research in earth sciences to the benefit of economic geology in Australia, to be called 'The Bicentennial Gold 88 Endowment.'
At about this time, the AusIMM Education Endowment Fund (EEF) was in its early stages of being established, its objectives broadly aligned with those of the Bicentennial Gold 88 Endowment. Discussions ensued with John Burns, former CEO of the AusIMM and Charles Copeman, the inaugural director of the AusIMM Education Endowment Fund, which resulted in the placement of the said amount under the control of the latter fund with the provision of naming rights and to be administered 'in perpetuity' within the terms of the EEF Trust Deed.
Under the arrangement, the EEF assumed financial management of the amount as part of its overall corpus, while a separate Working Group, led by Gerhard Krummei and consisting of several members of the GSA Victorian Division, was established to assist with the processing of award applications and to recommend worthy recipients to The EEF Board Trustees.
To that end, a cheque was presented to Charles Copeman at a function on 19 July, 1989 and this amount remains among the earliest, top half dozen contributions to the AusIMM Education Endowment Fund.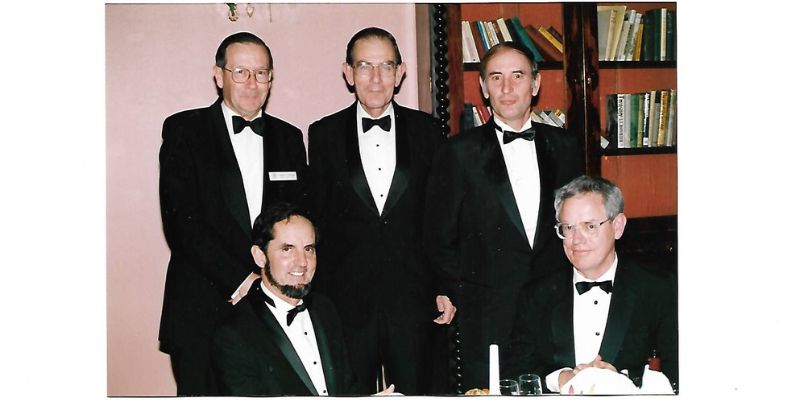 The first distribution under the Bicentennial Gold 88 Endowment banner was made in 1990, with annual awards thereafter. In rounded numbers, of the applications received during the 32-year life of the Endowment, approximately 54 per cent were research oriented (mostly at the PhD and less so at the MSc or BSc level), 18 per cent were for travel and presentations of PhD research results at conferences, 17 per cent for technical excursions, 10 per cent for education and scholarships and 2 per cent for studies in mineral economics, conference sponsorships and other.
The actual distributions mirror the above numbers almost exactly, with 57 per cent, 18 per cent, 17 per cent and 6 per cent going to research support, travel and presentations, technical excursions and education respectively. Two per cent went to 'other' applications.
The downturn in the mining industry and the economy generally in 2012-13 and beyond also affected many professional associations and brought about a change in the fortunes of the Bicentennial Gold 88 Endowment. Following a request by the EEF Trustees to review and rationalise all awards, endowments, bursaries and prizes within the EEF, a change in the accounting treatment of this Endowment was introduced which resulted in a lower residual balance than anticipated.
In the light of this development it was decided, with great reluctance and after much deliberation, that the best option under the then prevailing circumstances and future uncertainties was to gradually draw down the funds, then close the Endowment. The last distributions were paid out in 2021 which marked the end of the Bicentennial Gold 88 Endowment after period of some 32 years.
All up, an amount of nearly $250,000 has been distributed to more than 100 recipients via tertiary institutions throughout Australia. This number would swell to over about 200 if all those benefiting from grants towards technical field excursions in Australia and overseas for educational purposes were included in the tally.
Funded participation in conferences resulted in the publication of a number of conference and technical excursion reports, mostly in the AusIMM Bulletin, but also in The Australian Geologist, especially in the earlier days of this Endowment.
Several academic papers were published in scientific journals based on research partly supported by this Endowment. One photograph of a Tasmanian researcher doing hand-stands, or cart-wheels, on Macquarie Island even made the cover of the AusIMM Bulletin!
A number of recipients also gave presentations to the GSA Victoria Division on aspects of their supported research, including two excellent talks at the 2019 GESS Conference, Monash University. The final presentation, given by award recipient Owen Missen to the GSA Victoria Division in fulfilment of award conditions, was on aspects of the now critical mineral tellurium. The talk, which was seriously delayed due to Covid 19 restrictions, was presented at the end of October 2022 and formally rounded off the Bicentennial Gold 88 Endowment.
An additional, less tangible benefit, is the exposure and publicity the AusIMM and the GSA derived as a result of their association with this Endowment, which also drew attention to the quality of the applicants and the standards of work expected of them.
Over the years, many people contributed to the assessment of applications for awards from this Endowment, including Mr C.R. Dalgarno, Mr P.S. Forwood and Prof. David R. Gray. Their input has been much appreciated.
Special thanks go to Prof. Chris Wilson and Ms Ingrid Campbell for their long term, willing commitment to the Bicentennial Gold 88 Endowment Working Group and their valued contribution to the assessment and selection process.
Also greatly appreciated is the AusIMM Secretarial Support Team for its administrative backup as well as the successive Endowment Trustees and the GSA Victoria Division for their support up to this time.
Finally, thanks are also due to the many applicants for their very often high quality and detailed submissions for support. It is hoped that the Endowment helped to advance the careers of all the successful applicants and enriched their lives.
Some good seems to have been done!
Vale Bicentennial Gold 88 Endowment.