The University of Queensland Metallurgy Field Trip – South Australia/Queensland 2021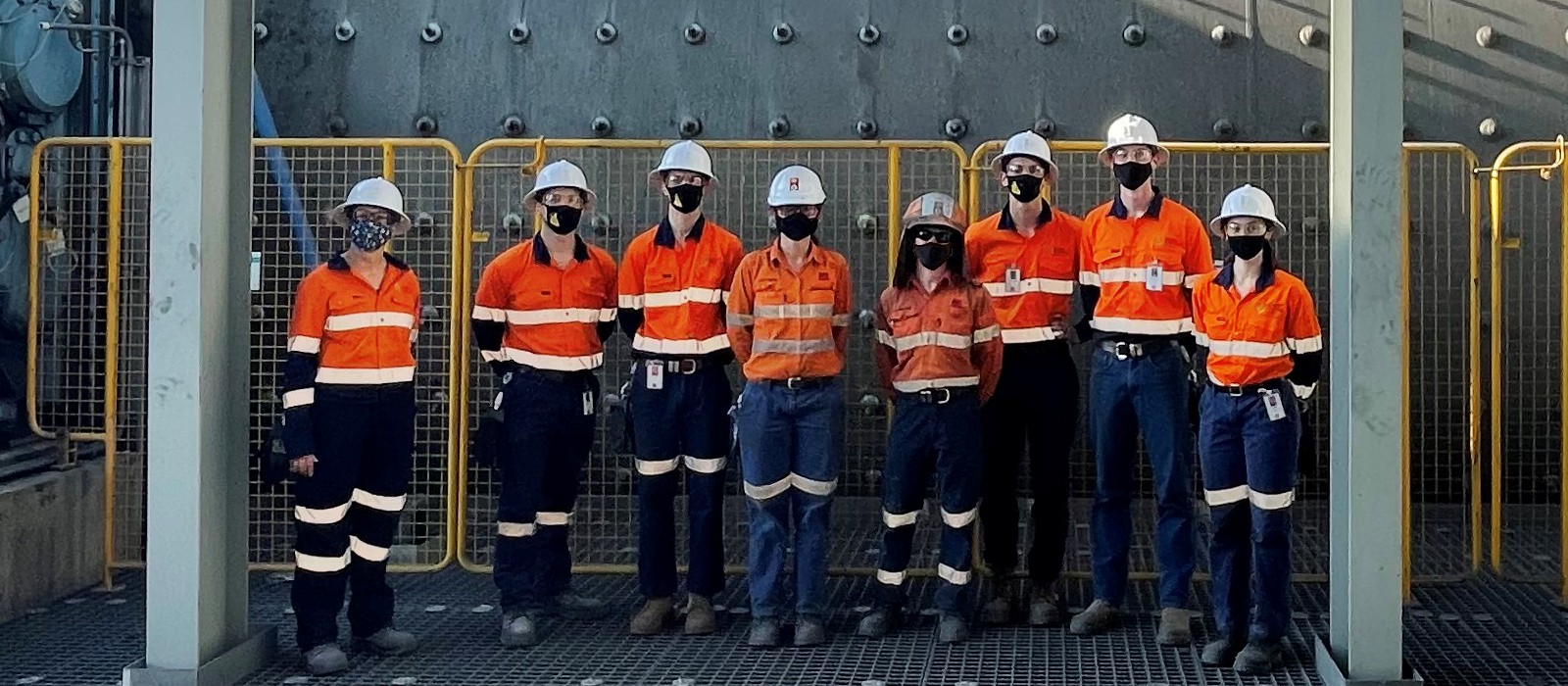 Through the months of June to October six students and a University of Queensland (UQ) staff member visited mines, concentrators, laboratories and refineries throughout Australia.
For almost three decades, students studying metallurgy at UQ have boasted annual field trips either nationally or internationally to enhance their studies. The trips are themed to suit the final year design project that students complete as part of their studies.
South Australia trip and cancellations
With the intention to see some of Australia's best sites, including Prominent Hill, Carrapateena, Olympic Dam and a handful of other sites, the students set off from Brisbane for Adelaide early on 27 July. Unfortunately, shortly after landing, South Australia closed the borders to Brisbane and our trip ended before it began.
Before promptly booking flights back to Brisbane on 28 July, we were able to visit the Magotteaux laboratory. Through this tour we were able to view the Magotteaux Mill, get an insight into some of the sample preparation techniques utilised and saw early prototypes of Magotteaux's Pulp Chemistry Monitor.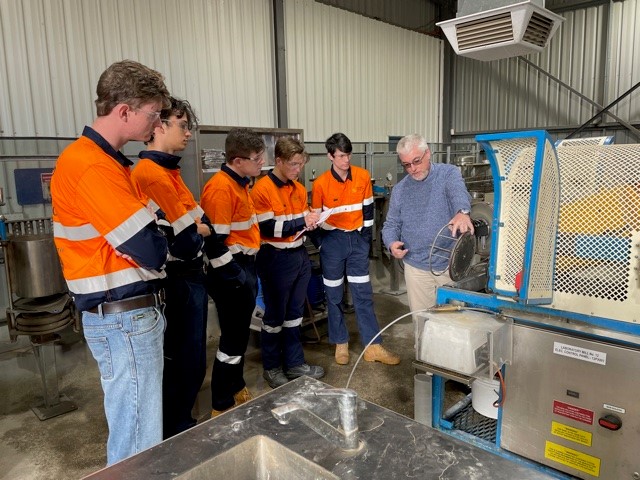 With the world everchanging, it was clear we had to adapt our approach with organising the field trip and opted for virtual tours as well as day tours. The updated plan was to organise day tours through Glencore's Copper Refineries Limited (CRL), Cadia, Mount Isa Mines and Dugald River. Unfortunately, the Cadia and Mount Isa Mines tours had to be cancelled and we were able to visit Ernest Henry (EHM) instead.
Virtual Tours – Prominent Hill and Ausenco/Carrapateena
Similar to our studies, we moved our Prominent Hill Tour to a virtual medium through Microsoft Teams. We were given an overview of the Prominent Hill Operation accompanied by 360o images. Following the overview, we were able to ask questions and learn about how Prominent Hill can operate remotely allowing flexible work from home rosters. This was a great experience encompassing the operation as well as a walk-through of Prominent Hill's SAG mill relining via 360o photos, something we wouldn't have experienced had the tour been in person.
From this, we visited Ausenco's Brisbane office to walk through the Carrapateena 3D model Ausenco designed. We were able to sit with the engineers that designed the plant as they walked us through their logic and decision-making process as well as shared the issues that arose when commissioning the plant. It was a unique insight into the factors and considerations associated with designing a plant.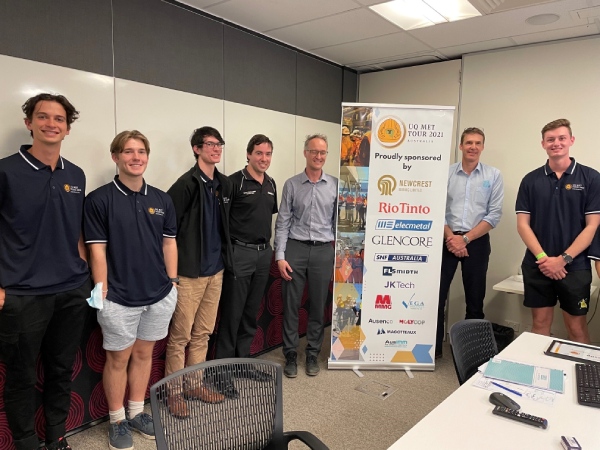 Copper Refineries Limited
A month later we boarded a plane to Townsville and were escorted through Glencore's CRL to explore the final step in copper production. The onsite engineers walked us through the entire ISAKIDD process, starting with the anode transportation from Mt Isa to watching the final copper sheets stripped from the cathode. We were also lucky enough to see the casting wheel in action, recasting the spent/rejected anodes. We were treated to lunch from the Glencore team where we were able to ask questions, before we concluded our first day tour.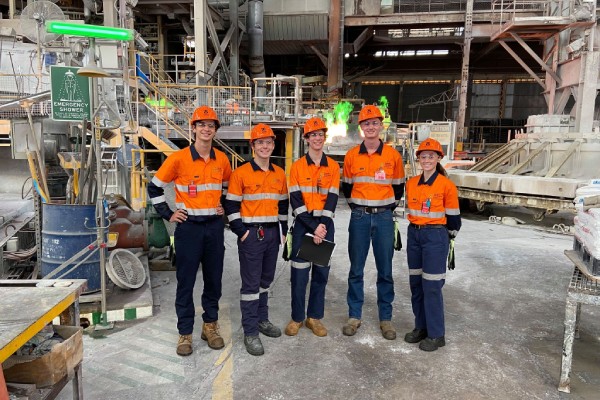 Dugald River and Ernest Henry
A few months and several assessment pieces later, we boarded an EHM charter flight to visit MMG's Dugald River. We were introduced to the metallurgy team and given a presentation about the commissioning of Dugald River and the ongoing challenges and projects they were working on. We were then walked through the plant noting the Jaw Crusher, the SAG and Ball Mills, the lead and zinc flotation trains and paste plant for the mine backfill.
We stayed overnight at MMG's camp where we were able to explore the available facilities and learn what a FIFO lifestyle may entail. With a 5 am start, we were invited to sit in on the metallurgy team's morning prestart. We were then escorted to the Technical Services team where we were journeyed through the underground mine, seeing the stopes, ventilation infrastructure and even an operating Jumbo.
As midday came around, we hopped in the LVs with Dugald River's metallurgy team to visit EHM (making an intermediate stop at the Cloncurry bakery of course). While walking through EHM's concentrator, it was interesting to notice the differences and similarities between what we saw earlier in the year with Prominent Hill and Carrapateena.
As the tour wrapped up, we boarded our flights from Cloncurry to Mt Isa and then to Brisbane to conclude what can only be described as the most unprecedented and unpredictable Metallurgy Field Trip to date.
Final thoughts
Although the trip we had was certainly not the field trip we had anticipated, we're content and very grateful for the opportunities we were given to explore our sunshine state further. The trip has provided us with invaluable knowledge and experiences which can't be replicated in a classroom. For some of us, this was our first opportunity to see a Tankhouse, SAG Mill or even go underground. We'd like to thank all of the sites that offered their time to facilitate a tour, we are appreciative of the time and effort that goes into planning something like this, even though not all the tours were able to go ahead.
The Metallurgy Field Trip is a proud tradition coupled with the Metallurgy Major offering within the Chemical Engineering degree program at UQ, we were fortunate to continue this tradition with current world circumstances. We hope this tradition continues and that future years have more luck organising a trip than us.
These annual field trips would not be possible without the support of our industry sponsors. We would like to thank our sponsors: Glencore, ME Elecmetal, Newcrest, Rio Tinto, SNF, FLSmidth, JKTech, Vega Industries, MMG, Ausenco, Molycop, Magotteaux and the AusIMM Southern Queensland Student Chapter for making this trip possible.