AusIMM Award recipients 2021
The AusIMM Awards have been recognising contributions to AusIMM and professional excellence in the resources sector for more than 80 years.
First awarded in 1935, AusIMM Awards celebrate outstanding contributions to best practice professionalism. The awards help to promote and raise the overall standard of professional practice and send a clear message to our communities that we are committed to the highest standards.
Congratulations to all our 2021 recipients and thank you for your service to AusIMM, our industry and our communities.
Highest honours
The Institute Medal
The Institute Medal is the most prestigious award and highest honour conferred by AusIMM. It is awarded in recognition of eminent leadership of AusIMM or the resources sector.
Mark Cutifani FAusIMM
Throughout his career, Mark Cutifani has shown a clear commitment to safety and exemplary leadership under adversity.
Mark is the current chief executive of Anglo American and former CEO of AngloGold Ashanti.
Shortly after joining AngloGold Ashanti, Mark introduced the 'Safety is our first value' campaign. Research into fatalities at the company had shown that 70% were caused by sub-standard operations or actions. To address this, Mark aimed to change the company's culture and improve communication. During his tenure, the fatality rate was reduced by 50%.
Mark was appointed Anglo American CEO in 2013, the first mining engineer to hold the role. Since that time, Anglo American have reduced fatal incidents by 87%, with exposures to health hazards and environmental incidents both reduced by more than 90% as well.
In 2015, when the resources sector was in a downturn, Mark needed to radically streamline the company and improve its performance. While today having fewer mines than in 2012, Anglo American's 2019 output was 12% higher and unit costs were 29% lower. Aided by higher commodity prices, the company's share price is up more than 1200% from its 2016 nadir.
Mark is described as a top-quality leader who is approachable and grounded. He has maintained a balance of making the tough decisions to keep a business afloat while also being keenly aware of the fact that people make a business. He is a role model for young professionals in how you can be a successful and admired leader.
Mark has been an AusIMM member for 29 years and a Fellow since 1997. He received AusIMM's Atlas Copco (now Epiroc) scholarship in 1981, and went on to be an active and supportive member of AusIMM. Mark remains an ambassador for our organisation and our industry.
President's Award
The President's Award may be presented to any senior and influential professional who has made a notable contribution to, or achievement within AusIMM or the resources sector.
Peter Munro FAusIMM

Peter Munro is a true legend of the resources sector. His unrelenting dedication to professional excellence and contribution to our industry's knowledge make him a worthy candidate for the President's Award.
Peter has worked across production, technical, research and leadership roles, most notably with Mount Isa Mines (MIM). Later in his career, he co-founded the specialised minerals consultancy, Mineralis, to provide expert advice to operations globally.
Peter has developed an unrivalled understanding of the resources industry over the past 50 years, and is a world-class specialist who shares his knowledge for the benefit of others in the complex and niche fields of concentrate marketing, smelter and refinery constraints and metals markets.
Peter led the charge for the first ever Mill Operators' Conference which was held in Mt Isa in 1978 and celebrated its 40th anniversary in 2018. Peter continues to support this and other technical events and conferences.
Over the course of his career, Peter has inspired and mentored thousands of metallurgists, mineral processors and chemical engineers all over the world.
He has always been a well-known champion for AusIMM – when students or graduates arrived to MIM he would immediately provide them with the membership form if they were not already Members. He has been an AusIMM member for more than 50 years and a Fellow since 2011.
The world of mineral processing would be poorer without Peter in it. His impact has been, and continues to be, profound and far-reaching.
Honorary Fellowship
Honorary Fellowship recognises exceptional achievement, service or contribution to the resources sector. This grade of membership may be conferred on any senior and influential professional who has performed notable, active and sustained service to AusIMM or made a major contribution to the resources sector.
Three members have been conferred Honorary Fellowship in 2021.
Dr Tony Christie HonFAusIMM
Tony Christie is one of the most influential economic geologists in New Zealand (NZ), making a significant contribution to academia and the industry through research and organising conferences and events. Tony has published over 24 journal articles, over 40 book chapters, and over 50 abstracts in conference proceedings on mineral deposit studies, geological, geochemical and geophysical mapping, regional mineral resource assessments and prospectivity studies.
In 2010, Tony and Dr Robert (Bob) Brathwaite jointly received an AusIMM President's Award for their contributions to the NZ minerals industry through academic and applied research, including editing AusIMM Monograph 25 on NZ mineral deposits and significantly contributing as lead authors or contributing authors. In 2016, Tony edited AusIMM Monograph 31, Mineral Deposits of New Zealand, and was again a lead or contributing author on 30 papers.
Tony served on the NZ Branch Committee for 26 years and was Branch Chair from 1999-2001. Tony led several new initiatives including short courses at branch conferences and an annual program of international visiting lecturers who toured NZ delivering lectures and short courses. He has regularly been on conference organising committees including many Branch Annual Conferences; PACRIM 1995, 2015 and 2019; and Gold 2017. He was convenor of the 26th International Applied Geochemistry Symposium 2013 and NZ Branch conferences in 2012 and 2016.
All of this work clearly demonstrates Tony's commitment to sharing knowledge with the broader professional community. Tony's sustained leadership, support and activity in international minerals research and AusIMM is worthy of recognition as an Honorary Fellow.
Professor Alice Clark HonFAusIMM
Professor Alice Clark has a reputation for strong and clear‐headed leadership. She has more than 35 years' minerals industry experience including senior leadership positions in corporate, consulting and research institutions, as well as consulting to government and major resources groups. Alice served as AusIMM President in 2011-12 and received the Beryl Jacka Award in 2015.
Alice has devoted many years of work to the development and maintenance of professional standards in industry. She has been active in the Joint Ore Reserves Committee (JORC) since 1996, and made a leading contribution to the revision of the JORC Code in her position as Deputy Chair from 2007‐2013. She is a Commissioner in the NSW Independent Planning commission and a Fellow of the Australian Academy of Technology and Engineering.
Alice's notable academic leadership roles include her appointment to the role of Director for both the Julius Kruttschnitt Mineral Research Centre (JKMRC) and the WH Bryan Mining and Geology Research Centre (BRC) within the Sustainable Minerals Institute at The University of Queensland (UQ) in 2012, overseeing substantial restructuring of those organisations.
In her current role as SMI's Deputy Director (Strategy) she has been instrumental in developing a future‐focused team, who are breaking new ground in technical innovation.
As AusIMM's first female president, the first female Director of JKMRC at UQ, and Mount Isa's first female Chief Geologist, Alice has been a role model for many professionals throughout her career. She remains an ambassador and advocate of the exploration and mining industry.
Dr James (Jim) May HonFAusIMM
Dr Jim May established a new paradigm of cooperative mineral industry research and development (R&D) in Australia, which was subsequently taken up globally. Jim's influence on the industry, the research community and the careers of individual researchers has been profound. Australia's world leading mineral research infrastructure owes much to his ability to identify opportunities, broker collaborations and inspire trust.
Since joining AusIMM in 1952, Jim has served on many AusIMM committees. In 1992 he was awarded the Institute Medal and in 1995 was AusIMM/AIME Distinguished Lecturer to the USA. In 2016 he was inducted into the Australian Prospectors and Miners Hall of Fame and he has received Honorary Doctorates from the University of South Australia and The University of Queensland (UQ).
The Australian Mineral Industries Research Association Limited (AMIRA) was established in 1959, and Jim was appointed its first full time CEO in 1968. Almost singlehandedly Jim created the 'AMIRA model' in which R&D costs and intellectual property were shared by mining companies for mutual benefit, achieving an enormous investment leverage and increasing the rate at which new developments were adopted.
Jim also played an important role in the early success of the Julius Kruttschnitt Mineral Research Centre (JKMRC) at UQ, including a long-standing collaborative relationship with Alban Lynch HonFAusIMM.
Jim understood AMIRA's brokering role better than anyone and exploited it brilliantly to find consensus from sometimes competing interests and ideologies. This was a function of his warm personality, technical competence and the high regard in which he was held.
Beryl Jacka Award
This award is named in honour of Beryl Jacka, a stalwart of AusIMM over a period of 40 years and AusIMM Secretary from 1945-76. The award is presented in recognition of extraordinary and sustained service to AusIMM.
Jared Osborne FAusIMM
Jared Osborne embodies the credibility, values, integrity, professionalism and high standards that AusIMM stands for. In particular, he has shown leadership through Chairing AusIMM's Education Endowment Fund (EEF) and being a member of the EEF Investment Fund. The EEF has thrived over the period of Jared's stewardship, providing mentoring and scholarships to future leaders in the mining industry.
Jared has been involved in awarding 95 scholarships to deserving students, valued at over $1 million dollars. His role as EEF Chair shows Jared's genuine passion for investing in future leaders and in advancing initiatives (such as the 'Tomorrow's Professional' program) to leave a positive legacy for the industry as a whole. Jared has also made a positive contribution to establishing leading governance ensure the EEF thrives as a sustainable initiative over the long term.
Jared's work with the EEF is entirely voluntary. He has shown tireless commitment to the role while displaying humility and authenticity, while also maintaining a senior leadership position at Rio Tinto.
Jared recently received his 30-year membership certificate, and through his ongoing support of the next generation of resources professionals, he is deserving of recognition as a valuable contributor to AusIMM over a long period of time.
Professional Excellence Awards
These awards recognise professional excellence demonstrated by a resources professional (individual or group) for significant contributions to the development or application of professional knowledge, practice or leadership.
Professor Donald Barnett FAusIMM
Professor Donald Barnett has played a leading role in the field of minerals and energy economics education in Australia, and as a respected coal industry economic consultant.
In 1975, Don Barnett was the first academic appointment in Australia in the field of mineral and energy economics, and went on to establish the Centre of Mineral and Energy Economics at Macquarie University in 1991 and Curtin University in 1996. These courses became known as the 'MBA for miners', and the knowledge passed on by Don is now deeply embedded in the Australian resources sector. Graduates from Don's courses can be found today in many executive positions across the resources and finance industry.
In addition to his contribution as an educator, Donald Barnett has left an important legacy in the Australian coal industry. Don launched the International World Coal Outlook series in 1992 as a forum to share market and technical insights, and his dynamic coal supply cost model is now industry standard.
The core skills of understanding and undertaking financial analysis within a mineral economics framework remains an advantage of the Australian resources industry, and Don is a true champion of economic analysis and knowledge in our sector.
Dudley Kingsnorth FAusIMM
Dudley Kingsnorth is recognised as a world authority in the rare earths industry, including rare earth markets and project development. Dudley has not only contributed significantly to the body of technical knowledge surrounding these strategically vital commodities but has also educated others on their role in a more efficient energy equation for the future. His contributions continue to drive further research and learnings.
Dudley's long-standing contributions include working as Project Manager of the Mt Weld Rare Earths Project and being an independent consultant to the industry for nearly 20 years. He is the author or editor of many editions of the Roskill report on rare earths and has given numerous keynote addresses to international rare earths conferences. In addition, Dudley provides advice on rare earths to a number of government departments and corporate organisations around the world.
In 2012, Dudley was appointed a Professor at the Western Australian School of Mines (WASM) at Curtin University in Western Australia with special responsibilities for establishing the Curtin Critical Materials Initiative.
Dudley was also an AusIMM Councillor and served as Vice President from 1997-99.
Dudley's broad knowledge and extensive contacts have cemented his highly respected reputation for objectivity and excellence in the rare earths industry.
Jim Torlach Health and Safety Award
Named in honour of James (Jim) Torlach, the AusIMM Health and Safety Award recognises notable achievements in health and safety for the minerals sector.
Professor David Cliff MAusIMM
Professor David Cliff has a long and distinguished career dedicated to health and safety in the mining industry. He is a world-renowned expert in mine fires and explosions who is often called upon for his expertise in times of crisis.
David is currently Professor of OHS in Mining in the Minerals Industry Safety and Health Centre (MISHC) inside the Sustainable Minerals Institute at the University of Queensland (SMI UQ). David has expertise in emergency preparedness, gas analysis, spontaneous combustion, fires and explosions, including providing expert testimony to the Moura mining disaster inquiry, the Hazelwood mine fire inquiry and the Pike River Royal Commission.
David has published widely in occupational health and safety in mining, including physical hazards as well as the processes for the effective management of these issues. David has also been active in providing education, training and advice on OHS issues to universities and governments around the world, especially regions that are struggling to cope with rapidly expanding minerals extraction industries.
For more than 30 years David has been providing education, conducting applied research and consulting in the industry to help the sector better understand and improve OHS outcomes.
Charles Marshall Award
The Charles Marshall award recognises AusIMM members who, as consultants, have made outstanding and sustained contributions to the resources industry. Recipients are Chartered Professionals who are widely known and respected in the industry and have embodied and reinforced sound and ethical consulting behaviour.
The award is named after Charles Marshall (1904-91), an AusIMM Councillor (1964-74) and President (1969). Charles oversaw the formation of the Minerals Industry Consultants Association (MICA) in 1981, which was incorporated into the AusIMM Consultants Society in 2017.
Susan (Sue) Border FAusIMM CP(Ret)
Sue Border has more than 40 years' experience in the minerals industry, specialising in exploration management, mineral resource estimation and valuation. In 1998 she started and led the consultancy company Geos Mining, where she still consults part time. Sue has shown consistent professional and technical excellence and always operates to the highest ethical standards.
Sue was Chair of the AusIMM WIMnet Committee, and was a member of the AusIMM Sydney Branch Committee and the MICA Management Committee. Sue also served on the AusIMM Membership Committee, and in 2020 was selected to join the AusIMM Ethics Committee and quickly made a valuable contribution. Sue has excellent knowledge of the JORC and VALMIN Codes and has always upheld her integrity, demonstrating fairness and compassion in her judgements.
Sue overcame social and cultural barriers by becoming the first woman to undertake the Mining Geology course at the Royal School of Mines at the University of London in the mid‐1970s, before moving to Zambia and becoming the first female in the country to be allowed to work in underground mines. In 2013, she was recognised as a gender diversity champion and role model in the first edition of WIM UK's 100 Global Inspirational Women in Mining. Sue received an Institute Service Award in 2007.
New Professional Award
The New Professional Award recognises the contribution by a new professional to the sector through operational, academic, service or other notable achievement. It was first awarded in 2004.
This award may be presented to any new resources sector professional (generally within six years of graduation, but at the discretion of the Awards Committee).
Jason Hodge MAusIMM
Jason Hodge joined the AusIMM in 2011 as a student at the University of Adelaide. Since graduating in 2012, Jason has worked at Argyle in Western Australia, Prominent Hill and Challenger in South Australia, the Didipio Mine in the Philippines, and now Oyu Tolgoi in Mongolia.
Jason joined the AusIMM Adelaide Branch committee in 2017 and immediately added value, happily taking on a variety of tasks despite his site-based roles meaning he was often doing this remotely.
In 2019, Jason took over as Adelaide Branch Secretary and played a supporting role in media and sponsor coordination, as well as leading the coordination of the Branch's annual dinner. He has led from the front and stepped up in responsibility and commitment, driving positive change in the Branch and committee. Jason has the ability to think beyond himself and shows true leadership qualities.
Jason is quick to volunteer his services for anything needs doing, including voluntary work in Cambodia to help alleviate poverty, and being an emergency response team member for both OZ Minerals and Rio Tinto. Jason remains calm in the face of multiple challenges and displays a maturity beyond his years.
Institute or Resources Sector Service Awards
These awards may be presented to any AusIMM member or to a group of members. They recognise consistent and significant contribution to the ongoing success of AusIMM and/or the resources sector.
Henry Antwi FAusIMM
Henry Antwi established the AusIMM's only Community of Interest in Africa, the AusIMM Tarkwa Student Chapter at the University of Mines and Technology in Ghana. Since joining AusIMM in 2006, Henry has supported and mentored the next generation of mining professionals in Ghana and the wider region.
Henry is passionate about the role AusIMM plays in supporting new professionals, and has sponsored more than 200 students to join AusIMM. Many of the students Henry sponsors become great industry professionals in their fields and Henry has instilled a high level of professionalism in the Chapter members.
He has organised many events for Ghanaian students and the industry, including the Annual Tarkwa Forum AusIMM Conference which attracts over 400 participants. Henry has also been a keynote speaker at the Accra Mining Network Quarterly Seminars, the West African Institute of Mining, Metallurgy and Petroleum, Ghana Institute of Geoscientists, University of Mines and Technology Alumni lectures and various conferences globally.
Henry provides great insights to help better Ghana's resources industry, and provides advisory support to companies and governments around the world.
Glenister Lamont FAusIMM
Glenister Lamont served pro bono on the AusIMM Investment Committee for 13 years, from its inception in 2007 until 2019. Over this period, Glenister helped steer and maintain a strong investment portfolio for AusIMM, including through some very testing times such as the 2008 global financial crisis.
Glenister's knowledge and guidance was invaluable to the Investment Committee, and he provided much needed external balance. He afforded a deep understanding of the investment environment, the nature of risk of new and developing products, and assessment of the risk/reward performance of the portfolio and the investment manager. Without his guidance, the Committee would have been ignorant to the risk of some recommendations from the investment manager as well as some opportunities that they had not raised.
Glenister's extensive experience with the risks associated with investing and investment portfolio management committees across a number of 'not‐for‐profit' organisations has helped ensure AusIMM's financial sustainability, and he has been pivotal in maintaining a well-managed portfolio.
Tony Osman FAusIMM(CP)
Tony Osman has made extensive contributions to the AusIMM Chartered Professional (CP) Program over the last 15 years, including growing the program from a cohort of a few hundred Fellows to the 1400+ CP members AusIMM has today.
Tony became a CP in 2000 and was a member of the CP Board from 2005-17. Throughout this period was also heavily involved in assessing CP applications, initially Environment then Geology. Tony has also been instrumental in assessing PD logbooks and in contributing to the continued smooth running of the CP program. This included the transition period across 2016-17, when the CP program was relaunched.
At the end of 2017, Tony was elected to the Chartered Professional Program Committee (CPPC) to represent the Geology discipline. Tony has been a dedicated member of both the CP Board and the CPPC, attending monthly Committee meetings and assisting with Committee tasks and responsibilities. His contributions to CP-related workshops at AusIMM Congress have also been noteworthy. Tony has been an AusIMM member since 1966, being involved with Branch and other Council/Board activities throughout this time, and will celebrate a remarkable 56 years of membership in 2021.
Best Paper Prize
The Best Paper Prize may be presented to a resources sector professional who has prepared and published a technical paper through an AusIMM conference during the year.
Abraham Whaanga MAusIMM(CP), William Vigor-Brown and Sam Nowland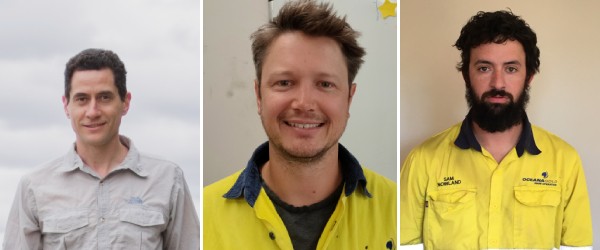 The 2021 Best Paper Prize is awarded to Abraham Whaanga, William Vigor-Brown and Sam Nowland for their paper 'The implementation of photogrammetry and automated data analysis functions at the Waihi Underground Gold Mine', presented at Mining Geology 2019.