South West WA Branch & Geoscience Society
Tech Talk - New Discoveries in the Structural Geology, Mineralization and Exploration Targeting of North America
Bob Watchorn has explored North America to the core-mantle-boundary at 2,900 km depth using his unique EagleEye ultra-enhancement of Landsat, Gravity, Seismic tomography plans and sections.
About this event
Over the last eight years Bob has been building a structural-geology framework for the Earth. New concepts have arisen from this research in Australia, China, Antarctica, Finland, Africa, South America and now North America.
This presentation will explain exciting new -
Discoveries:
Brittle structures and rings extend to core with sinistral movement in all continents
No evidence of a worldwide Mobile Mantle
Evidence that Atlantic seafloor spreading is relatively narrow and 50°E dipping
Evidence of a 4 billion year old 'immoveable lithospheric barrier from Alaska to Terra de Fuego
Diamond and metal mine structural geology and targeting can be visualised world-wide
Late Heavy Bombardment ring structures (to 8000 km diameter) extend from surface to outer core and are particularly prominent in top 600 km.
New paradigms:
Earth started cooler and gradually heated up with all original constituents at -100 °C
The earth started rigid and only started breaking up perhaps in the Proterozoic
True Plate tectonics only commenced relatively recently
No lava lamp plumes – generally lithosphere is insitu replaced
Planar and ring structures down to Core correlate with surface mines
Ascending mineralising fluids from Core supply, scavenge and deposit minerals along their path
16:30 - Branch Committee Meeting
17:30 - Social Networking Event with Light Supper
18:00 - Live Webinar to Begin – followed by Live Q&A Session
19:30 - Webinar Close
Register for the Face-to-Face event.
Register for the Online event.
Summary image of seismic tomographic plans and sections of Africa, North America and Europe showing structural geology from surface to core.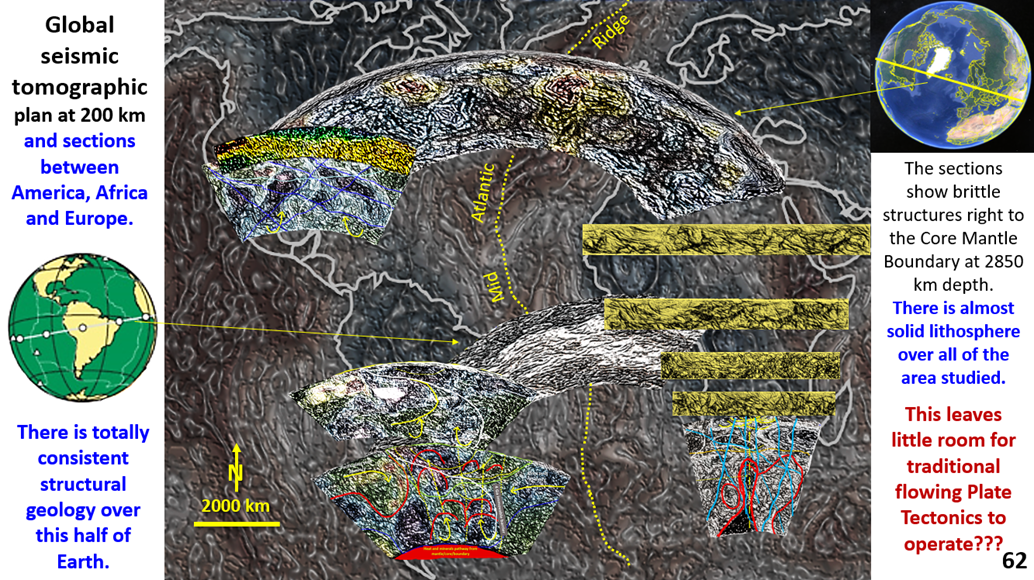 Speakers
Bob Watchorn
Bob Watchorn was born in Tasmania. He commenced as a geological assistant with Aberfoyle Tin at Rossarden in 1968. He gained an Associateship in Mining Geology at WASM, Kalgoorlie in 1972 and BSc in 1978 at Curtin University. He commenced work with WMC in 1971 in the nickel mines in Kambalda.
After working in the Kalgoorlie and Norseman gold mines he moved to Stawell playing an important role in restarting the mine. At Stawell he completed an MSc at University of Melbourne on the 'Structural geology and mineralisation of Stawell goldfield' under the mentorship of Professor Chris Wilson.
He was chief geologist of the large and geologically complex Mt Magnet and St Ives gold operations. After leaving WMC in 1999 he worked as a geological consultant on many Australian and overseas projects. He commenced structural research under excellent mentors Tim O'Driscoll and Pat McGeehan in the 1980s by experimenting with geophysical software to obtain the best detail out of images used in exploration.
This, combined with his extensive 3D structural knowledge, gained from 45 years underground and surface mapping, led to the point where exceptionable (real) detail could be obtained (for the first time) from many images. This forms the basis of his current research.
Location
Mercure Sanctuary Golf Resort
Lot 100 Old Coast Road
Bunbury WA 6230
Thursday, 29 July 2021
5.30pm – 7.30pm (UTC+08:00)
Date and Time
Thursday, 29 July 2021
5.30pm – 7.30pm (UTC+08:00)
Venue
Mercure Sanctuary Golf Resort
Lot 100 Old Coast Road
Bunbury WA 6230
View Google Map
Cost
AusIMM Members $0.00
Non Members $0.00

Includes: Light Supper and beverages will be provided during the networking session
Register now