New Zealand Branch
Reefton - Two Geo-Photographers: Joseph Divis and Lloyd Homer - An illustrated talk by Simon Nathan
Joseph Divis and Lloyd Homer both photographed aspects of New Zealand's landscape and mining history.
About this event
Divis was a working miner from 1909-39. Photography was his hobby, and he recorded life in mining towns where he lived, particularly Waiuta and Waihi.
Homer worked for the NZ Geological Survey in the late 20th century, specialising in aerial photography before the days of drones and satellites.
The work of these two photographers is now a valuable heritage resource, recording both the natural environment and the nature of past mining.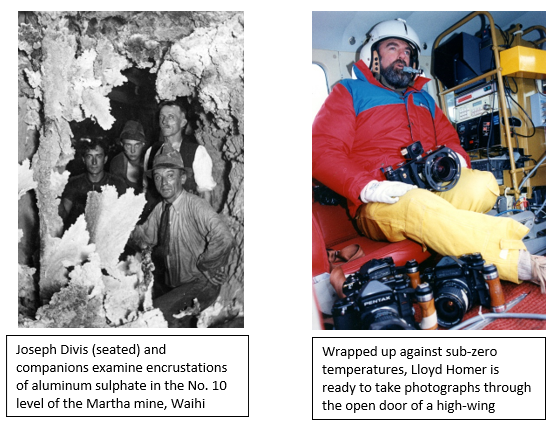 Itinerary: Regional organisers will promote the talk in their regions closer to the date. This event is open to the public, so please invite friends and colleagues. Events will start with 30mins socialising before the talk commences.
City/Town

Venue

Date & Time

Local organiser(s)

Wellington

Straterra office

Wednesday 5 May

12:00-1:00pm

Michael Gazley/Annette Pocock

Christchurch

Seequent office

Monday 10 May

5:30-7:00pm

Dean Fergusson/Mike Stewart

Reefton

St Johns meeting room

Thursday 13 May

6:00-7:30pm

John Taylor

Dunedin

McGavin Room, Dunedin Leisure Centre

Tuesday 18 May

5:30-7:00pm

Doug McKenzie/RSC

Auckland

Astor Tapas Bar and Eatery

Tuesday 25 May

5:30-7:00pm

Kerry Stanaway/ Vivienne Bull

Waihi

Waihi Arts Centre and Museum

Wednesday 26 May

5:30-7:00pm

Peter Keall
Speakers
Simon Nathan
Simon's background is as a geologist and science administrator. These days he is a writer interested in the history of New Zealand science. His recent books include "James Hector: explorer, scientist, leader" (2015), "Through the eyes of a miner, the photography of Joseph Divis" (2010), and "Harold Wellman, the man who moved New Zealand" (2005).
Location
St John's Meeting Room
Smith Street
Reefton 7830, New Zealand

Thursday, 13 May 2021
6.00pm – 7.30pm (UTC+12:00)
Date and Time
Thursday, 13 May 2021
6.00pm – 7.30pm (UTC+12:00)
Venue
St John's Meeting Room
Smith Street
Reefton 7830, New Zealand

View Google Map
Cost
AusIMM Member $0.00
Non Member $0.00

Includes: Light refreshments and nibbles will be provided 15-30 minutes prior to the talk.
RSVP