Southern Queensland Student Chapter
Local Mining Games 2023
The Southern Queensland Local Mining Games is a smaller adaptation of the International Collegiate Mining Competition which dates back to 1978.
About this event
These mining games are held annually between the USA, UK and Australia and were originally established to commemorate the 91 miners who lost their lives during the 1972 Sunshine Mine disaster in Idaho, USA. Continuing this tradition, the Local Mining Games serves to commemorate not only these individuals but all those who have lost their lives in the resources industry across the world, and here in Australia.

The Local Mining Games also strives to preserve traditional manual mining techniques which were employed across the globe up until the early 1900s. These techniques are reflected in the events which teams compete in, namely; truck set, muck and cart, swede saw, airleg drilling, hand steel, blast board, survey, rock identification and gold panning.
This year, the games will be held on Saturday the 7th of October 2023 from 7am to 4pm. A mandatory induction for airleg drilling will be held on Friday the 6th of October, facilitated by our airleg provider and airleg event sponsor Sandvik.
This induction requires at least three members from each team (the three members who will compete in drilling) to be present, and will go through both proper technique for airleg drilling and event safety. Those who do not attend this induction will not be permitted to participate in the airleg drilling event.
This has been decided in order to ensure the safety of both competitors and facilitators.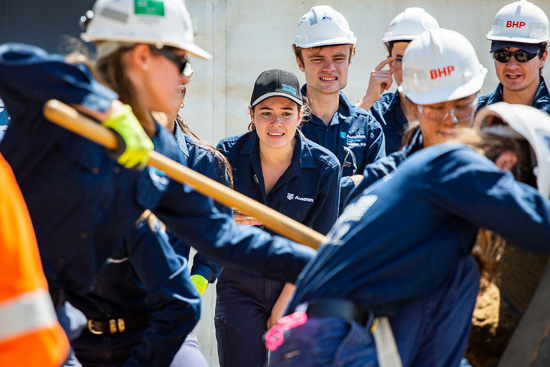 The competition day will begin with teams breathalysation and registration, followed by a BBQ breakfast. An opening address will then be made to welcome teams, facilitators and industry representatives to the games.
This will also detail the running of the event, how events are scored and location of specific events (these details will also be present within the info packs given to competitors). The first scheduled block of events will run following this welcome and conclude with lunch at around midday. The second scheduled block of events will then run following lunch.
At the conclusion of the competition, scores will be calculated and prizes presented followed by thanking of facilitators, sponsors and others. A full schedule will be produced indicating which teams will compete in which events at what time. This schedule will be made available to competitors and facilitators closer to the games' date.
Overall, the games provide students an opportunity to enhance their interpersonal skills and develop a deep appreciate for the importance of respect, safety, camaraderie, commitment and teamwork.
Location
Mining 3 Pinjarra Hills
2436 Moggill Road
Brisbane QLD 4069
Saturday, 07 October 2023
7.00am – 4.00pm (UTC+10:00)
Date and Time
Saturday, 07 October 2023
7.00am – 4.00pm (UTC+10:00)
Venue
Mining 3 Pinjarra Hills
2436 Moggill Road
Brisbane QLD 4069
View Google Map
Cost
AusIMM Student Member - $50
Non-Member Student - $70
AusIMM Industry Member - $80
Industry Non-Member - $85
Register Now