Why crystallisation plays an important role in achieving ultra-pure battery chemicals
JordProxa Chairman John Warner, highlights crystalliser as an emerging key technology for achieving the ultra-high purity levels that are required for battery chemicals.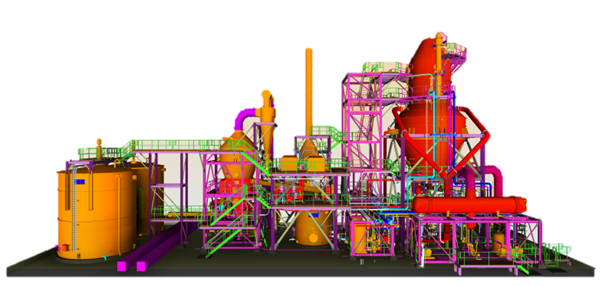 "Value and affordability are essential to mass adoption of electric vehicles. To date that has been achieved by increasing the energy density of the batteries," said John. "However, increasing the energy density comes with a greater risk of the batteries overheating due to traces of impurity. Therefore, we must use ultra-pure battery chemicals and ensure there are no extraneous components."
Crystallisation has been used for decades to refine sugar, produce pharmaceuticals, and recover salts. Now producers of nickel, cobalt, manganese and lithium, are turning to crystallisation due to the technology's unique ability to meet the changing purity requirements that electric vehicle manufacturers demand.
A standard of 'four nines' purity [99.99% w/w] has been adopted for nickel sulphate hexahydrate for use in lithium-ion batteries, which allows a maximum of 100 mg of impurities per kg of nickel sulphate hexahydrate product.
JordProxa Head of Sales Nipen Shah, says nowadays, serious consideration is being given to achieving 'five nines' purity. "That would allow just 10 mg of impurity per kg of nickel sulphate hexahydrate product."
"A well-designed crystalliser plays an important role in helping to achieve four and then five nines product purity and will significantly ease the requirements on upstream refining." said Nipen.
There are several ways impurities can be included on or within crystals, including mother liquor inclusions, surface deposition, and agglomeration. However, there are mechanisms which are directly controlled by the crystallisation process.
"The way a crystalliser is configured impacts the formation and growth of crystals," said Nipen. "For example, we prevent agglomeration by operating with a low degree of supersaturation and paying careful attention to the circulation patterns of liquor within the crystalliser. We can further reduce the amount of impurity entrained on the crystal product by using a high efficiency wash on a pusher centrifuge to dilute the concentration of the mother liquor."
JordProxa has recently designed and supplied crystallisation plants for major battery metal producers in Australia, Europe, and North America. The Australian-based company has a proven record of meeting the industry's standard, having a fully equipped laboratory and forced circulation crystalliser pilot plant to undertake test work that continually optimises design processes.
"Battery chemical producers need a technology partner that can keep up with evolving product specifications," said John. "To stay at the forefront, the producers, minerals processing industry and technology providers must continue to increase value and lower costs, as well as leveraging green energy sources to offer a lower carbon footprint."
John Warner will be giving a keynote on the value challenge that the battery chemicals industry faces at the Lithium conference next week, elaborating on the need to think differently about the tension between consumer expectations that EV prices will fall and the lithium industry's reward for taking risk.
To meet the JordProxa team and learn more about crystallisation solutions, visit the JordProxa booth 27 at the Lithium, Battery, and Energy Metals Conference 2022.


---
Sponsored article by JordProxa, Platinum Sponsor and Exhibitor at the Lithium, Battery, and Energy Metals Conference 2022