With only two weeks to go until the Mill Operators Conference 2021, see who's coming, the countries and organisations in attendance and why you need to be there. Secure your spot now!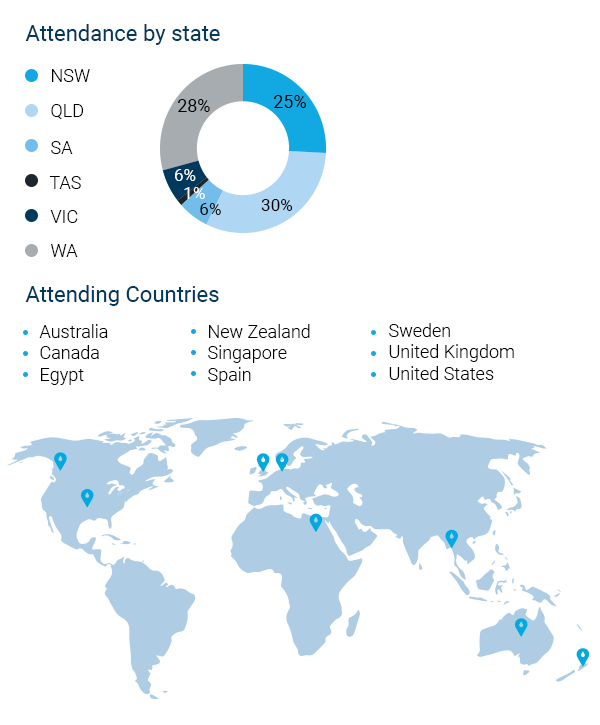 *Stats above based on registered delegates to date.
Whether you're joining the conference in-person in Brisbane or online, you can also connect with representatives from leading mining organisations, suppliers, research associations, universities and more. The Virtual Meeting Hub lets you view a list of the registered attendees and make connections via live chat, video call, or schedule in a meeting.
Below are all the current attending organisations. Are you on the list?
| | | |
| --- | --- | --- |
| A S Harrison & Co Pty Limited | Gekko Systems Pty Ltd | Nippon Eirich Co. Ltd. |
| Adtech Consulting | Geometecon | Nutrien |
| Aeris Resources | Glencore | Oceana Gold |
| ALS Geochemistry | Glencore Mount Isa Mines | Optimation / MBV Systems |
| ALS Metallurgy | Glencore Technology | ORBIZ Consulting |
| ALVI Technologies Pty Ltd | Gold Fields Australia | Orway Mineral Consultants (WA) Pty Ltd |
| AMC Consultants | GPA Engineering | Oz Minerals |
| Amml | Growth Steel Australia | Oz Minerals - Prominent Hill |
| ANDRITZ | Harmony Gold | Partition Enterprises Pty Ltd |
| Anglogold Ashanti | Hatch | Pionera |
| Ausenco | HendoTEK Metallurgy | Precision Light and Air |
| Australian Mining | Hexagon | Process IQ |
| Axt Pty Ltd | HMA Wear Solutions | Queensland University Of Technology |
| BHP | IGO | RACE Mining |
| BHP Olympic Dam | Imatech | Razor Labs |
| BizClik Media Group | Indorama Ventures Oxides Australia Pty Limited | Real Time Instruments |
| Bluestone Mines Tasmania Joint Venture | Innospec | Resources And Energy Operations Pty Limited |
| Bradken | Interlate | Resources Engineering & Management |
| Brisbane Met Labs | ISOE | Royal Flying Doctor Service (Queensland Section) |
| Broken Hill Operations Pty Ltd | IXOM | RPMGlobal |
| Bureau Veritas Minerals | JKMRC - Smi University Of Queensland | Rsc |
| CBH Resources | John S Dunlop & Associates Pty Ltd | Russell Mineral Equipment |
| CDE Global | Jord International | Sage Media |
| CEEC International Ltd | JPA Pty Ltd | Sanfang |
| Chrysos Corporation | Julius Kruttschnitt Mineral Research Centre | Scantech International Pty Ltd |
| Cidra Minerals Processing | Keramos Pty Ltd | Sedgman |
| Clariant | King's Beads | Skala Australasia Pty Ltd |
| CMOC - Northparkes Mines | Koenig Consulting | Smi-jkmrc, University Of Queensland |
| Consep Pty Ltd | Maelgwyn Mineral Services | Solvay |
| Continental Engineering Services Australia Ltd | Magotteaux Australia Pty Ltd | Steinert Australia Pty Ltd |
| Conveyor Products And Solutions | Mathworks Australia | Sukari Gold Mine |
| Core Resources Pty Ltd | Mcarthur River Mining | Sustainable Minerals Institute, UQ |
| Creamer Media | McLanahan Corporation | Thermo Fisher Scientific |
| CSA GLENCORE | ME Elecmetal | thyssenkrupp Industrial Solutions (Australia) Pty Ltd |
| Curtin University | MEI | Tomhunter Associates |
| Datamine Software | Metallurgical Systems | Tomingley Gold Operations |
| David Wiseman Pty Ltd | Metallurgy Pty Ltd | TOMRA Sorting Solutions |
| Dra Global | Metcom Technologies | University of Cape Town |
| Eriez | Metcor Pty Ltd | University Of Newcastle |
| Ernest Henry Mining - Glencore Australia | Metrohm Australia | University Of Queensland |
| Evolution | Metso Outotec Australia Ltd | VEGA INDUSTRIES |
| FCF Minerals Corporation | Metval Pty Ltd | Vesuvian |
| Feluwa Pumps Australia P/l | Mineralis Consultants Pty Ltd | Weir Minerals Australia |
| Festo Pty Ltd | Mipac | Westgold Resources |
| Fevertree Pty Ltd | MMG | Wood. |
| Firefly Consulting Services Pty Ltd | Molycop Australia | Woodgrove Technologies Inc. |
| Fischerchem Pte Ltd | Multotec Pty Ltd | Yokogawa |
| Flowrox Pty. Ltd. | MZ Minerals Pty Ltd | |
| FLSmidth | Newcrest Mining Limted | |
| Fosterville Gold Mine | Newmont | |
| GBL Process Pty Ltd | Newmont Tanami | |