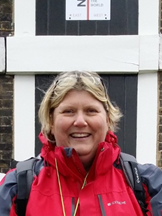 Marnie Pascoe
Chief Advisor Major Hazards, Surface Mining Centre of Excellence
Marnie joined the Surface Mining Centre of Excellence in August 2018 after nearly a year as the Chief Advisor Geotechnical Engineering in Growth and Innovation having joined Rio Tinto in September 2017 and relocated to Perth.
She leads the Major Hazards team of the Surface Mining Centre of Excellence which comprises Geotechnical Engineers, Water Specialists and Tailings Engineers. The team is responsible for the technical content of the Rio Tinto Major Hazard Safety Standards D3 Slope Geotechnical Engineering and D5 Management of Tailings and Water Storage Facilities. It leads the 2nd level assurance activities for slope geotechnical engineering, water and tailings and water storage. It is also leading the implementation of the Global Industry Standard on Tailings Management into Rio Tinto. Marnie Co-sponsors the Rio Tinto Surface Mining Geotechnical Working Group, Tailings Working Group and Water Working Group
Joining AMC's UK office in January 2009 as the Principal Geotechnical Engineer and then Geotechnical Manager and Director, she undertook and managed geotechnical studies for numerous open pit and underground projects as well as multi-disciplinary feasibility studies and technical audits of operations in Europe, Central Asia, Africa, and Australia.
From 2006 Marnie was Principal Engineer/Team Leader Mining Technology for BHP Billiton Global Technology, where she provided operational and technical support, implementation of new technology and methodologies, and dissemination of leading practice.
As Superintendent Mine Geotechnical at WMC's (then BHP Billiton's) Olympic Dam from 2003, she was involved in all geotechnical aspects including stope design and sequencing, ground support and vertical development design, stress measurements and numerical modelling and extraction sequence management. She was also responsible for the backfill quarry including slope stability and hydrogeology.
During her first stint at AMC from 1998 to 2003 as a senior geotechnical geologist, Marnie was responsible for site investigation, project and structural geology, ground support and reinforcement design, ground behaviour observation and monitoring for clients' mine sites, implementation of systematic geological/geotechnical data collection and analysis procedures for mine sites.
From 1994 to 1998, Marnie was a geotechnical geologist at the Cannington Mine for BHP World Minerals, where she was responsible for the coordination of the Cannington Mine geotechnical programme from the feasibility study in to operations. This included the implementation of wet-mix shotcrete as part of the mining cycle (one of the first implementations in Australia), geotechnical data collection, support and reinforcement design of underground workings, stopes and capital development, evaluation and assessment of support and reinforcement techniques for implementation.
Marnie graduated from the University of Western Australia at the end of 1990 and held a number of short-term positions until she commenced her geotechnical career in late 1991 at WMC's Kambalda Nickel and St Ives Gold mines as a geotechnical geologist, responsible for sub-level pillar extraction, general geotechnical work, and workforce training.