Safety at work with Cu Phan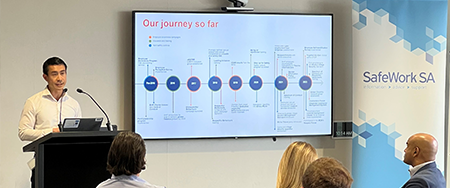 BHP's Chair of the Olympic Dam Inclusion & Diversity Council, Cu Phan, was one of 40 senior managers who gathered at BHP's Adelaide headquarters to gain a deeper understanding of industry best practice.
BHP's Olympic Dam mine is the largest in South Australia and the company is considered to be an industry leader in the state.
Cu Phan, who is also BHP's General Manager Engineering & Non-Processing Infrastructure at Olympic Dam, said the recent forum was an excellent opportunity to bring together representatives from mining companies in South Australia to share good practice and initiatives.
'Everyone has a right to be safe at work,' he said.
'At BHP we know this is about more than eliminating accidents and injuries – it is also about ensuring our people are safe from sexual assault, sexual harassment, discrimination, racism, bullying and other disrespectful behaviours.'
Cu will be speaking on the topic of Diversity & Inclusion through the lens of the Olympic dams case study at the upcoming New Leaders Summit in Adelaide.
To hear this case study, as well as other keynote speeches from global leaders, register for the Summit now.
This news was originally published at www.safework.sa.gov.au
Designed specifically for students and young mining professionals, the New Leaders Summit provides an exclusive opportunity to learn from and engage with renowned mining leaders, hear enlightening presentations and discuss topics impacting young professionals' careers in the resources industry.
Places are limited - register now.