Geoscience Society Newsletter - December 2021
Welcome from Chairperson
Firstly, I would like to thank the Committee Members of the Geoscience Society who contributed their time and energy to deliver a program of professional development and engagement opportunities over 2021. Working with the AusIMM team, your Society delivered 13 webinars over the calendar year covering a range of topics ranging from pure geology to applied topics including technical communication, investment market reporting, macroeconomics and valuation practice. The Committee has been particularly active in engagement activities across the Institute, working on a range of education-related initiatives. Please reach out if you have any ideas for the 2022 program.
On behalf of the Committee, we would also like to express appreciation for those volunteers who helped deliver the program. This includes those volunteers who facilitated Dale Sim's Core Logging Course at the Queensland Government Exploration Data Centre when travel restrictions were imposed.
Best wishes for the festive season.
Regards
Tony Wiggins, Chairperson, AusIMM Geoscience Society
VALMIN webinar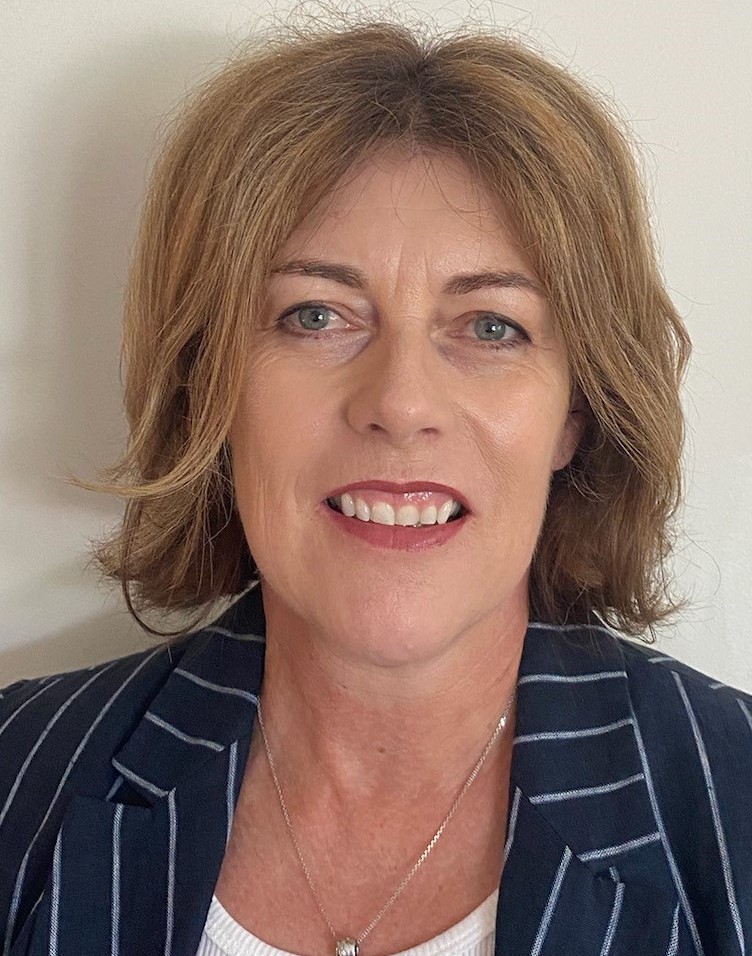 Your Society hosted a webinar with respected mineral valuation professional Deborah Lord (pictured) last month. Deborah is a principal geologist, director of VRM, E79 Gold Mines, the UWA Centre for Exploration Targeting (CET), and Chair of the VALMIN Committee and College Member of the Minerals Research Institute of WA.
Titled 'Applications of the VALMIN Code - common uses, potential pitfalls and recent developments', the webinar covered the context of the VALMIN Code within the Australian regulatory framework and its interaction with the JORC Code.
It introduced three common valuation approaches for mineral assets along with certain aspects that need to be included in valuation reports. Recent VALMIN Code developments were also covered.
It is noteworthy that VALMIN was an AusIMM initiative that has been either adopted or broadly applied across the globe.
Members can view a recording of the webinar here.
Coal Geology – Coalfield Geology Council of NSW Course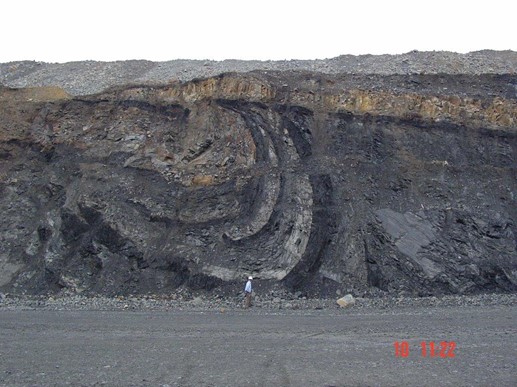 The Coalfield Geology Council of NSW (CGC NSW) recently ran an online course titled 'Fundamentals for Coal Geologists'. The course was cost free due to sponsorship provided by Glencore, Yancoal and Centennial as well as administrative support from the GSA and their Coal Specialist Group. The response was overwhelming with just over 240 people registering from a diverse range of backgrounds and career stages. The course ran over two days (Nov 22-23) with break out rooms for practical sessions.
The program was developed by a sub-committee of the CGC NSW in response to recent changes to tertiary geoscience courses that have resulted in a substantial reduction in the teaching of coal geology, especially in NSW. The course was by no means a way of replacing these courses but a way of supporting undergraduates/recent graduates (or essentially any geologists or others in the industry) who were interested in coal geology.
We were very fortunate to have some highly esteemed and respected lecturers to teach the course. They included Emeritus Professor Joan Esterle, Dr Tim Moore and Dr Bruce Atkinson.
Feedback from those who attended the course has been very positive and the CGC NSW is looking forward to providing this course again next year. Thanks to Cheryl Holz for providing this summary!
Central Victoria Branch Geology of Gold Seminar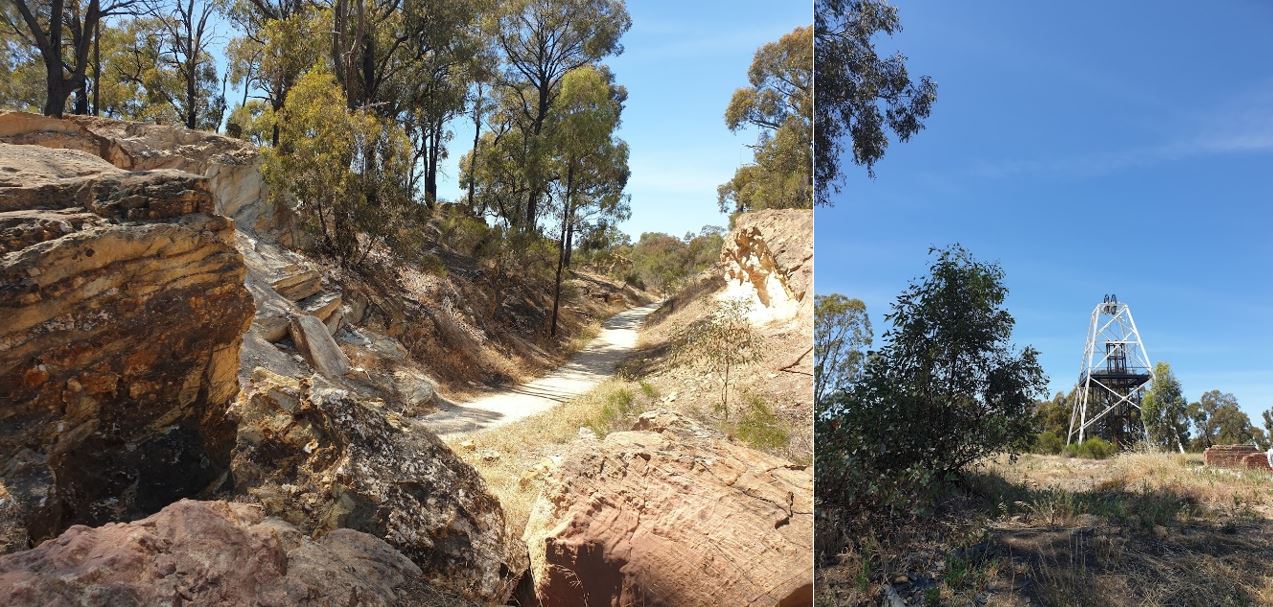 To coincide with a short course run by the University of Melbourne to run from 14-18 March 2022, the Central Victoria Branch is seeking suitable speakers for the course and a Branch meeting of 15 March. Both events will occur in Bendigo. Speakers with relevant experience in a wide range of settings are required, including orogenic, epithermal, porphyry deposits, or other styles of gold deposits. Presenters will need to be able to attend/deliver the presentation in person.
If this is of interest, please reach out to the Chairperson of the Central Victoria Branch via the Geoscience Society email address.
Advance notice: Structural Geology and Resources 2022
Following successful symposia in 2002 and 2012, the Australian Institute of Geoscientists in conjunction with partners the Society of Economic Geologists), Australian Society of Exploration Geophysicists, the Geological Society of Australia, the Geological Society of Western Australia and the AusIMM, will run a three-day event in Kalgoorlie from 27-29 September 2022. The symposium will be accompanied by a range of field trips and short courses to be held in Perth and Kalgoorlie. A symposium volume is expected to be prepared and authors are asked to submit abstracts no later than 1 April.
Symposium themes will be:
Tectonic setting of mineralisation
Structural controls on mineralisation
New developments including data integration
3D modelling and data collection
Structure in resource evaluation
Case studies in structural geology and resources.
A flyer outlining the symposium and related courses can be found here.
National Rock Garden advances
The Steering Committee of the National Rock Garden have reported substantive progress as they advance preparations for the development of a new site within the National Arboretum in the ACT. The site was secured by agreement on 4 June this year. This site is well located with respect to prospective visitor numbers, car parking and facilities.
Design work is underway with the Steering Committee in receipt of early stage design documents allowing an appreciation of the layout. The Committee has been particularly active in assessing potential candidates for the collection, grouping samples into different themes. The preferred rock size is 10 to 20 tonnes (4-8 cubic metres), but 4 to 10 tonnes sample are fine if larger specimens not available.
The Geoscience Society sees the development of a National Rock Garden as a resource to engage with school-age students and members of the public on key topics of each science, mineral endowment and resource development. Look out for a new Rock Garden website which is due in early 2022 and potential requests for specimens. The transportation of specimens to the site is a costly exercise and one for which support is needed.
The most recent newsletter of the National Rock Garden Steering Committee can be found here.
An example of one of the rock description plaques.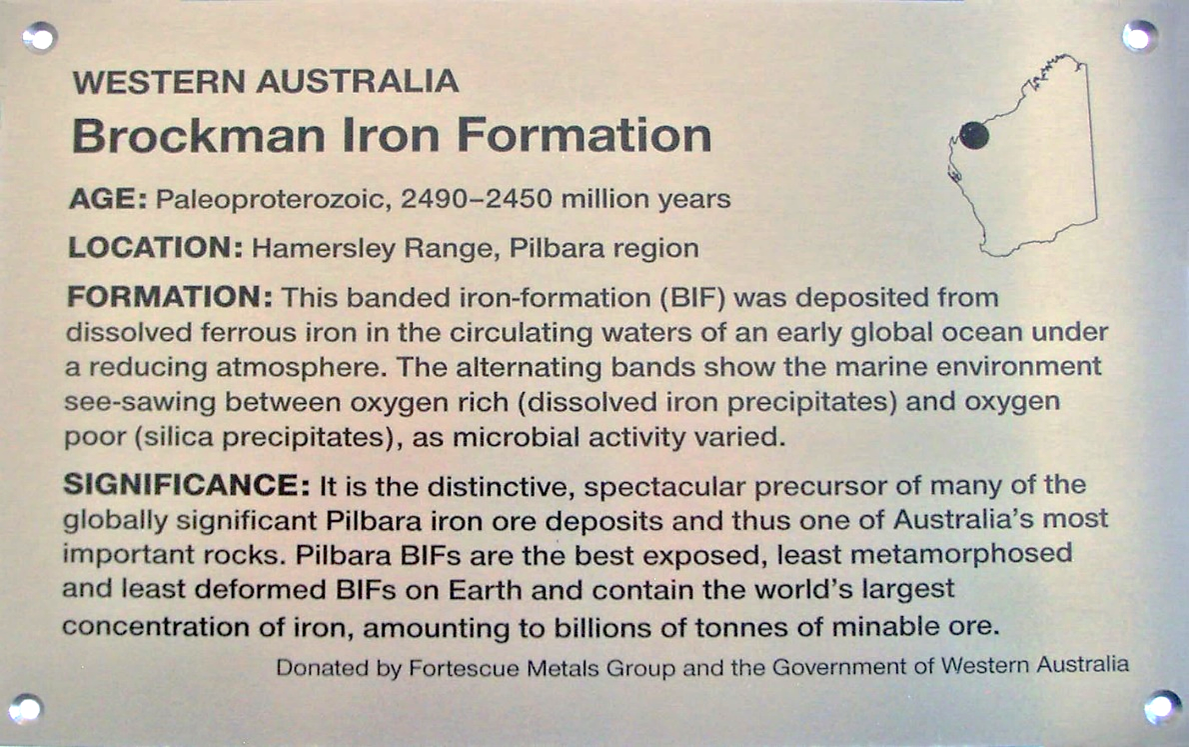 Australia Minister emphasises the importance of the mining and services industries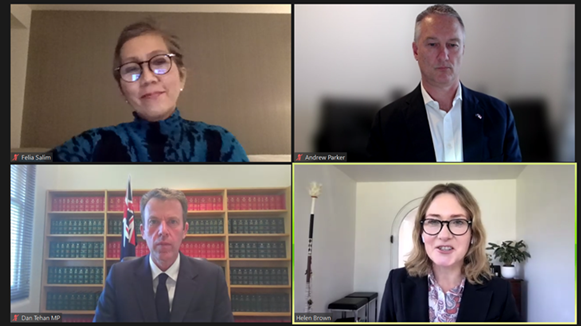 On 9 November, the ASIA Society (Australia) hosted a webinar 'Leaders on Asia; A fresh look at Indonesia' that was held in English, with no slides. The Australian Minister of Trade, Tourism and Investment the Hon Dan Tehan MP in conversation with Felia Salim, board member of Indonesia Eximbank, and Andrew Parker, Asia Practice Leader at PwC, participated in a discussion moderated by Helen Brown of the Australia – Indonesia Centre.
The Minister acknowledged the historic and ongoing importance of the Australian mining industry, and mining services industry, as the prominent business sector involved with Indonesia.
Book & Rock Initiative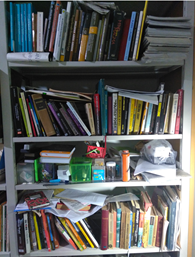 Your Society is embarking on a new initiative to find a path for members that may wish to volunteer their technical books, rock specimens and historic photos. As members leave the industry, and the domestic Tertiary Education sector shrinks, a reoccurring question arises relating to the possible 'home' of such material, noting that many libraries and universities do not accept book donations. One high profile geologist took two years to disburse an extensive geological library, split across several international destinations.
Committee Member Ian Wollff has been managing this initiative. Details on the work with Geoscience Australia, and how you can get in touch with Ian, can be found here. The Geoscience Society committee would like to hear from members on any other parties that may be receptive of receiving donations of geoscience books, papers, and magazines along with photos or rock collections.
Geotourism on the move!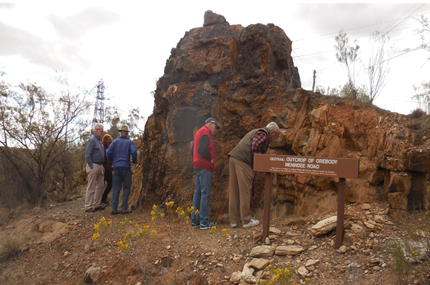 Gossan outcrop, Broken Hill.
Geologically interesting sites will always grab people's attention. The Geotourism Standing Committee of the Geological Society of Australia (GSA) is developing a tool-kit to help identify and assess potential geosites of interest and understand any potential sensitivities. The same Committee and the Geotrails Working Group of the National Geotourism Strategy (being implemented by the Australian Geoscience Council of which The AusIMM is a key member) are collaborating to compile a list of publicly accessible geotourism sites and potential geotrails. The Geological Surveys of New South Wales, Western Australia, and Tasmania have also been highly active in developing and supporting the development of geotrails (including mining heritage sites). Follow this link for more information.
Australian Geoscience Council recognises Dr Kathy Ehrig
The Australian Geoscience Council have announced that Dr Kathy Ehrig FAusIMM(CP) is the inaugural winner of the Roy Woodall medal.
Dr Ehrig has spent a large part of her career documenting the giant Olympic Dam Cu-Au-U ore deposit, arguably Australia's most significant accumulation of metal. Her work has provided the conceptual framework that has supported BHP's recent Oak Dam West discovery. Dr Ehrig is a particularly fitting inaugural winner of this award because she was personally recruited by Roy Woodall to WMC Resources from the University of California – Berkley and was subsequently a long-term mentee of Roy's. The award was presented at the Copper to the World Conference in Adelaide on August 31, immediately following the opening address by South Australian Mines Minister, Dan van Holst Pellekaan.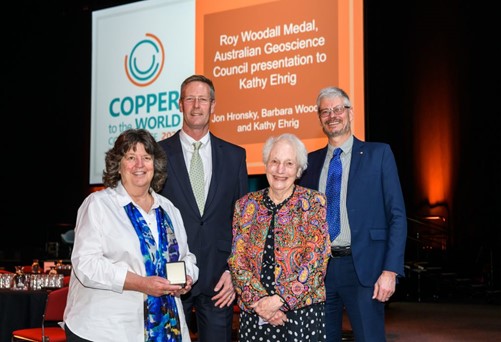 Dr Ehrig receives her award from Barbara Woodall, SA Minister of Resources and Energy Dan van Holst Pellekaan and AGC past Chair Jon Hronsky.
The award honors the extensive contribution to scientific excellence in Mineral Geoscience that the late Roy Woodall AO made over his lifetime. Roy Woodall's high scientific standards, innovative approach to exploration and use of the latest geoscientific techniques have left a enormous and lasting legacy of improved scientific methodologies and exploration successes. The WMC team under Roy's leadership made many world class discoveries in Australia, several of which opened up entire new mineral provinces. The most notable of these include the Darling Range Bauxite Province, the Kambalda Nickel District, the Olympic Dam Copper-Gold-Uranium deposit and the St Ives Gold Camp. Collectively, these discoveries have made a significant economic contribution to Australia.
The intention of this award is to recognise those individuals that seek to emulate Roy's contribution to the mineral industry by applying the best science to the endeavours of mineral exploration and the documentation of world-class mineral deposits. The goal of this is to encourage the ethos of scientific excellence that Roy was such a strong advocate for. It is the intention of the AGC to make this award on an annual or biannual basis, subject to the nominations received.