Southern Queensland Branch August 2022 Newsletter
Headlines
Chair's Report
May Technical Talk with Associate Professor Mehmet Kizil: Virtual Reality in Mining
June Technical Talk with Professor Longbin Huang: Transforming from "Engineering" to "Ecological Engineering"
2022 Delprat Distinguished Lecture with Peter Munro: The Truth Will Set You Free
AusIMM Gold Plant of the Future Symposium 2022
AusIMM FNQ Branch Minerals and Mining Innovations Day
AusIMM Southern Queensland Student Chapter: Local Mining Games
AusIMM Southern Queensland Student Chapter: Dig Deeper Panel
Non-Traditional Benefits of Mentoring Programs
Getting to know your Committee
Upcoming Events
Social Media, Sponsorship & Advertising, Contributions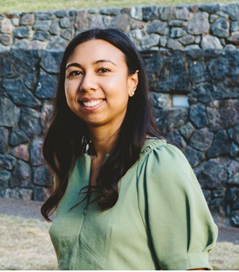 Chair's report
Welcome to the second edition of the AusIMM Southern Queensland Branch newsletter.
It has been a busy few months since our inaugural newsletter was released in May, with a number of events held for you by the branch, as well as some fantastic opportunities to support other AusIMM events including those events held by the Southern Queensland Student Chapter. Thank you to all the Committee members that made these possible and to the AusIMM members and prospective members who came along to participate and support. It has been great to continue connecting!
In this edition you will hear about the third and fourth technical talks for the year, in case you missed them. We are also working hard on the remainder of the technical program and special events for this year so if you haven't yet followed us on LinkedIn please make sure you do by clicking here as that is the easiest way of keeping up to date with upcoming opportunities for professional development and networking.
Our next talk will be held on 18 Aug with Professor Serkan Saydam. We hope to see you there!
Yass-Marie Seccombe MAusIMM (Southern Queensland Branch Chair)
May technical talk with Associate Professor Mehmet Kizil: Virtual reality in mining
By Loren Ager MAusIMM(CP)
The AusIMM Southern Queensland Branch hosted the May technical talk at The University of Queensland and listened to Associate Professor Mehmet Kizil who presented an overview of Virtual Reality (VR), status of technology and related software/hardware and examples of VR application in various industries including mining.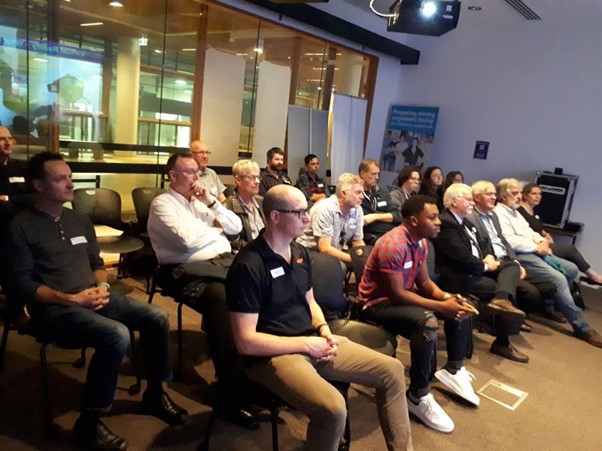 Associate Professor Mehmet Kizil's study has been developed over the past 20 years for application in the mining industry in the fields of data visualisation, training and education, simulation applications, accident reconstruction, hazard awareness, mine planning and decision making and risk analysis.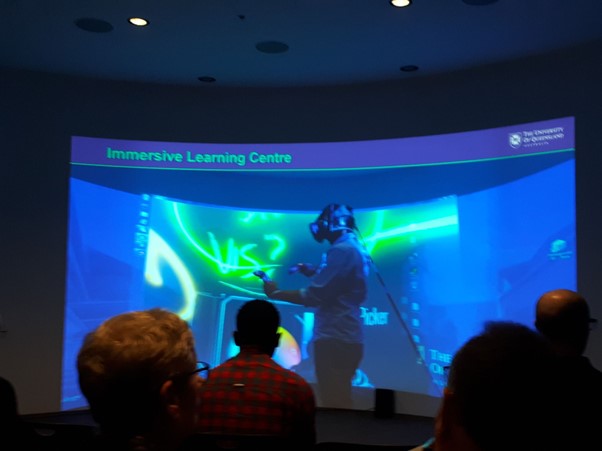 A highlight of the event was a virtual mine tour of surface and underground mines on the 180 wrap-around immersive screen which demonstrated operational activities such as blasting, electric shovel loading, haulage, double drum shearing and hydraulic roof supports and geotechnical failures.
June technical talk with Professor Longbin Huang: Transforming from "engineering" to "ecological engineering"
By Loren Ager MAusIMM (CP) and Diane Djotaroeno MAusIMM
The June technical talk was a fascinating presentation from Professor Longbin Huang (Sustainable Minerals Institute) who talked about the need to shift mining rehabilitation thinking and practice, from engineering to ecological engineering.
Nature designs systems are diverse, non-linear and non-uniform but our engineering processes tend to design homogeneous and standardised structures.
Professor Huang spoke about four key principles for a shift to ecological engineering:
Self-design: Nature decides the final design of eco-systems
Complex feedback systems: Learn from dynamic changes, rather than predict from theory
System thinking: Non-linear thinking about the ecosystem as a whole, including domain specific and domain interactions
Harnessing nature: Required for low energy inputs.
Thank you to Professor Longbin Huang for presenting this informative technical talk and for providing insights into this topic.
Thanks also to everyone who attended the technical talk.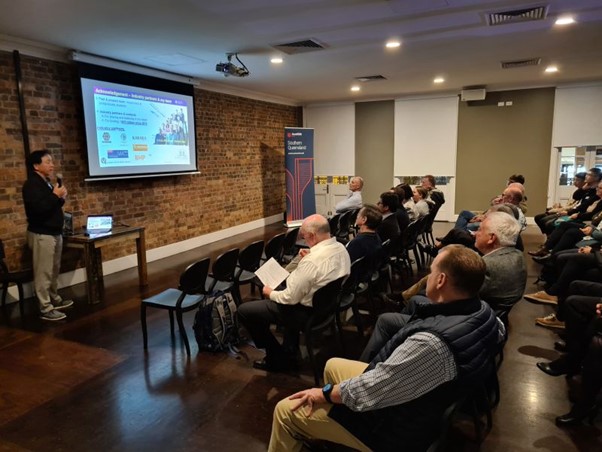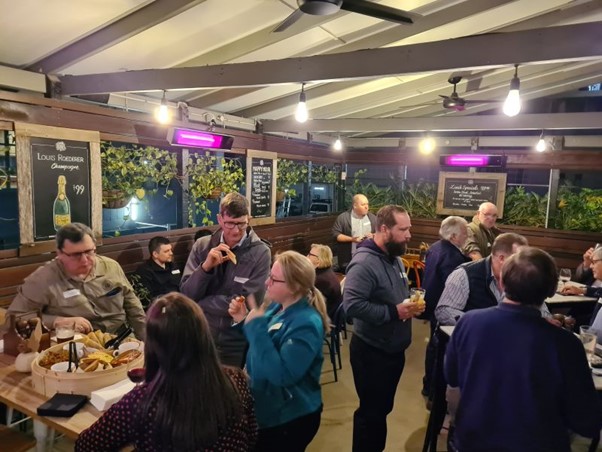 2022 Delprat Distinguished Lecture with Peter Munro: 'The truth will set you free'
By Loren Ager MAusIMM- (CP)
Members of the AusIMM Southern Queensland Branch attended the 2022 Delprat Lecture, co-hosted with the AusIMM Metallurgical Society on 15 June. It was an interesting discussion by Peter Munro with over 50 people in attendance. The lecture focused on the optimisation of the scarcest of all resources: 'technically competent person hours'.

AusIMM Gold Plant of the Future Symposium 2022
By Kevin Harney FAusIMM
Two Southern Queensland Committee members attended the Gold Plant of the Future Symposium held in the Blue Mountains in May. The venue was the Fairmont Resort and Spa at Leura in NSW Blue Mountain region.
Personally, I took the opportunity to arrive a few days early and explore the region including the site of Australia's first blast furnace at Lithgow that was the precursor to the Port Kembla Steel Works.
The conference was well attended with a wide range of participants. Of particular interest was the approach of the symposium. Rather than our more traditional style of calling for papers, peer reviewing and presenting, the organisers chose eight senior industry leaders to lead a segment of the agenda and gave each the task of inviting the speaker/presenters for each of their topics. Day one focused on current and emerging views while day two focused more on the future. The four topics within each day were the same on both days but differentiated by the change in time horizon considered. The four topics were Enabling Mining Continuum, Processing, Sensors & Automation and Tailings Management.
A strong theme through all sessions and presenters was the evolving needs for our industry to address the challenges of ESG participation and the role that technology can play in meeting those aspirations. Panel sessions were very interactive with conversations continuing into the breaks and networking sessions.
AusIMM FNQ Far North Queensland Branch Minerals and Mining Innovations Day
By Kevin Harney FAusIMM
I had the privilege of attending the AusIMM's Far North Queensland (FNQ) Branch Minerals and Mining Innovations Day and was able to join both the field trip to EQ Resources Mt Carbine operations and the conference day.
Firstly, the EQ Resources Mt Carbine Field trip was an opportunity for approximately 20 participants to meet and travel together up the range through the tropical rainforest and Kuranda and out onto the Atherton tablelands. The bus journey was very worthwhile and more so when Dr Geraldine McGuire joined us. As someone who grew up in the area, she provided significant local knowledge as we travelled. EQ Resources are a small operation currently reprocessing the residual low-grade dumps at Mt Carbine to ship tungsten mineral concentrate. Focused strongly on the circular economy, the operation not only produces tungsten concentrate but also utilises the barren dump material for local road base supply, marine rock wall armour and provides other solutions utilising the low contaminant rock material.
The site achieves economic production from the low-grade stockpile through the use of pre-concentration utilising TOMRA ore sorters to reject approximately 90 per cent of the low grade ore as barren rejects. The sorter accepts are then processed through a small wet concentrator utilising Russel jigs and Wilfey style shaking tables with simple rolls crushers as the comminution machines with the aim of minimising sliming of the tungsten minerals and minimising losses. EQ Resources hosted a tour through the geology, mining and processing operations and introduced their strategic plan for reopening the old open pit for production before a planned underground operation in several years' time.
The FNQ Minerals and Mining Innovation Day held in Cairns in May 2022 drew a wide range of local area professionals and industries to present on a range of topics. The clear thread of the conference was ESG under three broad headings.
Achieving net zero innovations
Technology innovations
Environment, social and governance (ESG) innovations
Panel discussions and interactive sessions were a key part of the agenda and significant discussion and outcomes were captured and shared with the participants.
Overall, it was highly informative and educational day concluding with a well-attended dinner where the guest speaker topic was on renewable energy projects to close out the day.
I took the opportunity to spend a bit more time in Cairns after the conference and found the twilight tour of the Cairns aquarium to be an exceptional experience. The aquarium and the tour follow the ecological systems from the tablelands down through the rain forest, estuarine areas and out into the Coral Sea and was well presented by a young marine biologist as our tour guide.
AusIMM Southern Queensland Student Chapter: Local mining games
By Shirlee Duke SAusIMM, AusIMM Southern Queensland Student Chapter President
The AusIMM Southern Queensland Student Chapter (SQSC) was proud to host our annual local mining games on Saturday, 7 May at the University of Queensland Pinjarra Hills facility. The event saw 11 student teams, made up of 5-6 students, all compete in old school mining techniques including air leg drilling, blast face tie in, gold panning, mucking, rock identification, swede saw and track stand. Teams consisted of UQ geology, civil, mechanical, chemical, and electrical engineering, and QUT students. A welcome addition to the 2022 games, was the AusIMM North Queensland Student Chapter team who travelled to Brisbane from Townsville.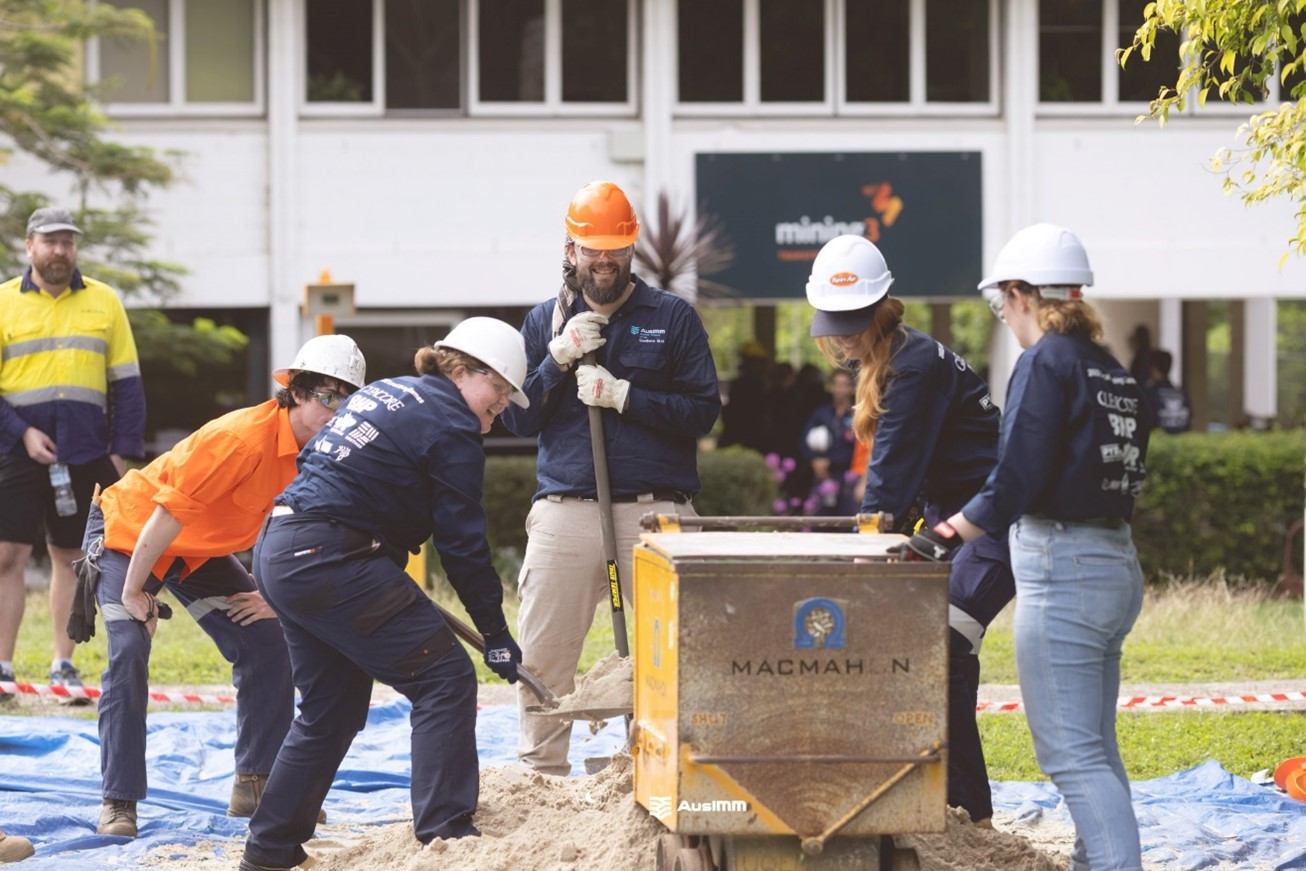 The local mining games is an adaptation of the national, and international mining games, where students compete in teams in a range of events for prizes. The games are dedicated to the miners who have lost their lives in the course of duty and aim to keep traditional mining methods alive; many of which date back to the 17th century. The goal of the games is to build comradery and connections within and between students and industry as well as highlight the significant role mining plays within our community.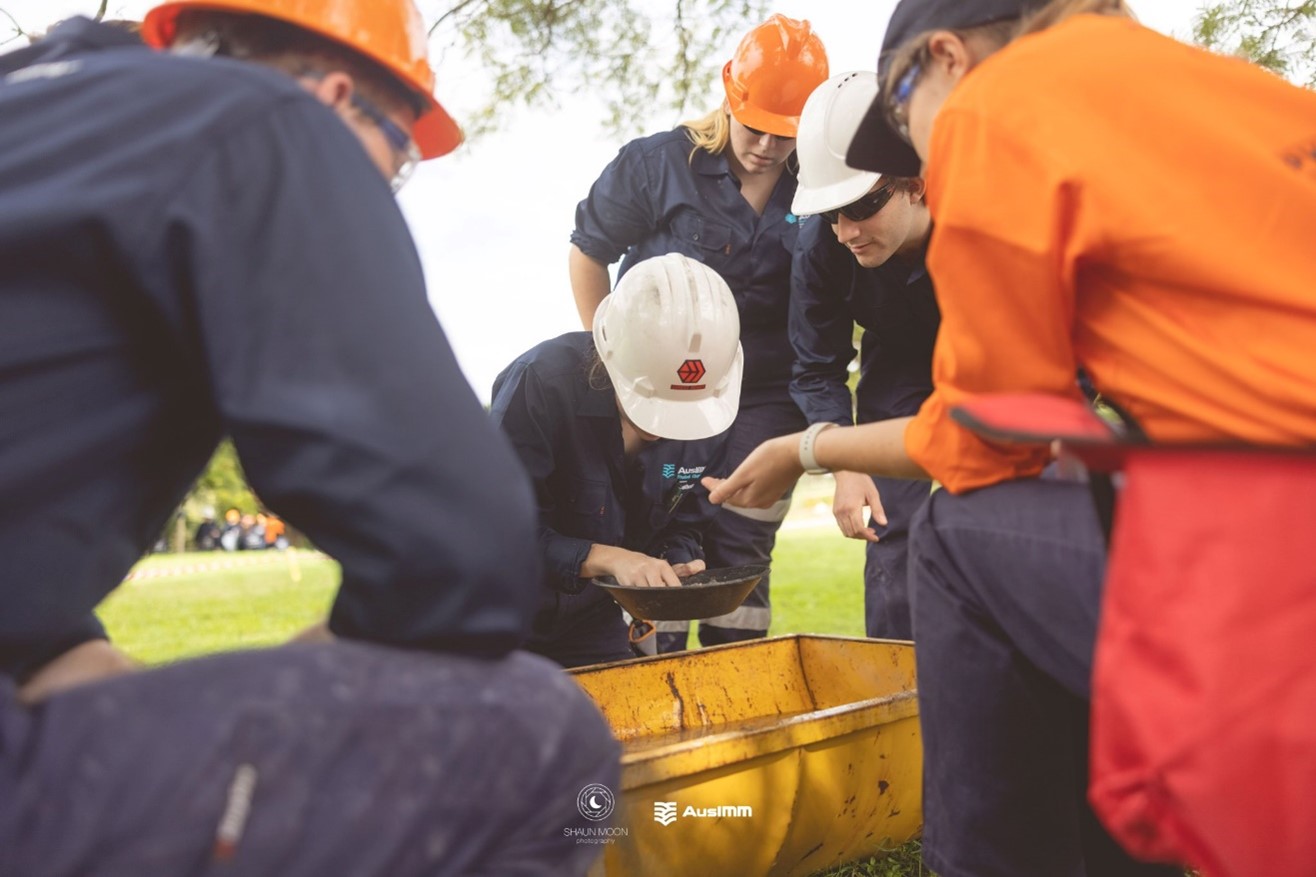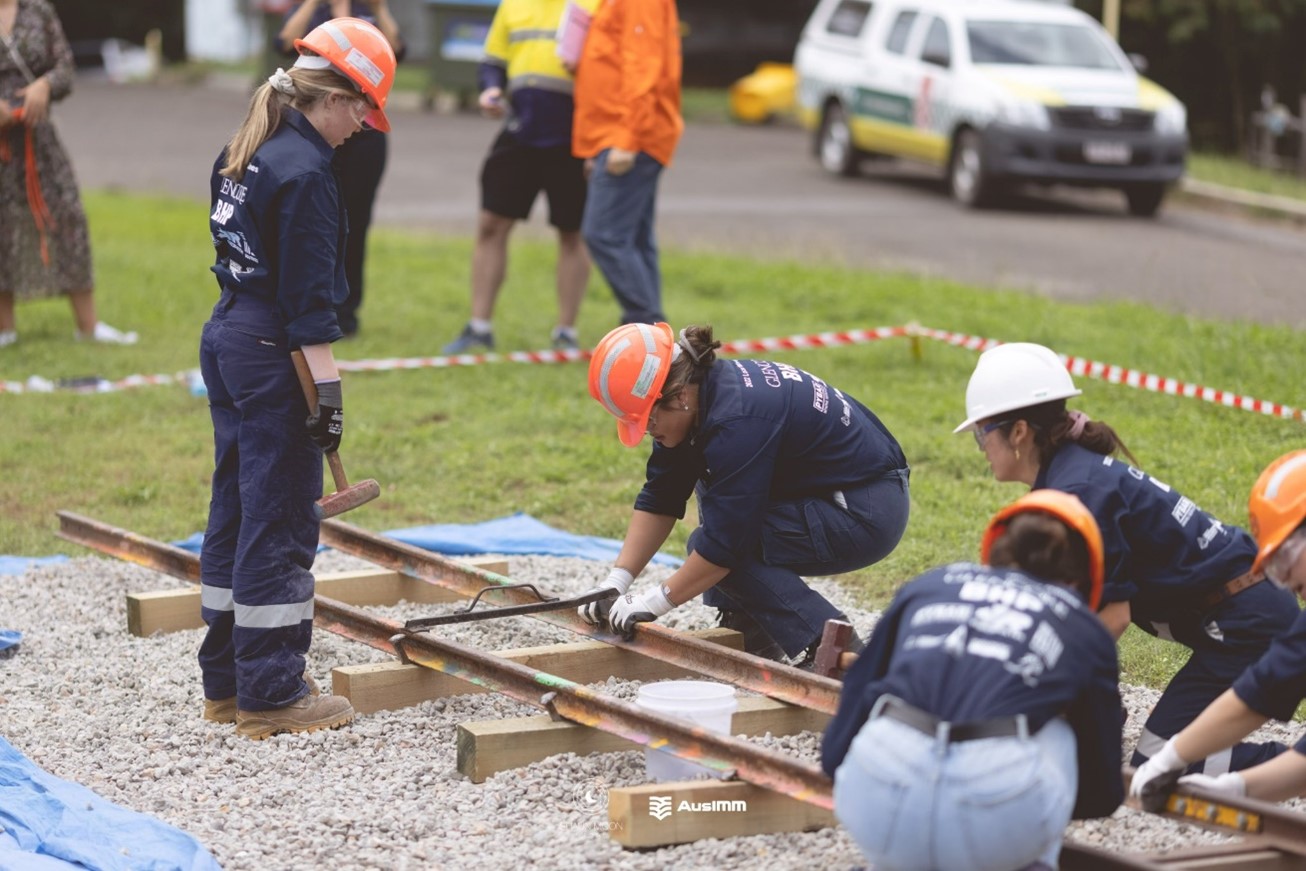 The Student Chapter would like to thank Sandvik for their continued support of the air leg drilling event, SRK Consulting for their sponsorship of the games, judges Peter Knights, Mehmet Kizil, Gabrielle Callow, Elizabeth Pumpa, Liezel Viljoen, and Christopher Janz, additional volunteers and alumni who attended the event. A special mention to the AusIMM SQSC Vice President, Mason Schmidt, for coordinating the games and to the rest of the AusIMM SQSC Executive Committee for your assistance and hard work in hosting such a great event for students, industry professionals, and academics.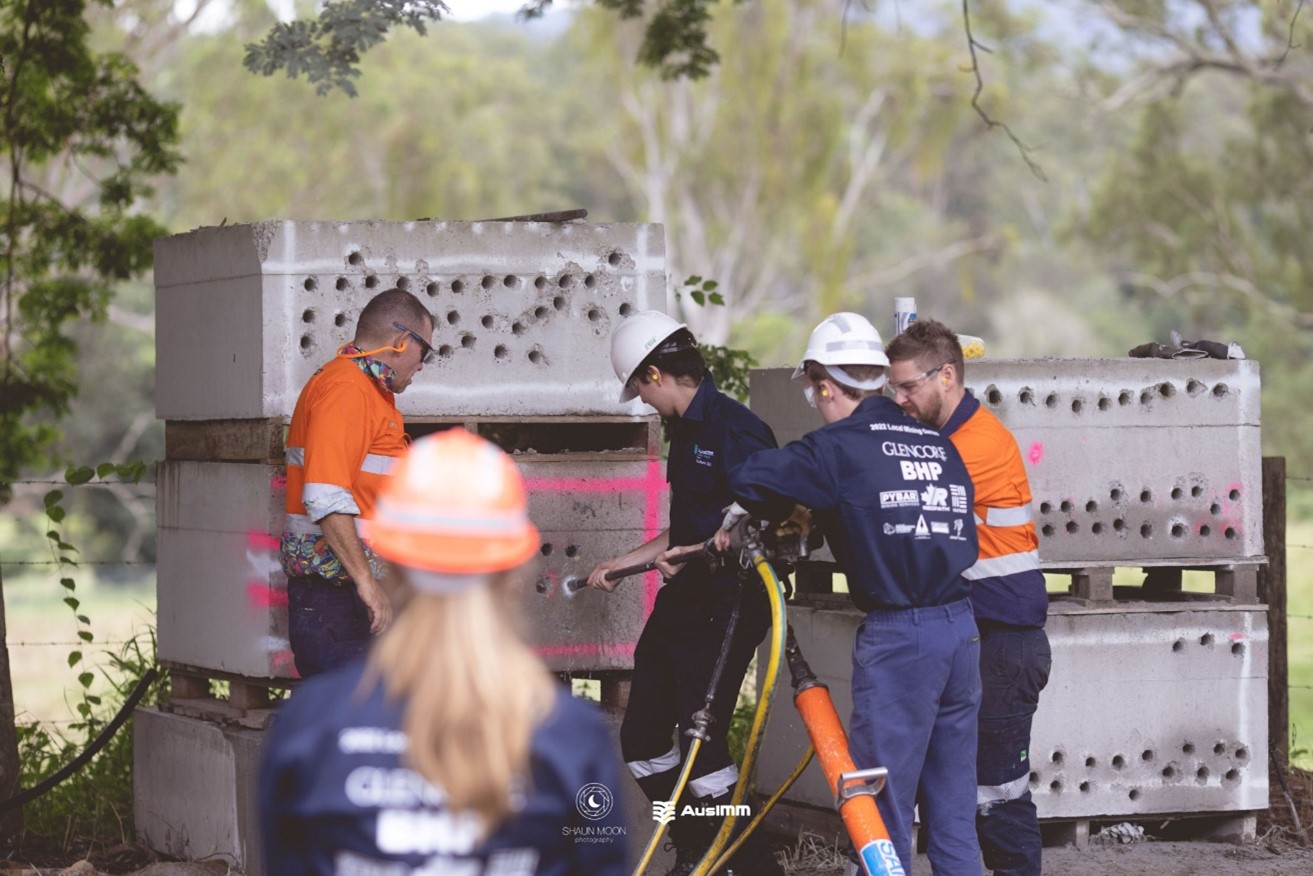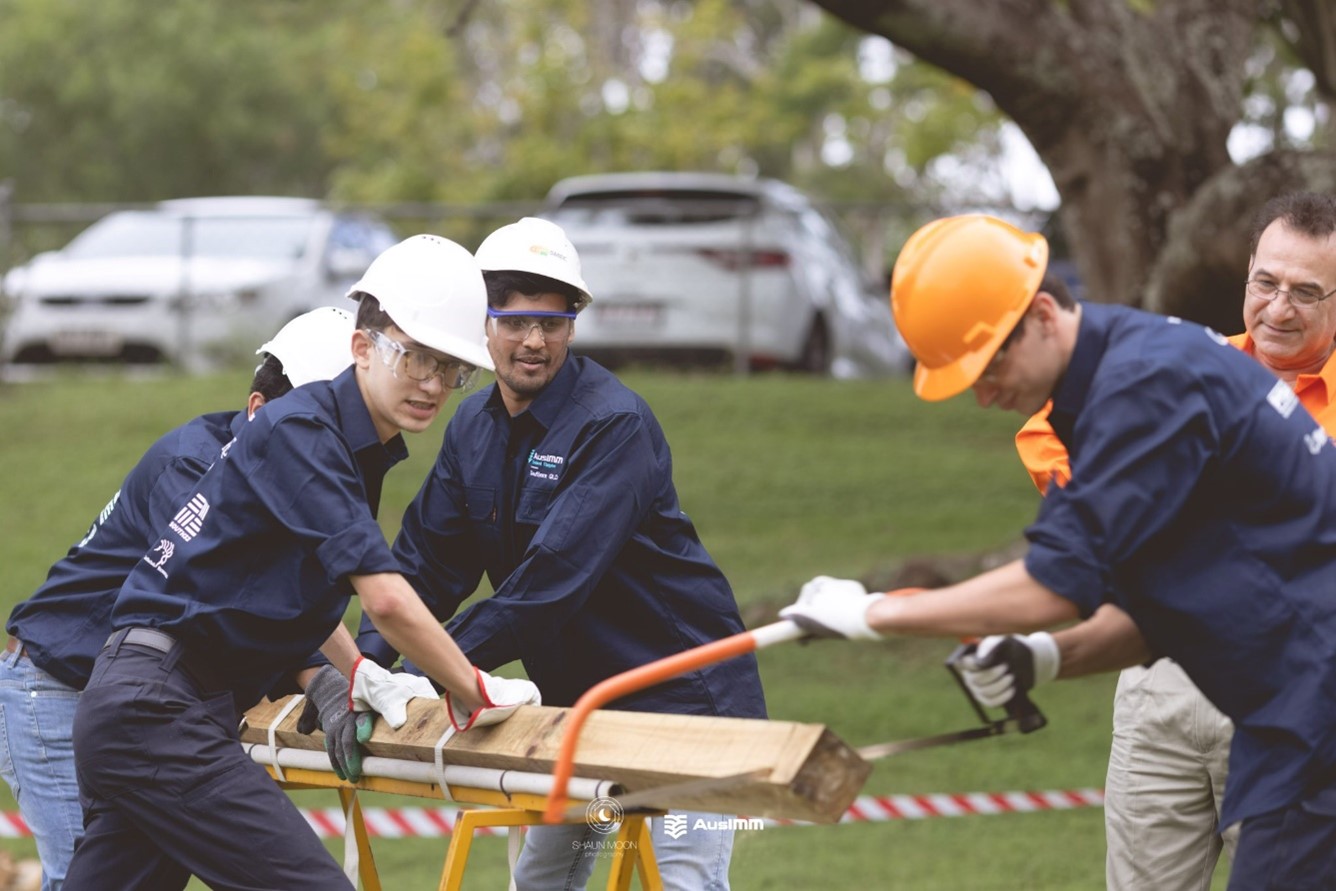 None of the AusIMM SQSC events would be possible without our 2022 Sponsors – BHP, Glencore, Redpath Mining Contractors and Engineers, South32, PYBAR Mining Services, Jellinbah Mining, Gnomic Exploration Services, and BPEQ.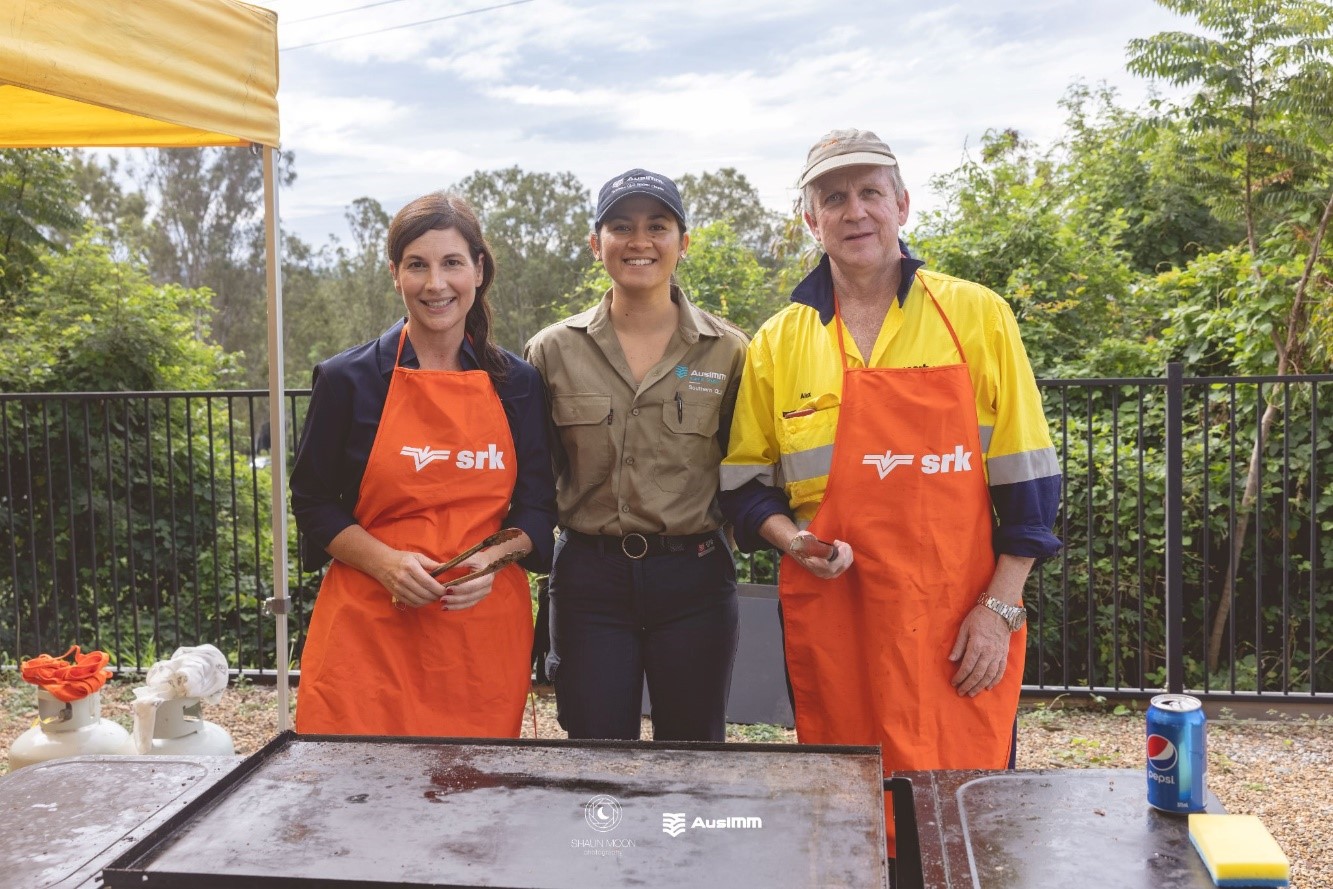 Students who competed in the local mining games will be selected in the coming months to represent the AusIMM SQSC and travel to Perth in late September for the AusIMM New Leaders Conference and to compete in the national mining games. The AusIMM SQSC are very much looking forward to connecting with and competing against student chapters from across the country in September!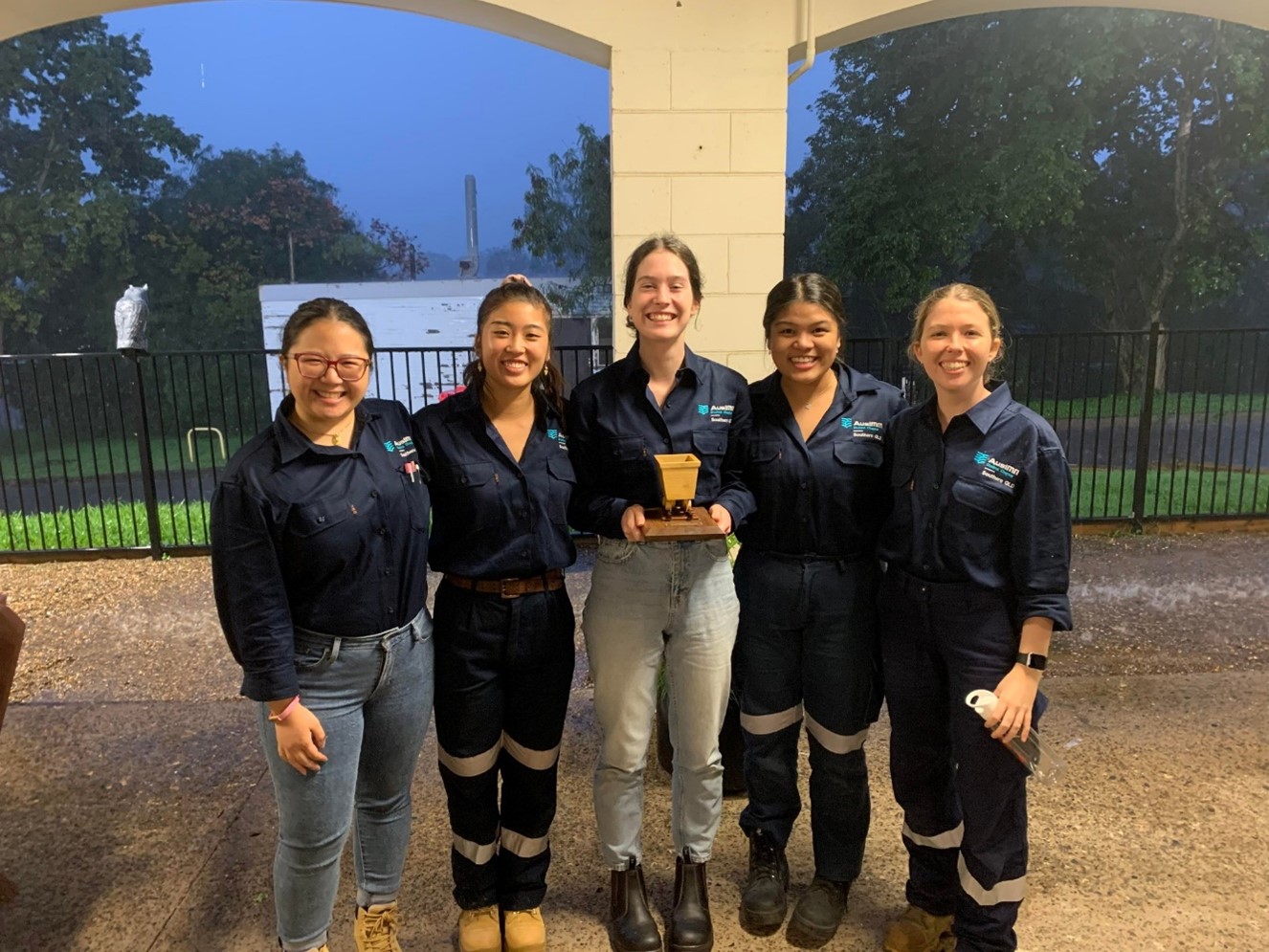 AusIMM Southern Queensland Student Chapter: 'Dig Deeper Panel'
By Shirlee Duke SAusIMM, AusIMM Southern Queensland Student Chapter President
The AusIMM SQSC held its first ever panel event in conjunction with QUT Natural Resources Society (NRS) on 12 May at QUT Gardens Point campus. Coined the 'Dig Deeper Panel', the discussion was focused on three main areas including technology and innovation in the mining industry, sustainability and social license, and lifestyle and working remotely, to give students a better, and more well-rounded understanding of what a career in the mining and resources industry is like from those currently working within the industry.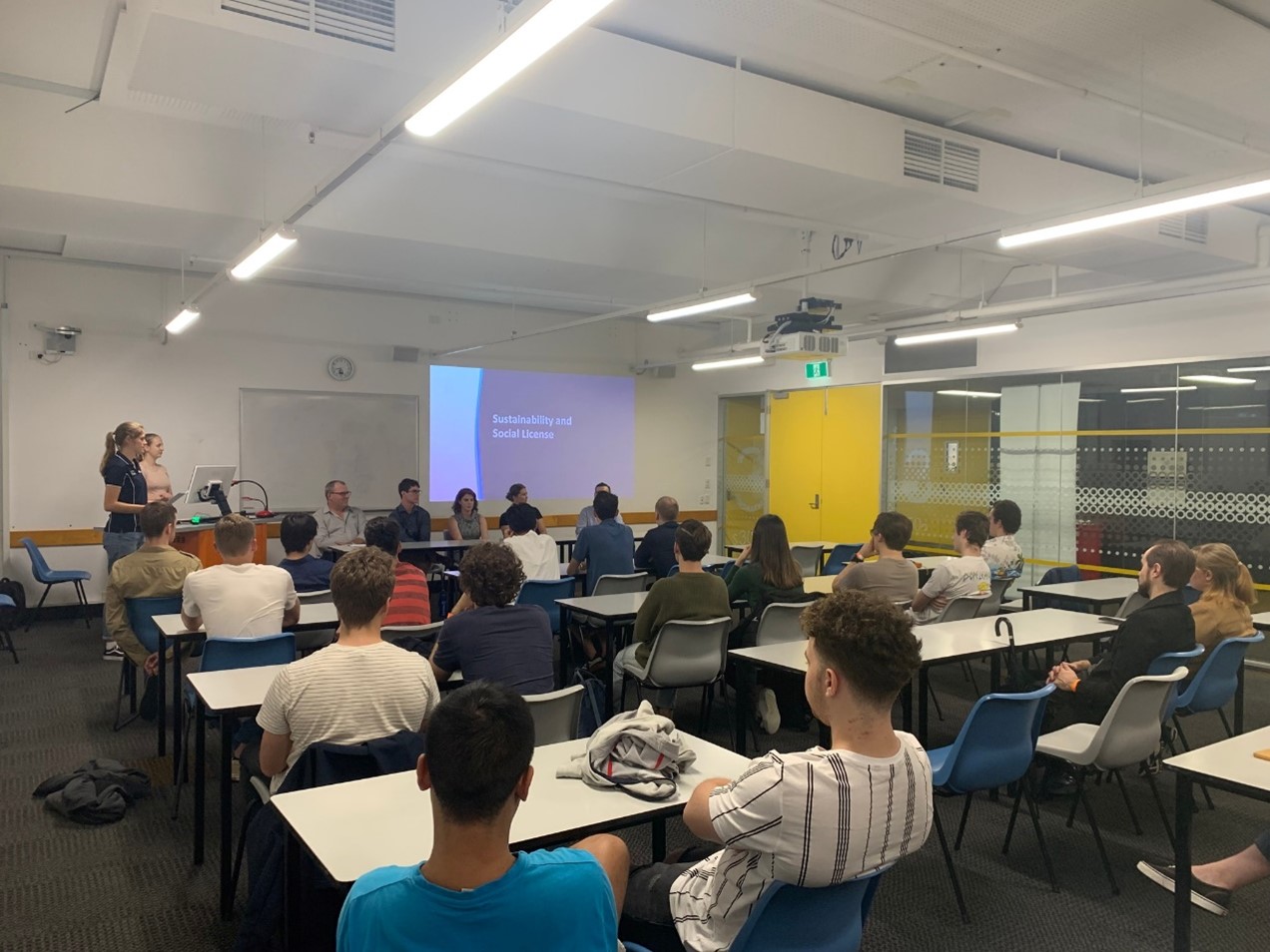 Panelists included Clayton Donnelly, General Manager Commercial and Tendering at Redpath Mining Contractors and Engineers; Ashara Moore, Civil Project Manager at BHP, ; Dylan Williamson, Superintendent Automation Projects at BHP, ; Elizabeth Pumpa, UQ Civil and Geotechnical Engineering Student with industry experience, ; and Christopher Janz, UQ Chemical and Metallurgical Engineering Student with industry experience, all providing their insights and opinions on the topics covered.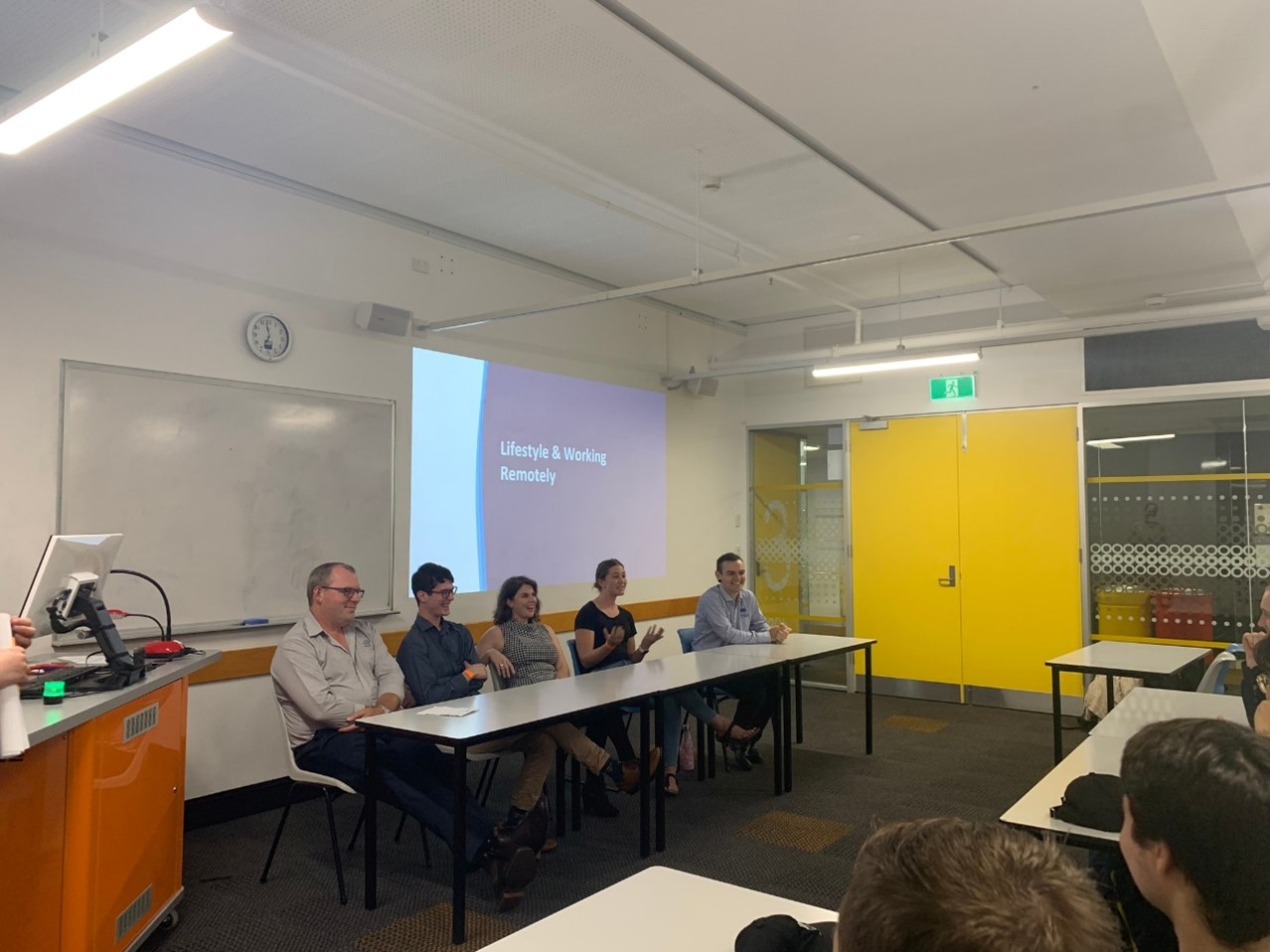 Within the technology and innovation session, the discussion centered around the energy transition, data capture and sorting, and how the skilled job market will be affected by the transition to autonomous vehicles and machinery. An interesting discussion stemmed from the sustainability and social license session, touching on the fact that often the mining and resources industry is painted in a negative light through the media. Some panelists admitted that even they had adopted these views prior to entering the industry, before changing their opinion based on their experience and learning what it is really like to work in the industry. The discussion also covered the increasing focus on companies environmental, social, and governance (ESG) plans to ensure ethical and sustainable operations, and implementation of net-zero emissions targets.
In the final session, lifestyle and working remotely, emphasis was placed on the many opportunities available to young people entering the mining and resources industry, including lifestyle, rosters, location, and remuneration. However, panelists also reminded students of the boom-and-bust cycles of the mining industry, and the less glamourous side to working fly-in-fly-out rosters. The students in attendance for the discussion were left with one very clear message at the end of the night – "Mining's not all bad! You don't know until you try it, so go and try it!".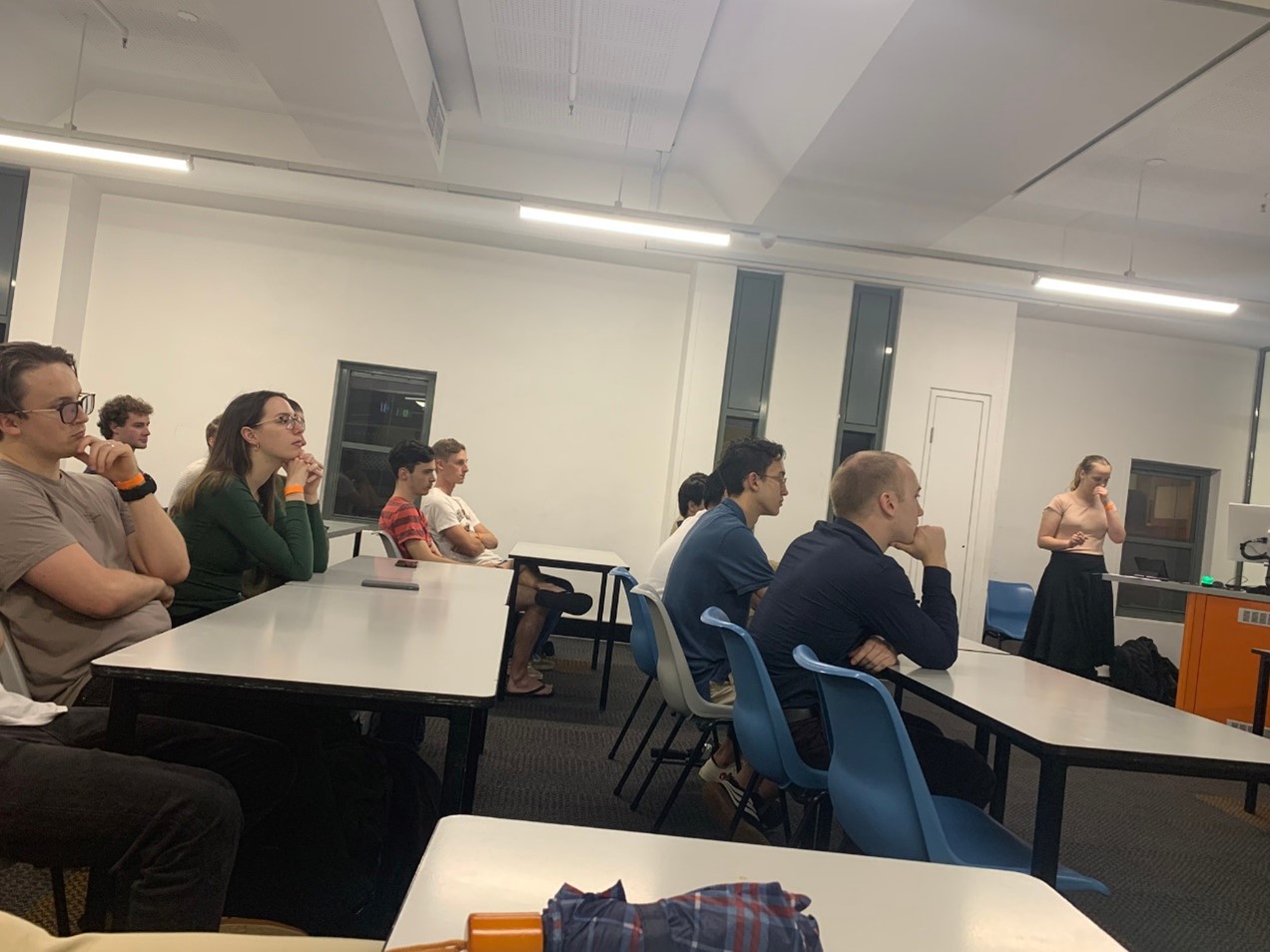 The panel was followed by pizza and drinks at the QUT Botanic Bar where the conversations about the mining industry and its aspects continued.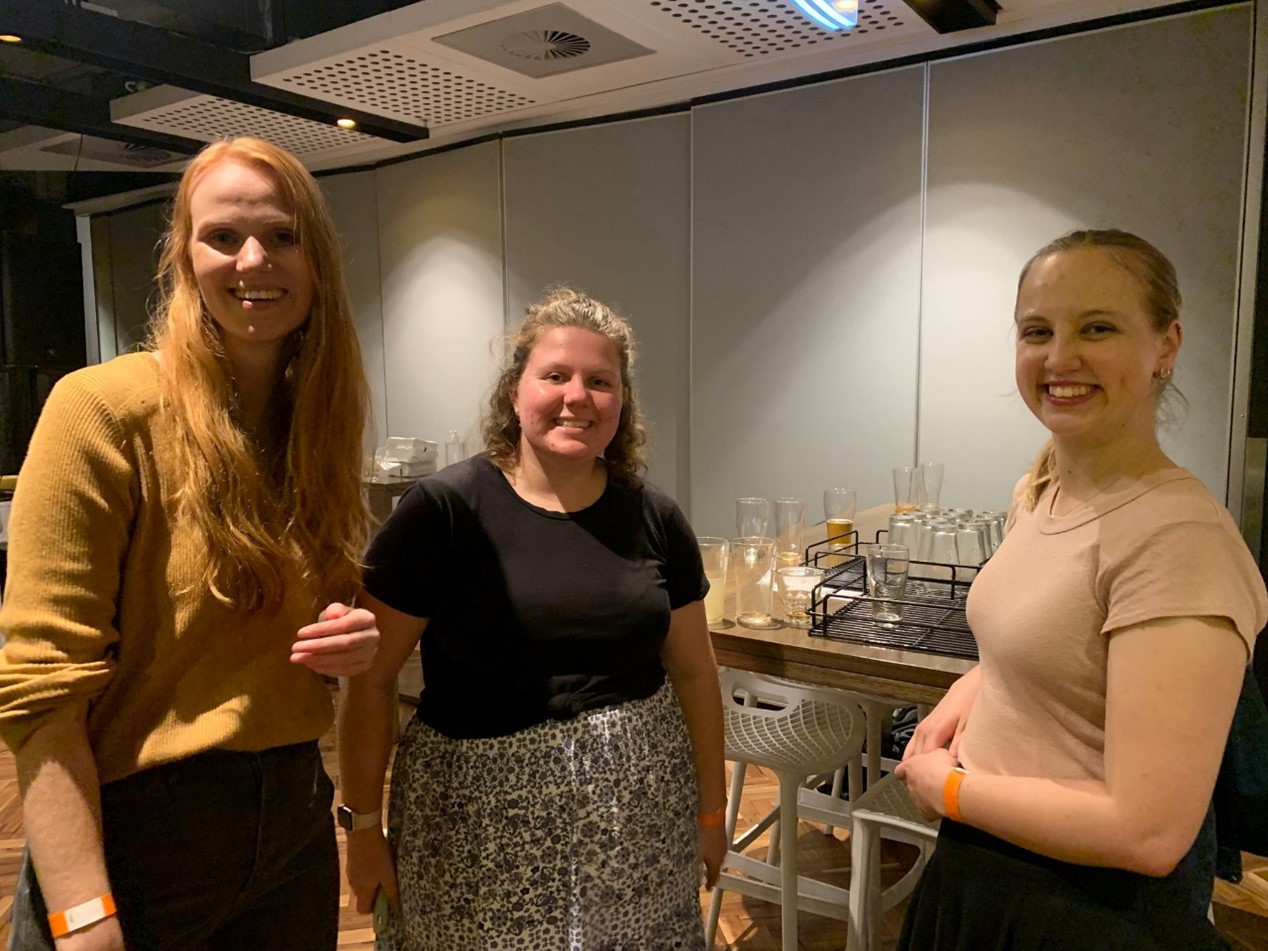 A big thank you to our panelists and to QUT NRS for partnering with us on this wonderful event. We look forward to bringing more informative and interesting discussions at the Dig Deeper Panel in 2023.
Non-traditional benefits of mentoring programs
By Loren Ager MAusIMM-(CP) and AusIMM Southern Queensland Branch Secretary 2022
Mentoring programs can offer additional benefits for both mentees and mentors on top of the obvious objectives of career guidance and direction. As we reach the mid-point of the 2022 AusIMM Mentoring Program, it is important to reflect on whether we are getting the most out of this opportunity to connect with industry professionals.
The 2022 AusIMM Mentoring Program commenced at the beginning of March, successfully matching mentees with experience industry professionals. With enthusiasm mentees and mentors hit the ground running and established goals, boundaries of the mentorship and a common ground for open discussions. However, at the half-way mark the initial thrill to learn about unexplored opportunities of growth and the drive of being part of a world class national program has begun to wane. This is commonly caused by increased work commitments around the end of financial year and prioritising personal commitments in any available free time.
As the pressure around the end of financial year reduces, it is a good time to review what has been identified and discussed, and review how the mentoring relationship is tracking against original goals. It is also a good opportunity to consider identifying some of the non-traditional benefits in the mentoring relationship. These include, but not limited to, behavioural feedback, industry knowledge and updates, and understanding generational drivers.
Behavioural feedback with an unbiased lens is a powerful tool in a mentoring relationship. Mentors can learn about relationship dynamics in a workplace scenario and assess how mentees have delt with the outcome. By developing a strong mentoring relationship, mentors can give calm and uncritical advice on how to better approach the scenario. It is common for many mentees to ask about conflict resolution and how to address challenging, stressful situations in the workplace. To give the best behavioural feedback, mentors might want to learn about adaptive verses maladaptive coping methods.
Sharing industry knowledge and updates is a great way for mentors to help more junior mentees learn about 'who's-who-in-the-zoo'. It is common for mentees to be so immersed in their roles that they are unaware of changes to companies or personnel in the wider mining community. Mentors can use their position in the industry to regularly update their mentees on any mergers or acquisitions, changes to mining service contracts, establishment or recommencement of projects, changes to senior leadership roles and new industry trends. This is a great way to increase mentees industry knowledge and give them points of discussion at networking events.
The mentoring relationship gives mentors an opportunity to understand generational drivers. This can help with understanding what leavers to pull when hiring or retaining different generations and gives an insight into how we can improve workplace culture. Finding out what is important to your mentee can give insight on how that generation likes to be managed, preference for communication method and even how to brand and market your company to increase attraction and engagement.
While is it still important to address the traditional goals of a mentoring program, including non-traditional themes in your discussions may enrich and strengthen the mentoring relationship.
Getting to know your Committee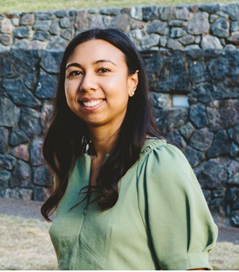 Yass-Marie Seccombe MAusIMM
What position do you hold on the committee?
I am honoured to have taken on the role of AusIMM Southern Qld Branch Committee Chair after serving as Deputy Chair for the last 2 years.
Can you tell us a bit about your educational background?
I completed a BSc (Geological Sciences) in 2010 at UQ, and once commencing a Graduate Program at BHP undertook the UNSW Masters Mining Engineering Majoring in Mining Geomechanics.
Can you tell us a bit more about your career background?
I have worked in a variety of technical and operational roles over the last 11 years since joining BHP in 2011. During the first five years of my career I worked as a geologist and geotechnical engineer mainly in underground coal. I have also spent time in open pit coal in technical and operational teams, before taking up the opportunity to lead the mine services team underground at Olympic Dam. Currently I am leading the control execution team within the Integrated Remote Operations Centre in Brisbane, spanning both fixed plant and mine control, including autonomous operations.
What do you enjoy most about your profession?
The mining industry requires such a diverse range of skillsets, with people of many different backgrounds that need to work together toward a common goal. Being in an industry that relies on teams working together, and trying to help connect people with that is what I enjoy.
When did you join the AusIMM?
I joined the AusIMM back in 2011 when I started working as a graduate geologist. Living in Central Queensland, one of the great things about joining the AusIMM was the awesome opportunity to hear from technical experts and meet new people.
What do you enjoy most about being on the committee?
Working with so many talented and passionate mining and minerals professionals who are so open to trying new ways of improving our members experience as part of the AusIMM.
What are you hoping the committee can achieve this year?
Reconnecting with our members through high quality technical talks, networking events and online platforms. We want to show you all the great things the AusIMM and we as a branch have on offer for you.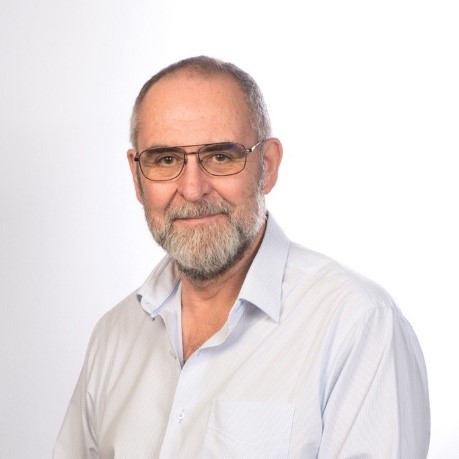 Kevin Harney FAusIMM
What position do you hold on the committee?
I am a committee member.
Can you tell us a bit about your educational background?
I completed my Bachelor's degree in Metallurgy at the Bendigo School of Mines.
Can you tell us a bit more about your career background?
My career has progressed in 6 stages:
Technical roles as a metallurgist and commissioning
Project development from test work through studies, design, construction and operation
Operations leadership roles
Executive leadership roles in large coal fired power stations
Executive leadership roles in large engineering consultancies
Independent consultant support resources leaderships teams with peer reviews and coaching.
What do you enjoy most about your profession?
One of the greatest things about the resources industry is the ability to evolve and develop working to your strengths and to be a part of a great collegiate of like-minded professionals with time to enjoy the challenges and work with great people.
When did you join the AusIMM?
I originally joined while at university.
What do you enjoy most about being on the committee?
The opportunity to try and give back to the professionals in the industry that have been my coaches and mentors previously and try to pass some of the benefits that I received onto the next generations of our industry.
What are you hoping the committee can achieve this year?
One of my passions for the Southern Queensland Branch is to have a significant uplift in member engagement and networking through the various events and functions that the institute runs.
Upcoming Events
Technical & Social Calendar
***Please note due to COVID-19 restrictions, events could be subject to change.
Southern Queensland Branch Technical & Social Calendar 2022 (as of 03/07/22)
| | | | | |
| --- | --- | --- | --- | --- |
| DATE | VENUE | EVENT | TOPIC | SPEAKER/s |
| 18 Aug | The Transcontinental Hotel | Technical Meeting | Future Mining | Prof Serkan Saydam (UNSW Sydney) |
| 22 Sep | TBC | Technical Meeting | TBC | TBC |
| TBC Sep | UQ Business School | JK Lecture | TBC | Alice Clark |
| 20 Oct | TBC | Technical Meeting | TBC | TBC |
| 17 Nov | TBC | Technical Meeting | TBC | TBC |
| TBC Dec | | AGM | South Queensland Branch St Barbara's Day Cocktail Evening and AGM | TBC |
AusIMM Conferences and Functions 2021/22
*** Please see links to the AusIMM website for official details relating to conferences
| | | |
| --- | --- | --- |
| DATE | VENUE | EVENT |
| 21 – 23 Aug 2022 | Melbourne and Online | |
| 10 – 12 Oct 2022 | Gold Coast and Online | |
| 2 – 4 Nov 2022 | ICC Sydney | |
| 29 Nov – 1 Dec 2022 | Melbourne and Online | |
Social Media
Remember to follow the Southern Queensland Branch on LinkedIn for all the latest local events
Connect with AusIMM across out various social media pages:
Facebook / Twitter / LinkedIn / YouTube
Sponsorship & Advertising
The Southern Queensland Branch is looking to partner with the industry in 2022 to sponsor our Technical & Social events. We have a range of various sponsorship packages available to suit your needs, including our Monthly Technical Talks, AGM and sponsoring the Southern Queensland Student Chapter.
For a sponsorship pack with further details, please contact us at southqld@ausimm.com.au
Contributions
Contribute to the Southern Queensland Branch Online Newsletter!
If you have any feedback, would like to make a suggestion or contribute with an article or comment piece, please email the Branch via southqld@ausimm.com.au.
Please submit articles as unformatted text files, and photographs as separate images. If photographs are of individuals, please supply names for figure captions.
________________________________________
– DISCLAIMER: The AusIMM is not responsible for statements made or opinions advanced by authors in this publication and accepts no liability (including liability in negligence) for and gives no undertaking concerning the accuracy, completeness or fitness for purpose of the information provided.