50 not out: celebrating half a century of the Epiroc Scholarship
The Epiroc Scholarship (formerly Atlas Copco) has supported emerging mining professionals for 50 years. We take a look back at the history of the award and check in with some previous recipients to see how the scholarship helped kick-start their mining careers.
The Epiroc Scholarship was established and first awarded in 1971, highlighting AusIMM and Epiroc's commitment to ensuring meaningful quality experiences for resources industry students and helping to develop the talent pipeline of the future.
From the beginning, the scholarship gave recipients the opportunity to expand their experience and extend their knowledge of the industry. Not only does the scholarship offer funding assistance for studies, but it has provided professional development opportunities outside of the classroom. This has given generations of new professionals real-world experiences through onsite visits to operations all over the globe.
1980 recipient David Rose said the scholarship opened his eyes to the global mining industry, 'both through the UK and European tour, and through the friendships with my fellow scholars from South America…[this gave me] the confidence to take on roles in a wide variety of commodities and mining settings.'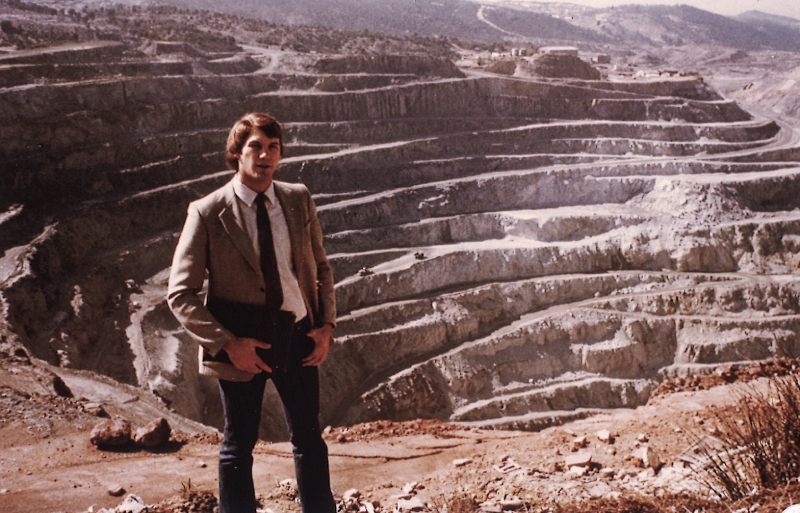 David is now a mining consultant and Director Advisory Services at KPMG Australia, with the global nature of his work continuing. He has recently been consulting to the Swedish Mining Company, Boliden AB.
Another notable recipient of the scholarship is Mark Cutifani, current CEO of Anglo American, who received the scholarship in 1981.
'The scholarship provided me with a broader technical perspective and a better understanding of how new and evolving technologies could be harnessed to improve safety, productivity and cost performance.'
Mark Cutifani FAusIMM
The experience set Mark on the path of a distinguished career. In 2021 he received AusIMM's highest honour, the Institute Medal, for his clear commitment to safety and exemplary leadership under adversity.
For 2011 recipient Katie Serjeantson, who is now Operations Centre Superintendent in Rio Tinto's Aluminium division, the experience was vital in helping solidify her career path.
'The scholarship helped me to understand the global context in which the minerals industry operates and therefore informed my future study plans – including acquiring further education in both statutory and tertiary fields.'
Katie Serjeantson MAusIMM
A strong outcome of the Scholarship is the impetus it creates in participant's future study plans and career trajectory, as noted by Richard Price, 2000 recipient, who is now Executive Director of Spinifex Minerals.
'The scholarship influenced my life and career and assisted me with the decision to pursue further studies later on, completing a Masters in Mineral Economics.'
Richard Price FAusIMM
Alongside the financial assistance and industry-focused experience, it is clear from speaking to past recipients that the scholarship has left a broader impact on the recipients' world views.
'[The scholarship] was an experience that shaped my perspectives,' says Mark, who encourages students to apply. 'You have nothing to lose and everything to gain. The opportunities and help we received from everyone we met was unbelievable.'
'My post-graduate work experience underground in Kambalda, WA was enhanced by the many experiences and reference points from the scholarship,' says David. '[This] benefited my early career advancement. I took my first underground manager's role in 1989 and my first general manager role in 1997.'
Katie says the scholarship was a key part of her journey to becoming a leader. 'Having struggled with confidence in my early career, it cemented my abilities and confirmed that I "had what it took" to lead people, [and that] actually leaders come in all forms! Having met people who had such an amazing range of backgrounds – who were able to translate their skills across markets, geographies, and industries I felt very inspired and that my eyes were opened.'
2021 Epiroc Scholarship
The Epiroc Scholarship provides an outstanding opportunity to experience Epiroc's contribution to the resources sector in Australia and around the world. With ongoing COVID-19 border restrictions, the 2021 Scholarship will be focused on students in Western Australia, creating a world-class experience with site visits contained within the state.
The 2021 recipient will receive:
$2,000 bursary towards 2022 university fees, equipment or resources
Tour of Epiroc site at Kalgoorlie and/or Boddington
Tour of Epiroc Perth workshop
Up to two weeks of paid work experience with Epiroc
Applications for the 2021 scholarship are now closed.