An early career motivator inspiring solid engineering performance
For the first time, AusIMM partner Ausenco is expanding its school leavers scholarship to Perth, aiming to attract top young talent in this highly-competitive market.
Since its inception in 2004, the program has proved highly successful for participants and Ausenco. By carefully selecting its partner schools and participants, few scholarship recipients leave the program. Instead, many of the recipients are still with the company and involved in inspiring tomorrow's mining engineers. Now, partnered with Shenton College, Ausenco will offer this opportunity to a Perth school leaver in 2020.
Niresh Deonarain, Ausenco's President for APAC/Africa, said, "It is our pleasure to extend the scholarship program to Perth, and support aspiring young engineers from Shenton College. With Ausenco's enduring success in the region, we aim to continue growing our team with local, young talent through this beneficial program."
Ausenco's first scholarship recipient
At high school, Matt Pyle never thought he'd work in the mining sector. Back then, his heart was set on mechanical or aeronautical engineering. But Matt seized the opportunity to learn about Ausenco's first school leaver scholarship, which led him to a completely different career.
"Listening to the Ausenco presentation at Churchie, I realised there was a lot more to mining than digging rocks out of the ground. I saw that you could design some technically cool and challenging projects, and so, I applied and was successful," Matt said. "The school leaver scholarship gave me financial support to study engineering at the University of Queensland and, more importantly, paid work experience with the Ausenco team."
In his first Christmas break, Matt went on site to work for three months on a mineral sands plant at Broken Hill. "I got involved in directing a group of piping contractors, making sure their work was technically correct," Matt said. "For a young student, it was an amazing experience, and it inspired me to change my course to become a qualified chemical and metallurgical engineer. Even though I didn't like chemistry and had dropped the electives I needed, which meant I had to study for longer!"
During his study breaks, Matt worked on landmark projects, such as Lumwana Copper Mine in Zambia and Sepon Copper Project in Laos. "I saw the theory I was learning in action at work and gained so much insight into engineering and the business. When I graduated, mining was in a bust, but I already had work lined up at Ausenco."
Just over a decade later, Matt is Ausenco's Director of Technical Solutions. Today, he is responsible for ensuring that technical projects across the business are delivered to a high standard, are cost-effective, achieve best-in-class performance, and include emerging technologies where appropriate.
A recent scholarship recipient
Alex Cockerill is a Structural Engineer at Ausenco. Early on, he knew he wanted to study engineering, and he had seen how the Ausenco scholarship helped his older brother Jeremy during his degree. "I was so eager to get cracking and was thrilled to get the scholarship in 2013. It was an important early motivator for me," Alex said. "The scholarship meant I could focus completely on my studies. I knew I had to maintain a certain GPA, so I studied hard, and I wouldn't have got the marks I did without it."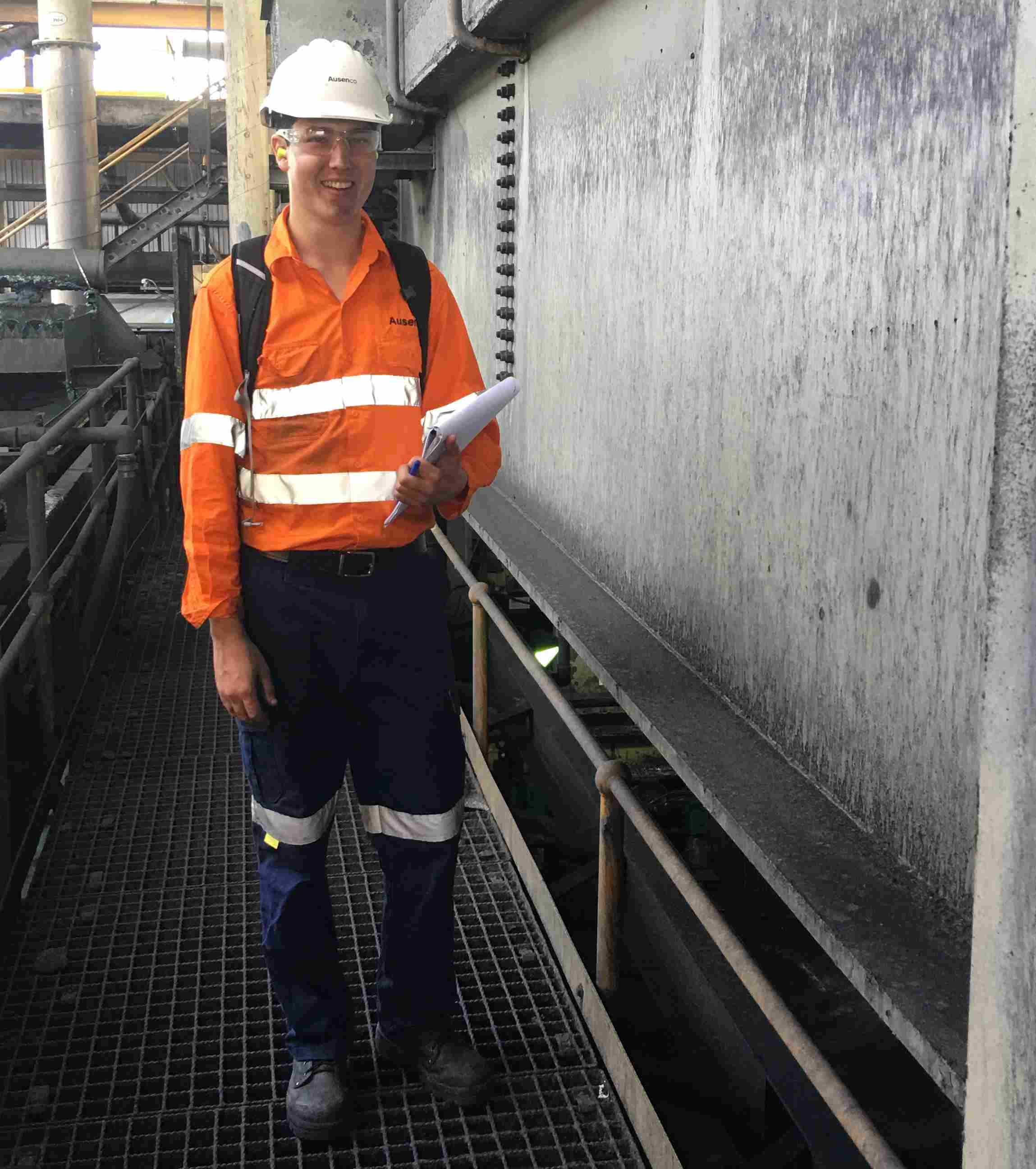 From the second year, Alex did work experience at Ausenco. "It wasn't about making copies or coffees," Alex said. "From day one, I was designing conveyor gantry systems and the foundations for steelworks. I worked during my holidays and then one to two days per week during the term."
When Alex graduated from the Queensland University of Technology, he went straight to work at Ausenco, joining the company's graduate program. "I didn't give it a second thought. I wasn't going to throw away the experience Ausenco had given me."
"The coolest thing I've designed so far was a Flotation Cell Structure for a coal mine in the Hunter Valley when I was just six months out of uni. The client didn't want to bolt it together on-site, so I had to design it to be transported down the highway with a police escort. I went to see it being made in Geelong and it was incredible to see it 1000 times bigger than on screen."
Two years after joining Ausenco as a full-time employee, Alex is still involved in the school leavers' scholarship and New Professionals Program. "I've come full circle," he said. "I did a presentation at my old school recently. It made me reflect on how much support I received from senior engineers who were prepared to answer all my questions. I want to pass that on."
A current scholarship recipient
Mackenzie Platt received Ausenco's school scholarship in 2018 and is currently in his second year of civil engineering at the University of Queensland. He recalls being very nervous at the scholarship interview. "I knew I was up against three other students who had academic awards, and I didn't have one, so I didn't expect to get it. I was so happy to get Ausenco's phone call during exam week."
Mackenzie started working at Ausenco in mid-year holidays in his first year of study. "At first, I felt completely out of my comfort zone. My first task was to help on a project with document controls. Then, I moved into the civil engineering team and, now, I work on creating models for structures such as conveyors. I'm mid-way through my degree, and I'm already at about 400 hours of work experience. I don't know any other students who can say the same."
"Being able to work in an engineering company from six months into my degree is awesome. Most of the time, when we study the theory at university, I've already heard about it at work. Seeing the theory applied in the real world makes a difference in how I approach things. The biggest challenge at work is understanding how to approach a project and identifying the knowledge I can apply, and where I need help from others."
Working through Regional Economic Solutions (RES), a team of graduates and undergraduates, like Mackenzie, got the opportunity to engage with a local community on Masig Island in the Torres Strait. RES approached the group to help them design a chicken coop and a small kitchen garden for the island's school. The existing chicken enclosure needed an upgrade as, among other things, eagles had been devouring the chickens. "It was rewarding to work on the project from proposal to the delivery of the design to the client, rather than just concentrating on one part," explained Mackenzie. "It was also rewarding to see how the project would benefit the community."