Five minutes with Ismet Canbulat
In this feature article for our Mining Insights Series on mining engineering, we sit down with Ismet Canbulat, Professor and Head of School at UNSW Minerals and Energy Resources Engineering, to ask him about his career, current research, and future skills needed by mining engineers.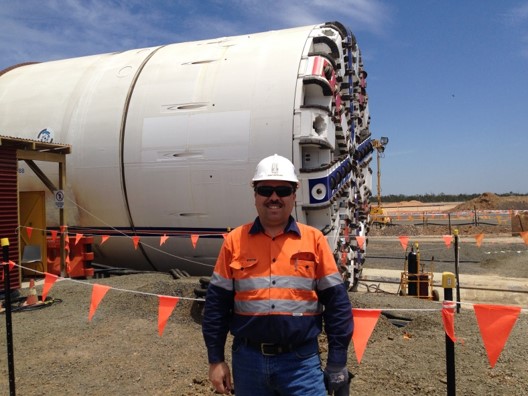 Across your 25-year career, you've worked in both research and on-site roles. How have you found the transition between these two areas?
As an engineer, I have really enjoyed being on both sides of the profession. Both research and on-site roles have their own challenges and requirements. You deal with different people, there are different expectations, and the work you do is different. But I really like challenges and problem solving! So for me, the transition was not that difficult.
For example, being on-site is production driven, the focus is to help the operation to produce. In research, particularly in academia, you are expected to teach, conduct research, publish and create a national and international impact – so the expectation is immediately different.
In each area you are also dealing with slightly different problems and timeframes. Usually in operations you are helping to solve shorter-term problems. In academic research, on the other hand, the problems you are dealing with are longer-term – 5 or 10 years, with input from multiple people over that time.
You are Head of School at UNSW Minerals and Energy Resources Engineering. Is there some current research happening at the school you are particularly interested in or excited about?
In terms of research, the growth rate of our school has been significant over the last 18 months, and we currently have approximately 15 exciting new projects. These projects are sponsored by the Australian Research Council (ARC) and the Australian Coal Association Research Program (ACARP). Nearly all academics are leading one or two projects, which is not surprising as they are world-renowned experts in their respective fields.
These projects mostly deal with real engineering problems that we need to solve. We are doing some ground-breaking research to tackle the challenges that have been presented to us.
A key aspect of my job is to encourage staff to write proposals for their research, and to help them find minerals industry partners. None of these projects can be done without industry partners; governments only have finite amount of funds available. So our role is to bring researchers, industry and government together to work on these challenges.
I also have my own projects, and my passion is particularly in the areas of rock mechanics, dynamic rock failures, and time-dependent rock structural behaviour.
It's also worth mentioning that, with the new direction of the School of Minerals and Energy Resources Engineering, we are also focusing on where mining engineering – in fact the whole world – is going to be in 10-20 years.
Our school's focus is to work with the industry to help them achieve safe, environmentally and socially acceptable extraction of oil, gas and minerals. We are also helping mineral and energy resources companies in integration of state-of-the-art technologies to achieve sustainable, technology-integrated operations.
In addition, in line with the implementation of the renewable technologies in the minerals industry, we are assisting extractive industries to reduce their energy footprint. Our Petroleum Engineering colleagues within our school are conducting ground-breaking research into carbon capture and storage and utilisation in underutilised renewable energy technologies, such as geo-batteries and unconventional geothermal. Soon we will be publishing an article on this in the AusIMM Bulletin.
What skills are needed by modern mining engineers? Are there different skills that will be required in the future?
Until recently, the skills required by most mining engineers were focusing on engineering knowledge and technical skills as well as the hands-on application of those skills.
But things are changing. We are rapidly moving to an era of new skill requirements for engineers. This of course is true for all fields – for example, doctors need to know how to do remote operations these days.
Our academics recently reviewed our curriculum and identified skills and attributes needed for mining engineers in the near and medium-term future. The fundamentals remain important. Technical engineering knowledge and skills must be there. But now, mining engineers should also have a better understanding of economic factors and other drivers for the industry. It's not just about 'my operation' for an engineer, but also looking at the big picture.
Engineers need to be able to plan, design, create, innovate and manage rapidly changing technologies, including big data and data analytics, artificial intelligence, robotics and automation. They need to be logical thinkers and have good reasoning skills, and understand the principles of sustainable mining practices. This includes social, economic and environmental impacts.
Engineers also need to be able to work within multidisciplinary teams. They should be able to work closely with mechanical engineers, electrical engineers, and particularly with the new technologies coming into the industry, should be able to work together in teams.
Communication is of course important, and engineers need to be able to engage with a diverse range of stakeholders.
Resiliency and adaptability are both critical, and the industry is becoming increasingly multinational, so we need to be able to work with people from different cultures.
And last but not least, engineers need to have a good understanding of professional standards and the highest principles of ethical conduct, and be committed to risk management approaches and have a very strong safety mindset.
As a Fellow of AusIMM, what career benefits do you see from being part of a professional association?
As I mentioned earlier, standards are critical, and AusIMM's Code of Ethics helps ensure professionals are working to the highest standards.
But being part of a professional body also means you are connected with your peers and 'in it together' with other professionals. If you are a member of AusIMM, you get to know the new developments in the industry, who's working on what, and what problems are currently being solved.
Networking is another important element of being an AusIMM member. Because you need to know the people in your field – research, for example, is done in collaboration with industry, so if you want to get to know key contacts in the sector, then these professional networks are very important.
There is also a practical element of being a member, particularly for academics. Even though UNSW is a highly ranked university, our library may not have access to all publications in the resources sector. So AusIMM is a key channel for me to find existing publications.
AusIMM is one of the leading organisations in the world in terms of mining professionals, therefore the technical articles that get published in AusIMM conference proceedings, or through other events and publications, represent a significant resource for us. And this is not just for academics – even for on-site people it is important to have access to that breadth of knowledge.
Being an AusIMM member also means you can always ask questions through different channels – for example through AusIMM events, you can ask other experts the questions that you might have. Throughout my career I have found this a very useful aspect of being an AusIMM member.
What would be your one piece of advice to students or new graduates who are looking to study mining engineering?
Mining engineering offers an exciting, intellectually stimulating engineering career brimming with opportunities and challenges, and rewarding career pathways and job security. If you like these, then mining engineering is for you.
This is a career that will open up a lot of challenges for a person who likes to be challenged and who likes getting their hands dirty. You should accept that this is part of the job and enjoy your time as an engineer!