Summary of Brisbane Competent Person Discussion Forum
On 24 March 2022 the Joint AIG/AusIMM Competent Person Taskforce hosted a Competent Person Discussion Forum in Brisbane and online.
The aim of the session was to give members of the parent bodies an opportunity to contribute to the discussion on Competency and the Competent Person as it relates to the current JORC code review. Over 150 participants joined the event online and more than 50 people attended in person.
The morning session saw several presentations from key stakeholders, designed to provide context to the discussion. This included a history of relevant events from Peter Stoker OAM, detail around the key drivers for change presented by Chris Cairns, an update on the current JORC Code Review from Steve Hunt and finally a summary of preliminary findings from the Baseline Study on Competence and the Competent Person, delivered by the lead author Andrew Waltho. A copy of the presentations can be downloaded here.
The afternoon was dedicated to the town hall style discussion forum. Throughout the course of the discussion several themes emerged, clearly articulating the need to appropriately define the criteria for competency, determine a suitable system to validate Competent Persons against the defined criteria, and develop a process for effective governance. Several proponents also talked to the need for adequate training and education in public reporting under the Code, not only for Competent Persons but also company executives and board members.
During the day several polls were conducted to gain insights into the attendees' backgrounds and their thoughts on certain aspects of the topics being discussed. These polls showed an overwhelming majority of respondents (79%) agreed that change was needed, with a similar proportion (78%) supporting some form of registration or certification requirement for Competent Persons.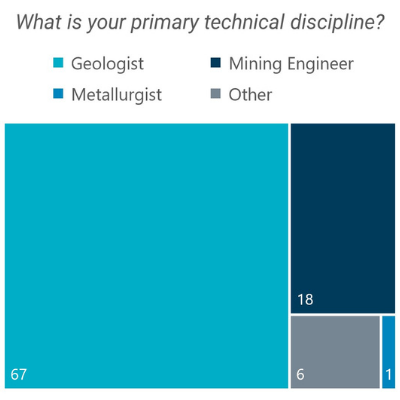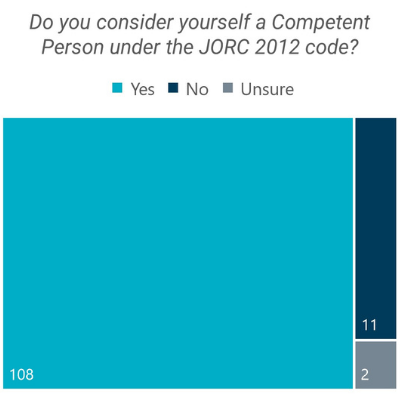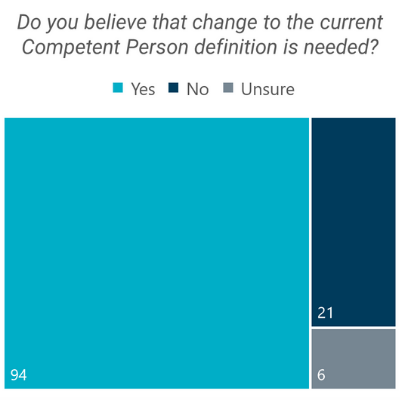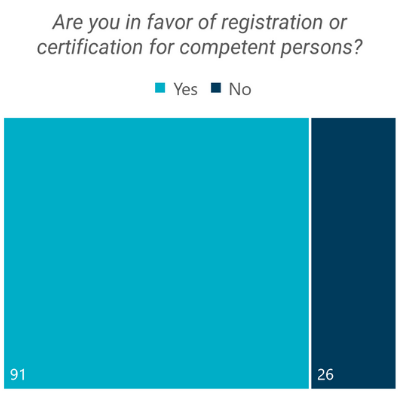 All commentary, questions and feedback from the sessions will be compiled to provide an important reference point for the next steps in the process.
The Baseline Study draft is currently under review by the Working Group, with communication of the findings planned throughout May and June, the Joint Taskforce will be looking to conduct a series of workshops from mid-year to develop a Draft Competent Person Framework for review by late 2022.