Geoscience Society May 2022 Newsletter
Welcome from the AusIMM Geoscience Society
The Geoscience Society of the AusIMM would like to welcome new and existing members of the Institute.
In this edition we cover a range of initiatives undertaken by the AusIMM, Committee Members of the Geoscience Society or both. Accurate resource and reserve estimation remains paramount to the mining industry. We touch on the JORC Joint Task Force. We also touch on progress with the Australian National Geotourism Strategy, the National Rock Garden and the Australian Geoscience Council Geoscience Manifesto. We trust you find this of interest.
JORC Joint Task Force
In March, members of your Society took part in a discussion hosted by the JORC (Joint Ore Reserve Committee) Joint Task Force on Competency and what constitutes a Competent Person. The standing JORC Code is now 10 years old and may warrant refreshing. The review is focussed on considerations relating to self-nomination, competence verification (and/or accreditation) and processes to enforce compliance with appropriate transparency with enforceable outcomes.
There is also consideration for updating and broadening the scope of Code reporting and developing a new friendly digital platform. One new direction under consideration is the inclusion of concepts of Risk, Opportunities and Threats (not unlike a Porter framework for strategic analysis). The present code lacks a requirement to report on reconciliation performance.
It was noted that most JORC reports submitted to the ASX are from single geologists employed with small exploration companies, typically for Exploration Target or Resource Estimation. Big producing companies have the resources to engage a team of specialists.
The revised JORC code should not be about catching poor performers, but about improving the communication between investors and competent persons. Members can contribute content and comments through update@JORC.org .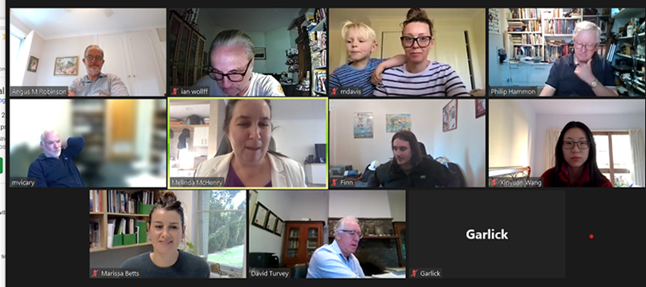 Online JORC Task Force Engagement Session.
Australian National Geotourism for mining communities start up
Last month, members of the Geoscience Society engaged with the Australian National Geotourism Strategy implementation meeting. Chaired by Melinda McHenry, the meeting sought to set terms of reference, review communication options (including a web page), seek engagement with Indigenous groups and develop an 'elevator pitch' for approaching potential investors to fund/support ongoing programs from Local Government and mining industry players. Geotourism presents enormous opportunities for regional communities with sites of cultural, recreational or education significance. Indonesia, South Korea and New Zealand may be reviewed.
Australian National Rock Garden update
In February the Geoscience Society hosted Professor Brad Pillans, Chair of the National Rock Garden (NRG), to present a webinar titled "The National Rock Garden; celebrating the Geological Heritage of Australia". As with the Australian National Geotourism initiative, your Society recognises the importance and opportunity of a national collection of geological specimens of significance in promoting the science of geology and more broadly, the mining, petroleum and building materials industries.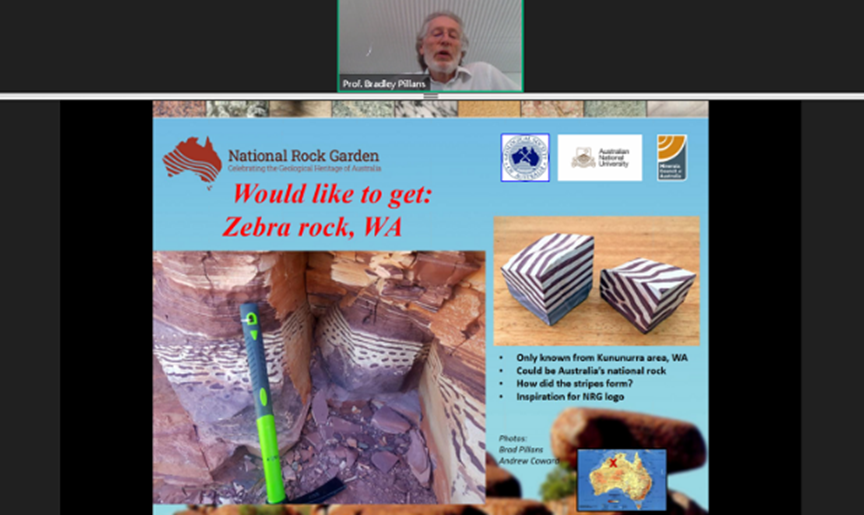 Webinar - Australian National Rock Garden.
The aim of the NRG is to celebrate Australia's rich geological heritage in a parkland setting in the nation's capital, and demonstrate the diversity of rocks and minerals that contribute to the nation's landscapes, culture and prosperity. Brad's talk took us through the concept of the rock garden, its evolution, and exciting developments relating to a prominent setting fitting of a key science. Before site landscaping and civil works, the NRG is building a collection including building stone used for the construction of the Sydney Harbour Bridge, rocks from the Argyle diamond mine, significant fossil bearing rocks, and other unique rocks. Rocks on display will have a QR code that links back to the NRG website, hosting background information on the rocks. The NRG is working closely with Indigenous groups, noting the cultural sensitivities of moving some materials and broader opportunities for collaboration.
In April, the NRG took delivery of a large sample of the Middledale Gabbroic Diorite, a rock of global significance owing to pioneering work relating to the use of zircon crystals to permit reliable U-Pb isotopic dating. Now known as geochronology standard TEMORA-2, the zircons have become an extremely important world-wide reference material for geological dating.
These zircons have been impervious to chemical interaction since the crystallisation of their host diorite 417 million years ago. In particular, the proportion of radioactive isotopes and daughter products is identical for all of the zircons, allowing the age measured for each crystal to be compared directly with the measured age of crystals whose age is not known. One particular type of instrument that can undertake these age comparisons is the SHRIMP (Sensitive High Resolution Ion MicroProbe) designed, built (2007) and operating at the Australian National University for several decades.
Society members will hear more about the NRG in future months as the site is permitted and the RGC Steering Committee works across the industry (with valued interstate members) to source rocks of significance and move to fund site works in Canberra.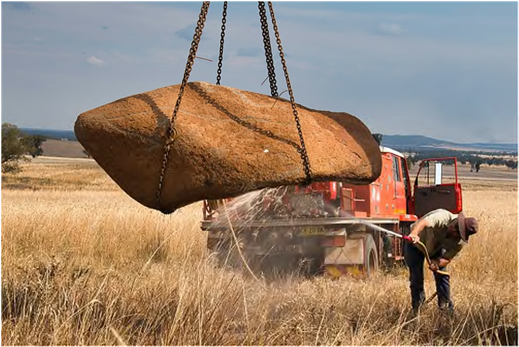 Initial washing of Middledale Gabbroic Diorite prior to transfer to Canberra storage facility.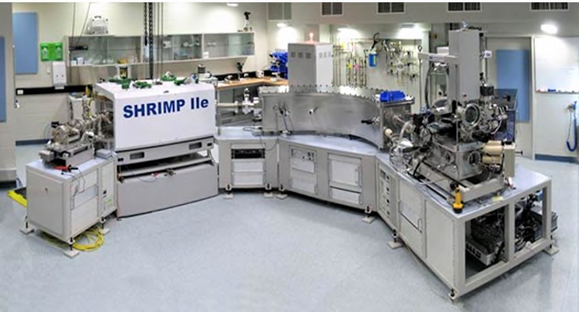 SHRIMP (Sensitive High Resolution Ion MicroProbe) Australian National University.
AusIMM Geoscience Society webinar recap: "The future of Earth science education – promoting pathways"
AusIMM's Geoscience Society conducted a free webinar on 11 February 2022 to raise the profile and awareness of issues in Earth science education. The webinar brought together a panel of education and industry experts to provide information, discuss key concerns and future impacts (social head winds, declining interest, poor recognition of economic relationships and needs, career and employment opportunities), then propose and workshop solutions to issues in earth science education.
The webinar was moderated by Jon Hronsky OAM MAusIMM (Principal, Western Mining Services). The panel consisted of Suzy Urbaniak (CoRE Lead, CoRE Learning Foundation); Sandra Occhipinti (Research Director, CSIRO); Bronwyn Camac (Federal President, Petroleum Exploration Society of Australia); Dr. Richard Lilly MAusIMM (Program Leader National Exploration under Cover Schools (NExUS), University of Adelaide).
The panel discussed the following questions:
What is happening at primary and secondary school level to get students interested in Earth science?
Is there an issue with attracting and retaining secondary school and tertiary level Earth science students to complete their studies?
What can be – or is being – done to improve tertiary Earth science student engagement, to complete their studies and progress to valued careers?
What needs to happen – and is happening – to improve the social perception of the resources sector?
What is the current status of education intake in Earth sciences and what is needed to better manage this?
Below is a brief summary of comments and some solutions proposed in primary, secondary and tertiary/post-graduate education.
Primary and secondary school ('many good people pushing into headwinds')
Increase support of Earth science (Science, Technology, Engineering and Mathematics - STEM) education programs with dedicated, tenured, role-model teachers or co-ordinators and 'awe inspiring' teaching materials to 'understand the Earth'.
Provide students with hands-on fun and 'boots on the ground visual experiences' to stimulate interest in real learnings and life-long careers.
Reinforce messages linking Earth science to STEM career paths, especially climate, water, soils, biology (environment), advanced e-materials and technologies – diverse, interesting roles for diverse people.
Develop and introduce gamification (digital games) for Earth science.
Highlight rewarding careers to 'change the world', as to 'to fix your earth and environment, first know how it works'. Be part of the solution.
Increase and improve communication on the Earth to develop interest and a greater understanding by society and community, including traditional and social media platforms.
Provide a structure, materials and guidelines for mentoring engagement by retired Earth science people to assist STEM teachers – list of volunteers.
Tertiary and post-graduate
Increase student engagement with support of dedicated STEM 'champions' and greater coordination of pooled resources.
Increase applied university courses with paid 'consultancy' tenured teaching positions offering diversity and attractive, flexible work conditions.
Revisit scholarship engagement of broad students with re-branded companies talking and building relationships of trust. Recruitment functions to change from purely technical to human resources focus.
Re-introduce compulsory outside work experience as 2 x 3-month (6 month) part of the curriculum to improve understanding of career paths before graduation. Old work/education models.
Showcase careers with rewards to students and teachers for outreach and engagement programs, including sponsored industry work experience and summer internship camps (chemistry to geochemistry, engineers to geotechnical or geophysics), includes applied research e.g. CSIRO.
Reinforce and promote linkages of careers in Earth science to sustainable development, respect of the environment and climate change, especially in the transition from fossil fuels to renewable energy systems eg. critical minerals, carbon capture and storage, hydrogen energy, role of natural gas, recycling wastes.
Increase industry engagement with routine organised vacation work, including environmental engineering and remediation.
Bring people together – cohort building on existing programs. Industry to provide for paid principal teachers and KPI funding to attend secondary schools or block grants to convert industry professionals to teachers.
Next steps
The below next steps ("what is clearly needed") were discussed at the webinar.
Keep momentum for collaborative and supportive activities between Earth science organisations. Progress the Australian Geoscience Council (AGC) Manifesto on Geoscientists for the Future.
Develop a business model for increased, dedicated long-term funding of Earth science education, with focus and long-term commitment (more than 10years) from Government, industry and academia (based on justification of needs and qualified 'value add'). Identify the custodian organisation and over-arching administrative structure and champions.
Drive interest, understanding and demand for Earth science education 'from the bottom-up' (the students will educate their parents), while engaging in top-down advocacy to ensure tangible support. Government are great followers, rather than leaders.
Develop and implement a communications strategy on the Earth sciences including awe-inspiring documentaries, podcasts, YouTube videos, Tik Tok etc, to elevate profile on the national and international stage. Young academics and inspiring Earth scientists to reach out with messaging.
Acknowledge and differentiate the importance of mining and mineral products. Reinforce links of Earth science to STEM and rewarding careers to 'change the world and improve the environment', to be part of the solution.
Promote the intrinsic value of Earth science – link to geotourism and the awe of 'Mother Nature' – the Geosphere, the Biosphere, the Atmosphere.
This AusIMM GeoSoc webinar was well attended and sparked positive feedback – showing both interest, concerns and solutions for the future.
Members can view a recording of the webinar here

Geoscientists for the Future
The AusIMM is one of the nine stakeholders of the Australian Geoscience Council Inc. (AGC), releasing a Manifesto "Geoscientists for the Future". Members of the AusIMM Geoscience Society Committee are working in this initiative.
The purpose of the manifesto is to attract and train more geoscientists to support the future development of the national economy, recognising the central role of our professionals across extractive businesses, environmental management, and international leadership in the Geosciences. The Australian Geoscience Council calls on all stakeholders to collectively and cooperatively:
Raise the profile of Geoscience in the broader Australian community;
Develop a Lifelong Learning Agenda for Geoscientists; and
Sustain and Grow Geoscience Tertiary Education.
The key to the success of his initiative will be the alignment and commitment of all stakeholders to develop and action the strategies. The Geoscience society supports the AGC as the principal lobby party.
Geoscience for CO2 storage: an introduction to the thematic collection
The Geological Society of London Publications, (Lyell Collection, Petroleum Geoscience), invited (2020-21) submissions under an open call for papers on the theme of CO2 storage geoscience. The goal of this thematic collection is to bring together recent insights from current fields of research and current industry practice to illustrate recent progress and future directions – with a focus on the geoscience aspects. One quoted Australian submission on the Surat Basin by Pearce et al, and another by Langhi et al on the CCS south West Hub in WA:
Pearce, J.K., LaCroix, A.D., Brink, F.J., Hayes, P.J. and Underschultz, J.R. 2021. CO2mineral trapping comparison in different regions: predicted geochemical reactivity of the Precipice Sandstone reservoir and overlying Evergreen Formation. Petroleum Geoscience, 27, petgeo2020-106, https://doi.org/10.1144/petgeo2020-106
Langhi L., Strand, J. and Ricard, L. 2021. Flow modelling to quantify structural control on CO2migration and containment, CCS South West Hub, Australia. Petroleum Geoscience, 27, petgeo2020-094, https://doi.org/10.1144/petgeo2020-094
Soil bacteria reveal it takes about 40 years to rehabilitate former mine sites
Researchers at Flinders University have reported long duration studies at former mine sites. Using high-throughput sequencing of soil eDNA to track progress and predict timeframes for post-mining recovery, patterns in soil microbial communities were studied. In a paper published in the Journal of Environmental Management, the scientists explain how they examined changes in soil bacteria following revegetation at three case study mine sites in southwest Western Australia.
https://dolbear.us10.list-manage.com/track/click?u=c9ba005bf3505b8d13c10fc36&id=939b1cbb7a&e=9762b8aef2
The AWG is an international organisation devoted to increasing the participation of women in geoscience, and inspiring girls and young women to pursue careers in geoscience-related disciplines. AWG is a non-profit, international organisation founded in 1977, in San Francisco. The mission of the Association is to follow the three E's: Encourage the participation of women in geosciences; Exchange educational, technical and professional information; and Enhance the professional growth and advancement of women in geosciences. Members include professionals from industry, government, museums, academia, and K-12 teachers, students, retirees, and all the people interested in supporting our goals. The Association for Women Geoscientists
State Fossil Emblems - Trilobite for ACT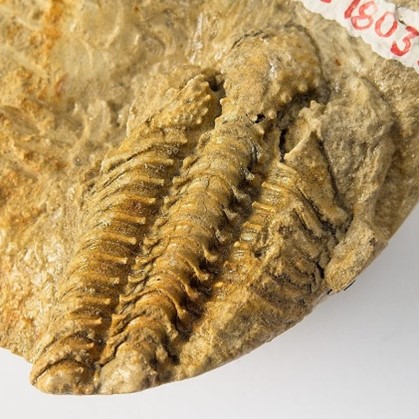 Australian states all have a floral, faunal and marine emblems, representing animals, plants and marine creatures that best epitomise their state's unique natural history, and they can be used to promote tourism. The fossil emblem embodies the concepts of deep time and evolutionary transition as being important to understanding the natural history of the particular state. Fossils add another dimension to understanding our current biodiversity.
Western Australia state fossil emblem was announced in December 1995 as the predator Gogo fish (Mcnamaraspis Kaprios) of the Devonian age from the Canowindra fossil site.
New South Wales state fossil emblem was named in 2015 as the Devonian Mandageria Fairfax air breathing fish from the Canowindra fish bed.
South Australia's state fossil emblem was named in 2017 as the Cambrian Spriggina fossil as one of the earliest known fossils. It is found in the Ediacara Hills north of Adelaide.
The Australian Capital Territory (ACT) announced its fossil emblem in October 2020 with the Silurian arthropod fossil emblem Batocara Mitchelli.
Victoria's state fossil emblem was announced in January 2022 as the "kool" Cretaceous extinct amphibian Koolasuchus cleelandi.
Queensland is now holding an on-line vote for one of twelve nominated fossils for their state emblem see; Queensland's State fossil emblem (premiers.qld.gov.au) Nominations close 10 July 2022.
Mungada Ridge National Park declared to protect some of world's oldest rocks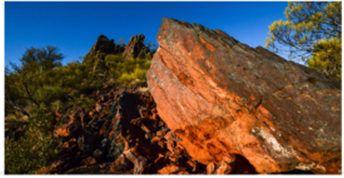 The Western Australian government has declared a new 1,000-hectare national park at Mungada Ridge in the Midwest to help protect its ancient landscape and rare plant and animal life. Mungada Ridge, 200 kilometres south-east of Geraldton, is home to banded iron formations that contain some of the oldest rock formations in the world. In 2014, the Environmental Protection Authority rejected a proposal to extend an iron ore mine into Mungada Ridge and recommended the banded iron formations be protected in the reserves system. They are now the first mostly intact banded iron formations in the region to be protected within a national park.
Mungada Ridge National Park declared to protect some of world's oldest rocks - ABC News
Geology for School Kids
As part of the ongoing NExUS-RockStars geoscience outreach program, a short YouTube video has been prepared. Holly Cooke provides an engaging narrative on sea floors and copper ores in South Australia. See (298) Sea Floors & Copper Ores - YouTube
Promotions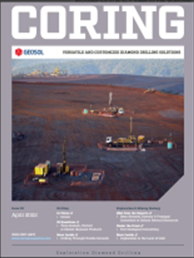 Coring Magazine
Coring is an international quarterly title covering the exploration and mining core drilling industry. The section on geology related to exploration and mining has been expanded. Coring is a free digital subscription or a paid print publication and is open for people to submit an article. Check out Issue 19 at https://lnkd.in/gATbZXxN.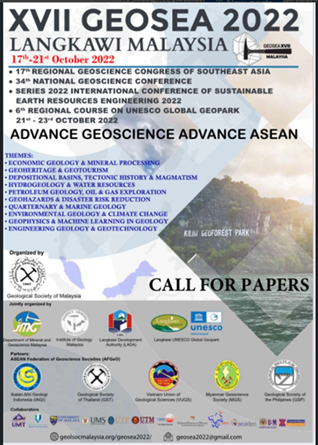 Coming Asian geoscience event
17th GEOSEA Regional Congress and 34th National Geoscience Conference (NGC) in October 2022. Keep updated with us for further details on the registration process. Do contact us at geosea2022@gmail.com for any enquiries and visit our website https://lnkd.in/efivFnmm