Your new AusIMM President for 2023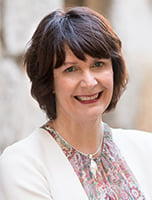 AusIMM is pleased to announce the elected AusIMM President for 2023 is Nicole Brook.
Nicole will commence her appointment as AusIMM President on 1 January 2023.
The Board would like to sincerely thank outgoing President, Dave Clark for his significant dedication and contribution to AusIMM, especially during his presidential term of 2021-2022.
President Dave Clark said "On behalf of the Board, congratulations to Nicole and I look forward to working with her over this transition period, and then continuing to work together and with the entire Board to deliver AusIMM's strategy in 2023."
Nicole Brook was first elected to the Board in 2021 and has served on the Nominations Committee, Policy and Advocacy Committee and Remuneration Committee. With a corporate background of leading a diverse portfolio, she brings a "whole of issue" approach to Board discussions, viewed through a strong governance lens. She is Chair of the Future Workforce Working Group and Chair of the Joint AIG / AusIMM Competent Person Review Taskforce.
President-elect Nicole Brook said "It is an absolute honour to be elected President for 2023 and I am proud to be representing our members in this leadership role. I am deeply committed to the purpose of the Institute, to advance the sciences applying to the minerals industry for the benefit of the community. I believe no other organisation can bring together, in an independent way, the scientific know how, professional integrity and highest industry standards to address the complex challenges our sector is facing. I am looking forward to working closely with our members, management team and Board as we tackle these challenges, especially in creating tangible plans to address the critical areas of future workforce and social responsibility."
About Nicole Brook
With a background in mining engineering, Nicole has almost 30 years' experience in the resources industry. After starting her career as an underground miner, Nicole went on to hold several site technical and consulting roles before taking on a leadership role with Glencore, where she headed a team of resources professionals responsible for business development, project assessment and technical governance of mining operations.
A Fellow of the AusIMM, Nicole has served as a member of the JORC Committee, Chair of the AusIMM Hunter Region Branch, and sat on several industry advisory boards for tertiary mining education. In 2018 Nicole was named Exceptional Woman in NSW Mining at the NSW Minerals Council awards and was selected for the 100 Global Inspirational Women in Mining.