AusIMM – the Trusted Voice of professionals on the Queensland Resources Industry Development Plan
AusIMM have this year been working closely with our colleagues at the Queensland Department of Resources, and with the Queensland Resources Minister Scott Stewart, to co-develop the landmark Queensland Resources Industry Development Plan.
This work has included a written submission made earlier this year, attendance at a skills and training workshop, several working meetings with Departmental staff and Ministerial engagement.
Ably represented by our Director Katrina Crook, AusIMM were pleased to join with Minister Stewart, the Department and kindred body representatives at the Brisbane Resources Summit last week, where the Government launched a Draft Plan.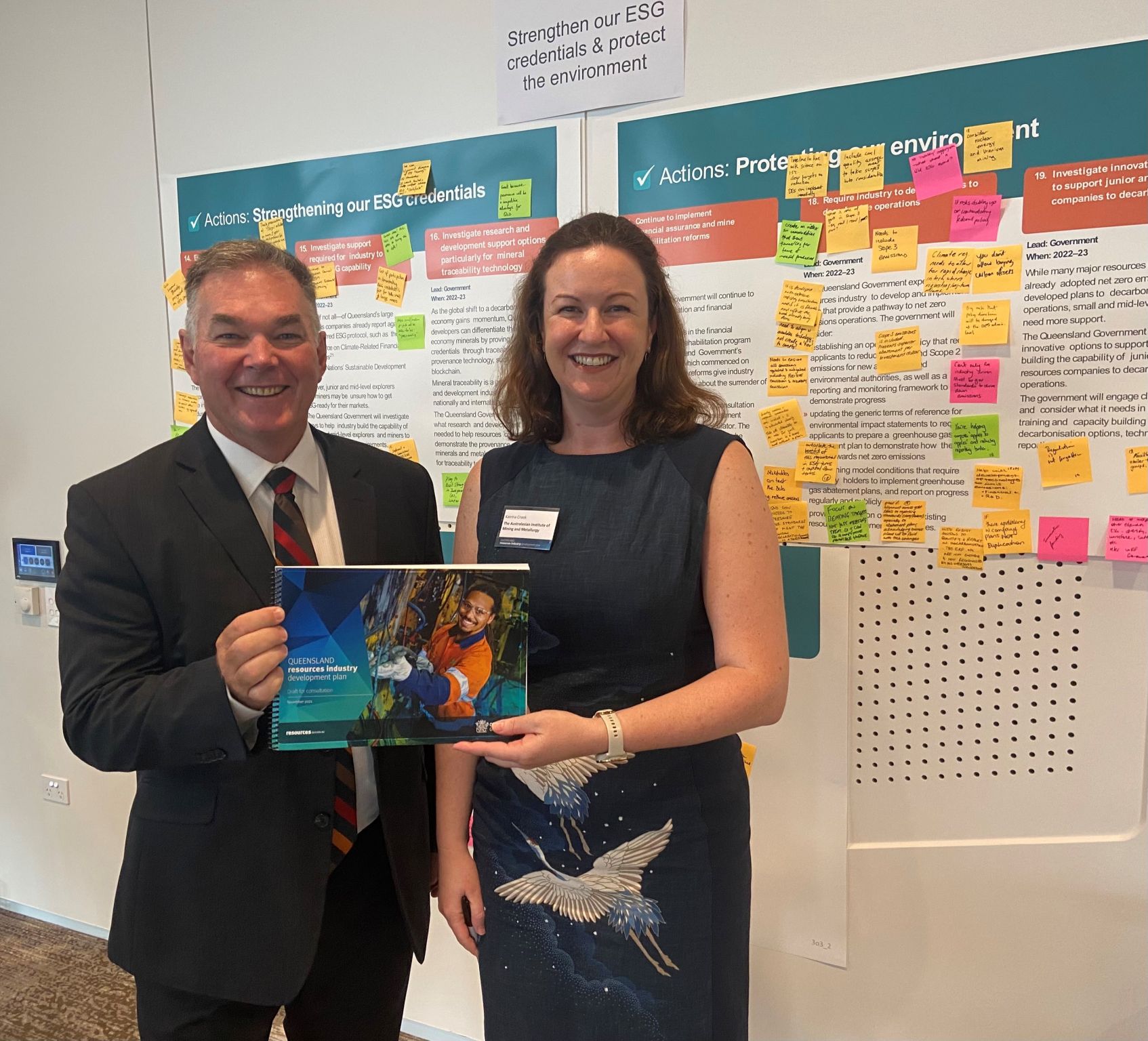 AusIMM Director Katrina Crook with the Queensland Resources Minister Scott Stewart.
The Draft Queensland Resources Industry Development Plan sets out a long-term vision for the future of the sector, focussing on several areas in which AusIMM has a particularly keen interest:
building a strong and resilient workforce
growing and diversifying the industry
strengthening ESG and social performance
fostering sustainable community coexistence
ensuring strong, and genuine, partnerships with First Nations persons
supportive efficiency and responsive regulation.
AusIMM will continue to work with the Queensland Government as they refine the Plan for release in mid-2022. Likewise, we look forward to supporting the Government throughout the Plan's long-term implementation.
The expertise and perspectives of our members is the fundamental enabler for our work with Government. Resources professionals bring balance, credibility and expertise to strategic policy initiatives such as these, and we wish to express our thanks for your contributions throughout the year.
The Policy Team will be working with members to guide our further engagement with the Queensland Government over the next few months, as the Draft Plan is finalised.
In particular, the Policy Team encourage members to reach out and contribute to a written response to the Draft Plan, which will be submitted to the Department in February.
To get involved, review the Draft Plan here, AusIMM's earlier submission here, and reach out to the Policy team via policy@ausimm.com.